Social media
How can I unblock a user on YouTube if they are blocked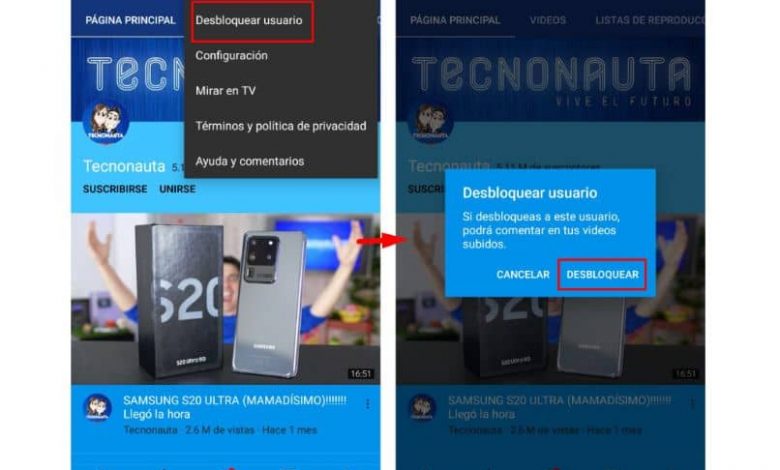 Today, through this platform it is possible to do a series of things, which were previously almost impossible. An example of this is putting a link in the exact minute in a YouTube video . Among other interesting actions, even zooming in on YouTube videos
Due to this, it is increasingly difficult to control the comments or video that are uploaded to this social network. In such a way, that sometimes we get ourselves with users with whom we do not want to coincide and it is precisely there when we resort to blocking it.
Likewise, it is a fact that it probably happens to several people that once they have blocked this user, they do not know how to unblock him. So if you are reading this article, because you are one of them, do not worry, because below we will explain in detail, how to block and unblock a user on YouTube.
How to block a user on YouTube?
If you are one of the people who use YouTube frequently and consider that it is an important social network to be communicated and informed and to upload videos to YouTube from your cell phone or PC ; It is likely that at some point you have wanted to block a user, that you do not want him to upload annoying comments.
However, although this is a simple action to perform, if you have never done it, you probably have a series of doubts, so you have not been able to do it. Fortunately, blocking a person on YouTube will not take any time and does not have any kind of difficulty. So below I will explain step by step how to do it:
The first thing to do is enter your YouTube account from the website or from the app.
Next, you must find the user whom you want to block
As soon as you enter the profile of the user in question, click on the drop-down menu (the three dots located in the upper right corner of the screen)
Then different options appear. Find and mark where it says "Block user"
Then, a pop-up window appears on the screen, indicating that if you block this user, you will not be able to leave comments on the videos you have uploaded. Click Block to confirm.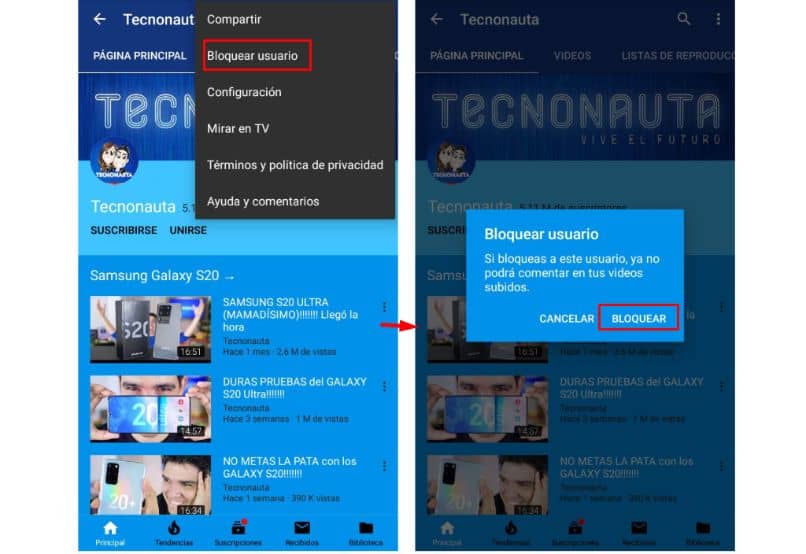 In this way, the user has been blocked.
How to unblock a user on YouTube?
If you want to lift the punishment of a user who has blocked your YouTube account and want to unblock it again, you must do the following:
Login to YouTube, using your personal account
Once you are in it, click on the CREATE STUDIO button
Below are all the videos that have been uploaded to the channel.
In the left side area, find and select the Community option and then Community Settings
As soon as you enter there, you must go to the Hidden Users section
In this section, you will see the users you have blocked
To unblock you just have to click on the x that appears next to the name of the person or channel in question and by default it will be unlocked
Lastly, click on the blue Save button, which appears in the upper right corner. And thus the process has ended.
Another technique to unblock a YouTube user
Another practical and easy method, with which you can quickly unblock a YouTube user, is the following:
Access your YouTube account
Go directly to the channel or profile of the person in question
Click on the More Information tab
Then, check the flag item, which appears at the bottom of the drop-down menu
As soon as you do this process, a series of options appears, click Unblock user
In this way, the channel or user in question will be unblocked.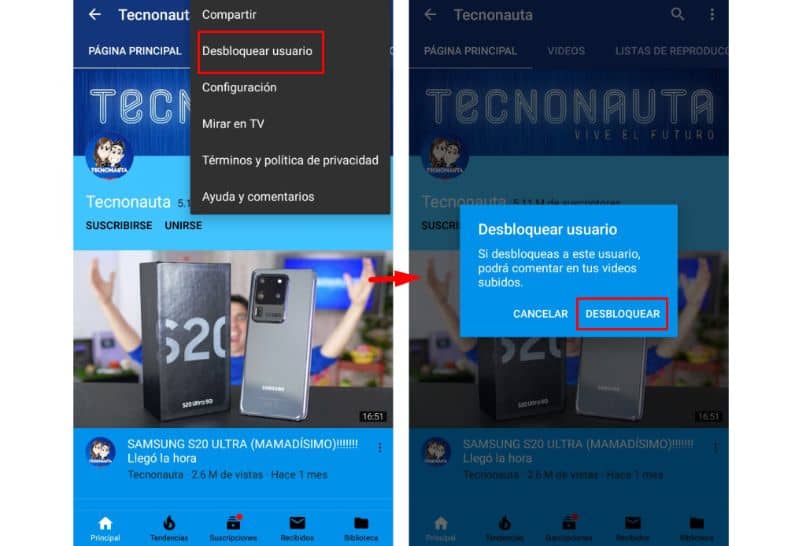 Finally, we hope that this article has helped you. However, we would like to hear your opinion. Have you been able to block and unblock a user on YouTube with ease? Do you know of another technique to unblock a YouTube user or channel? Leave us your answers in the comments.