Social media
Facebook tv what is it, what is it for and how to get the most out of it?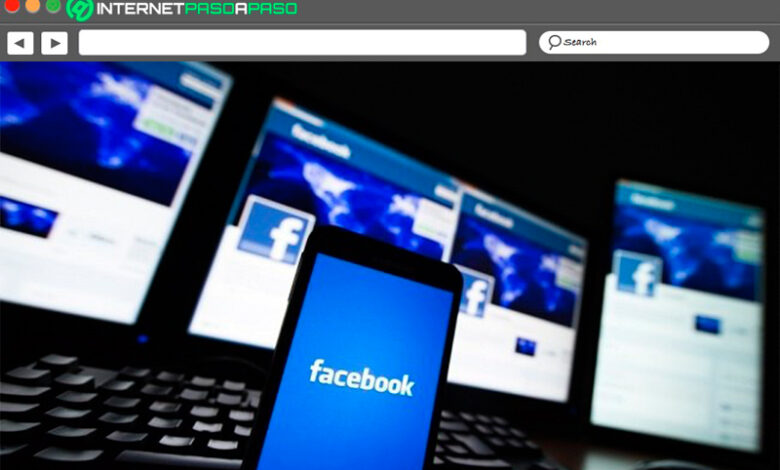 This social network is considered one of the most important and popular of all, this is how it has a large number of registered users on its platform. It constantly offers updates so that all its members can enjoy totally new tools . This is how you can currently find what is Facebook TV.
This new section of the social network has been launched to the market with the aim of being able to compete directly with other platforms such as YouTube and Netflix, although it is important to mention that it still has a long way to go to be able to keep up with these web portals .
So far this new Facebook section is limited to being the meeting point for all the videos that are uploaded to said platform . However, so that you can understand all this a little more, here we are going to show you what this new tool means and how you can start to get the most out of it , for this follow in detail all that we will teach you in the post.
What is Facebook TV and what is this function of the largest social network for?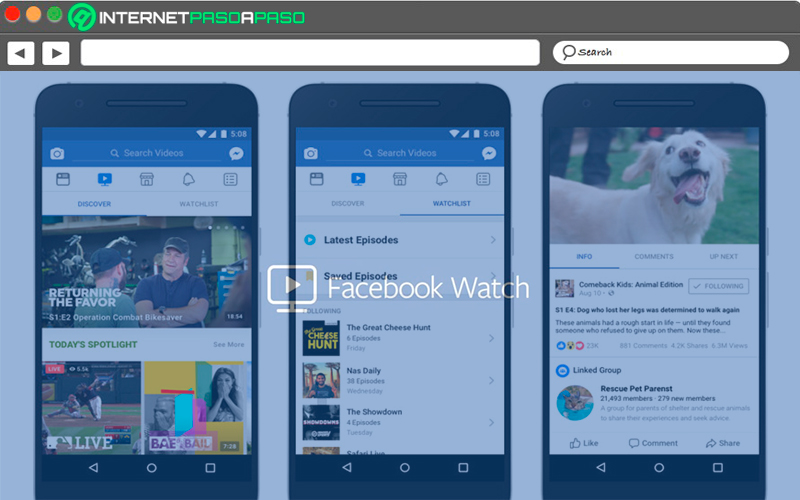 Facebook has added a new update to its platform called Facebook Watch. This new platform of the social network is responsible for storing all the content that is of the network's own production, as well as all the people who are associated with the platform, with the aim that the content of the new creators can be discovered . Therefore, this new section of the portal is responsible for collecting all the videos that are produced exclusively by Facebook.
In this way, it is responsible for offering content of all kinds, be it entertainment, history, sport, among many other topics. There you will have the opportunity to get videos already recorded and live broadcasts. To be able to use this new web portal tool , all you have to do is access the tab and click on the play button that appears in the top row of the screen .
In addition, each of the members of the platform has the opportunity to customize the content sources . When this is done, the user will have the opportunity to see the pages and users that they follow, as well as the possibility of seeing that other accounts have these services and that you can add to your list . In addition, each user will be able to get content that has been filtered through their profile data, that is, they will mostly get videos on topics that are of interest to them .
However, in the event that you do not get a reproduction like the one you are looking for, you can use the video search engine, if you press the search bar you will realize that here you have the possibility of getting only the videos that interest you . Finally, in each of the videos you watch you will see that at the bottom there is a series of videos that you can browse .
What do I need to be able to upload videos and monetize them on Facebook TV?
To be able to use this section of Facebook, you just have to enter the icon on the screen that appears with the play button, located in the upper right part of your screen . It is located next to the contact button , search and your profile page .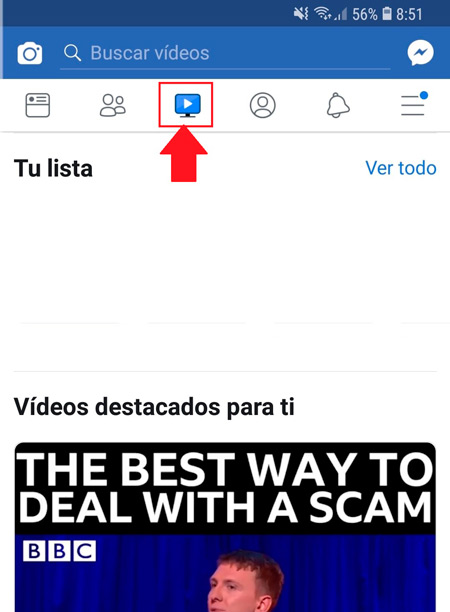 When you have entered there , the section page will appear , there you can see a list with the channels you follow and a great variety of featured videos that are at your disposal . As already mentioned, all these videos that appear there have been previously selected by Facebook taking into account your tastes . You can also see the video search engine at the top.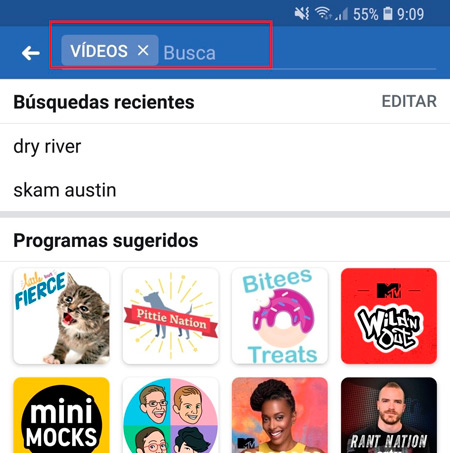 You can also access this tab from your Android, iOS mobile device. You can also enter from the "More" option , as well as from an Xbox console or Smart TV device. Here the user will have the opportunity to find new experiences with each of the reproductions. In addition, you can upload content from any of these devices. It should also be noted that this network you can share your link to video on other platforms like YouTube.
But uploading it directly to Facebook will be much more beneficial for your marketing strategy . This is because this platform usually rewards what is original content in order to prevent you from uploading it on other web pages. This means that if you upload a video directly to Facebook, it will surely reach more users than you post it on YouTube or another website .
Finally, it should be mentioned that every time a video is added to Facebook, it automatically appears on the wall, so the chances of users accessing it are greater . The user will prefer to continue watching the playback than to be seeing a static image there.
Facebook TV vs YouTube Where do you make more money uploading videos?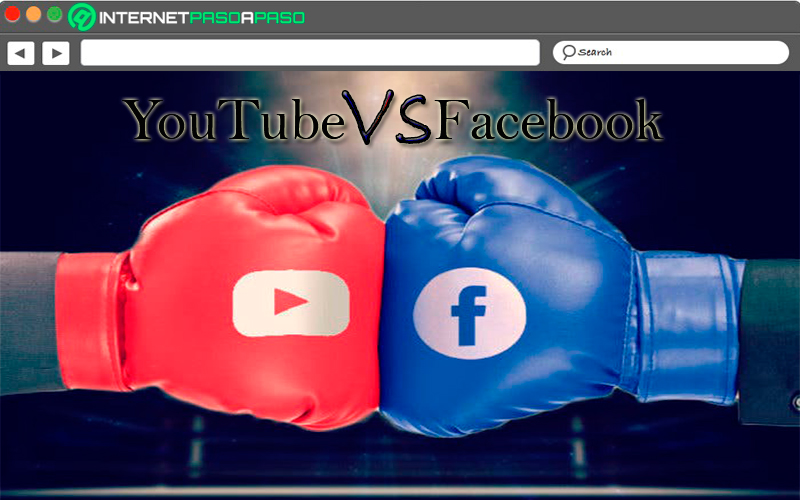 It is not a secret for anyone that the YouTube platform is the number one option worldwide when wanting to watch videos online, this is how it currently has millions of users and groups of creators in expansion . However, Facebook has officially and internationally launched what is its new section called Facebook Watch. This new platform of the social network already has more than a year of having been officially launched in the United States, which was for exclusive use.
But it can be found in other countries such as Spain and Mexico . This is how this new social network tool has begun to threaten YouTube's stability, as it aims to take streaming to a new level.
Since the launch of this new section of FB, it has been known that more and more users are spending clips on said portal, so it is expected that by 2021 this site will be among the first places . It is also important to mention that what will determine which of the two sites is better will be the money.
In the case of Facebook, it grants $ 264 for every million visits received, this means that the monetized videos on the social network offer the administrator around 15 euro cents per viewed ad, even if it reaches 20 seconds of reproduction . While in the case of YouTube being able to monetize is much simpler, the creator in this case reaches the dollar per ad, encrypting that can increase depending on the visits.
Taking all this into account, here are four fundamental aspects to determine which of the two platforms is better:
Total viewers
If the viewers of each website are taken into account, it should be mentioned that YouTube is better at this point , since it has a better audience and number of visits, as well as the number of channels and videos stored is much higher.
In addition, this streaming platform has one billion users, so the visits to its portal are multiplying at every moment. Despite this, it should be mentioned that Facebook is currently following YT's footsteps very closely, so a pitched battle between the two web platforms is expected.
Play time
It is important to note that in the world there are two types of viewers, those who view the reproductions only for a few seconds and go to another, or those who actually see the content in its entirety. This means that the objective of these websites is to retain users, and in this YouTube commands.
In the case of the FB social network, the videos there are very successful when they do not exceed 40 seconds, while on YouTube this number can reach 3 minutes. In the case of Facebook, with only 3 seconds of reproduction, it can be counted as a watched clip, while the views on this other platform are calculated by the reproduction percentage .
The potential for conversions
Being able to say which of the two websites is the most convenient is not easy, since both web portals have their advantages . YouTube is the benchmark when it comes to helping consumers make their purchase decisions, as well as Google's preferential positioning and the tendency of people to use this platform. All these are aspects that play in favor of this industry.
In the case of Facebook, this site does not depend mainly on video to get transactions, something that works in its favor, since in turn it offers links and ads that help increase all this income.
Shared content
At this point both sites are very similar, in the case of YouTube a reproduction needs a previous search, this means that the person must have the intention of seeing said content. While in the case of Facebook the reproduction is automatic and the content view was not necessarily initiated by the person.
It should also be mentioned that segmentation is of great help for all the content offered on FB, since it transmits directly to users the content they want to see. In the case of YouTube, it has the Youtubers, who have become the stars of the 21st century and have managed to attract a large number of young audiences to the website. So it attracts more and more people willing to make use of this platform.
Facebook TV for companies How to use this function to enhance your brand?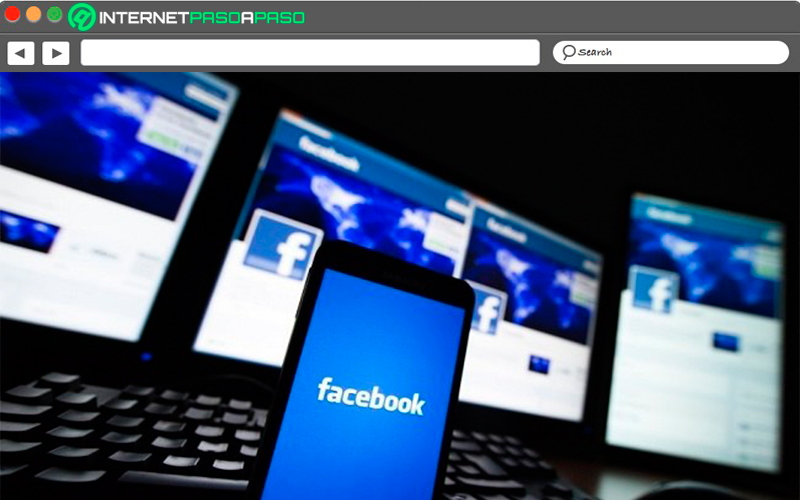 Without a doubt, this new function of the social network will help you strengthen your brand and make it reach much more users. This is how all your videos uploaded to this new section  will reach your followers directly, which will make it easier for your clients to have access to all your latest content.
At this point, it does not matter what the category of your company is, all the people close to your brand will be able to see and discover each of your publications, as well as being able to react to them. In addition, it is important to mention that each of the users will be able to enjoy reproductions that are directly related to the topics that interest you.
In the same way, being able to upload content to this new Facebook section will help you create a much closer link with each of your customers, which will allow you to enhance your brand. Therefore, you can use this new FB functionality to start sharing videos of your products or services in order to attract new customers, as well as offer a much more attractive and reliable image .