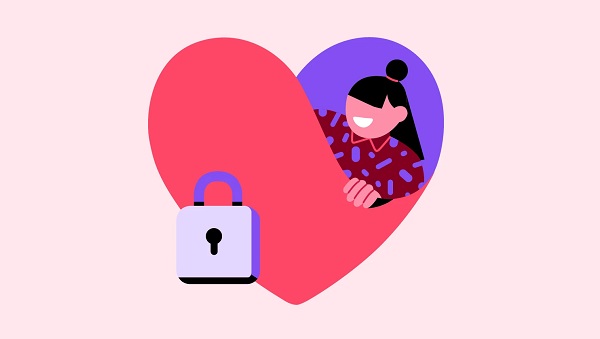 Meeting the love of your life or a good weekend outing has been one of the uses of social networks since forever, until some applications dedicated exclusively to Internet encounters and dating began to gain importance . There are exclusive applications for this type of meeting and others that adapt to the situation.
Facebook has never been left behind and, as they are the leaders in social networks, they present Facebook Dating. Which is an extension of the famous social network focused on online dating, designed for those who want to find love in any of its forms. Go ahead and learn more about this application!
What is Facebook Dating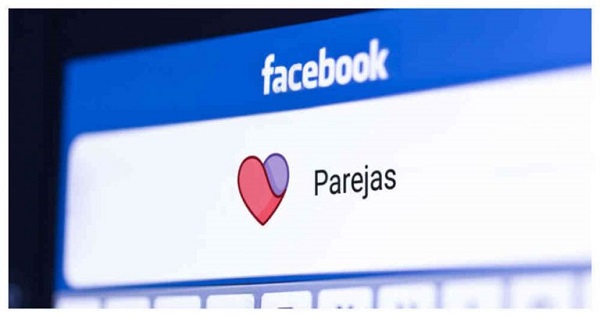 It is a dating service that you can enter digitally through Facebook, you will have the possibility to select who you like and the other users to choose you. In this way, meetings are established with people that you like. One of the great advantages that it offers you is that you will have an important repertoire of options, since it uses the information of your Facebook friends, as well as the location you select, in order to achieve the objective. In addition to the information that all people enter, to generate more filters.
As it is derived from Facebook, so that you can make use of this dating product it is very important that you have an account on this social network. So you can activate this dating option in a very fast and easy way. If you don't have a Facebook account yet or are having problems with it, it's time you created one. Something important to note is that your Facebook friends will not be able to see your Facebook Dating activity.
How does it work
To be successful in your task, you must know the application to make correct use of it. After that, it will depend on your capacity for seduction. Read on to learn more about how this dating network works.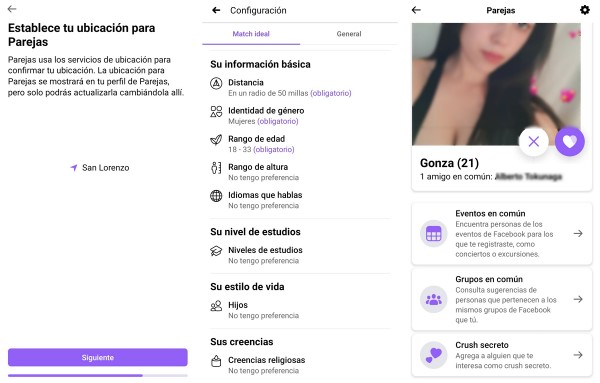 What Facebook Dating offers
As it is a Facebook extension, it uses the information from your profile and that of your friends, to show you what are your most likely options to get a date. In addition to this, as in any other online dating application, it gives you the possibility to search according to the distance you are. Something very important is that Facebook Dating will show all the profiles that are registered in it, except those that correspond to your Facebook friends. In this way, it guarantees that people very close to you do not find you using this app, great, right? and there are still more curiosities about this app.
Create your profile on Facebook Couples
First of all you must create your profile in this extension, which is very easy, you just have to follow these simple steps:
You enter Facebook from the application that you have downloaded on a mobile device and go to the start menu.
You will be able to see an icon in the shape of a heart, which represents the option of "Couples", you must click on it.
The next option to select is "Start " and the presentation will continue with some slides which you must accept.

You will have to complete some information that will serve to protect your privacy. In this sense, you can limit the information that other people may have about you in terms of connectivity with this application. Once you complete this process, you go to the " Next " option .
It is important that you continue filling in some information such as your gender and the sex of those people you want to meet. It is also essential that you indicate your location, in this way the same system can show you to those people who are close to you. If for any reason you change your location, it is appropriate that you also do it with your preferences.
Within the last step, you must choose a photo that you want to publish on your profile. Once you do, you must confirm the creation of it and that's it.
Additional Qualities of Facebook Dating.
Like all online dating applications, it also has filters that help make the search more specific and skip options that may displease you, making your stay in this application more interesting.
There are three new special modes you have on Facebook Dating. Keep in mind that just as you can see people, they can see you. To learn more about it, here is an explanation of each one:
Common events: With this feature, you have the option of looking for a partner in an event you attended. Perhaps you have come across someone who caught your attention and you want to find it or find it, you can also search in future events if you wish or simply include all the events at once and continue with the search.
Groups in common: Groups on Facebook are created with different purposes and interests in common, some work, others commercial and also social, referring to a common theme. For the same reason, here is also a good starting point to make a good appointment. In this option you will be able to select specific groups, one in particular or all of those that you are part of, to find your eternal love.
Secret Crush: This is undoubtedly an innovation, in this section you have the possibility to select a specific person, whom you secretly like or attract and you do not want to say for fear that it does not correspond. Here you can add people from your Facebook friends list or your Instagram followers and if they add you, there is no going back! it is reciprocated.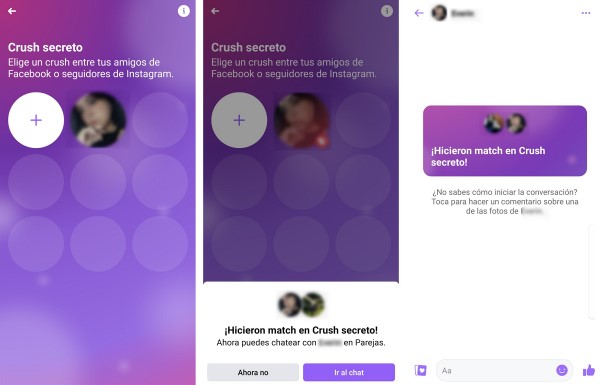 Facebook Dating Features
Among the characteristics with which Facebook Dating is presented, the following stand out:
It is a digital dating service that has reached more than 19 countries around the world.
Its main function is to allow the establishment of appointments and reunions.
It focuses on suggesting people who might have things in common to make dating easier.
It works with authenticity, so the information you will have from the people who make life on this dating site is reliable.
You have the option to select up to a maximum of nine people with whom you can interact.
Among its advantages is privacy. In this sense, the information published on your Facebook profile will not be linked with what would be Facebook Dating.
Protecting even more security, the sending of photos and videos by this means is not allowed.
You cannot capture the profiles or some sections, this increases privacy, so that they do not gossip.
Facebook Dating Features
If it is about dating, a good option may be to enter Facebook Dating. Within all the functions that this service has, you will be able to see that the Instagram stories have already been integrated. What is sought is that the users who interact, can see certain particularities among themselves that can help them to feel identified with other people.
On the other hand, you will also have the option to block or report content that you find inappropriate. This is great because it allows debugging in this service of all those people who do wrong things.
Use and safety recommendations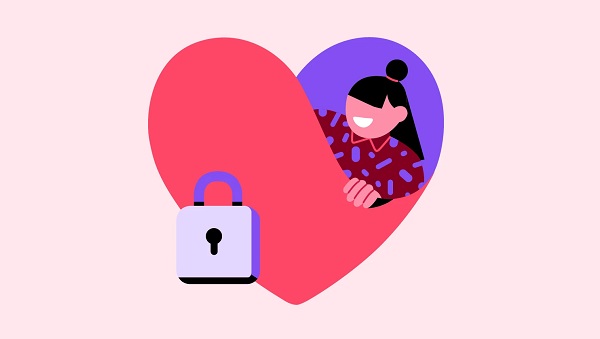 As is well known, privacy is a controversial issue in these times of mass information. Therefore, you always have to take into account some very important details to use this type of service. Keep in mind the following points and enjoy everything that this application can offer you without fear:
The information you share: make sure it is fair and necessary to find a partner, do not give very specific information about the location of your home or your work. Keep in mind that all the information that you have as an option to complete, are mostly superficial data and some others that describe your personality, tastes or character.
Scams: If you doubt a profile, do not interact with it. Unfortunately, deception in this type of social network is very frequent. As the information you can see is scarce, avoid giving out many details about yourself that put your security at risk.
Nothing to send money: This is a one hundred percent free application, you do not need to send money or pay for any type of service. If something similar comes your way, you have the option to report the profile.
At the time of the "Match": In the profiles you can see the information that the other user added or left as visible and, in addition to that, you can chat instantly. Try to make sure that the person you are talking to is exactly who they say they are, do not exchange very specific private information.
At the time of a physical encounter: You should avoid falling into some kind of unpleasant situation, try to meet a person in a crowded place, such as a cafe or a bar. Do not accept something private the first time, no one knows for sure who the person behind the other cell is.
If you do not feel safe: Do not hesitate to report or report any profile that you find uncomfortable. Whenever you go to go to a meeting, tell someone close to you that you trust what you will do, do not do things without anyone knowing.
As you can see in this post, Facebook Dating is an excellent option if you want to meet the love of your life or have a date to meet an interesting person, with your same tastes and thoughts. Remember to take all the necessary precautions that are required for these types of dating apps and start meeting new people.