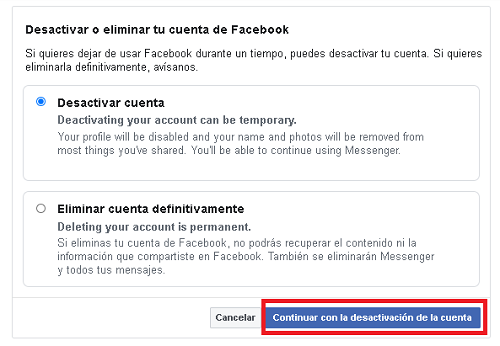 Facebook is the most used social network in the world, with billions of users around the planet. However, Facebook is viewed by many as a waste of time and a major distraction from important tasks, which is why some users often want to temporarily disable their Facebook account.
Tired of Facebook? It may be a sentiment of the moment for which you don't necessarily have to permanently delete your Facebook account. Fortunately, Facebook has anticipated this situation and gives you the ability to temporarily deactivate your account. So that you can give yourself a break and use all the services of it again keeping all your information intact. To learn more about how to do it, keep reading this post until the end.
Steps to follow
The option to avoid having to permanently delete your profile is to temporarily disable your Facebook account. With this alternative, you can log back in whenever you want and all the content will be intact. Here are the steps to do it:
To deactivate your account, go to the page https://www.facebook.com/deactivate/ or follow the instructions below:
Note : If you use the link left above, go directly to step 6 of this procedure.
Press the arrow located in the upper right corner of the blue Facebook bar.
In the menu that appears, press " Settings and Privacy " and then select the " Settings " option .
In the left column, go to " Your Facebook information."
Click the " Deactivation and deletion " option to deactivate the account.
Some options will be displayed. Press " Deactivate account " and click on the button that says " Continue with account deactivation ".

On the next page, select a reason why you want to deactivate your account. You can also select if you no longer want to receive notification emails from Facebook at the moment. If in the reason you select "This is temporary. I'll be back." an option will be enabled for your account to be reactivated automatically after a certain time.
Finally, press the Deactivate button located at the bottom of the page.
With these steps, you will have already temporarily deactivated your Facebook account. Remember that you can log in at any time again, an action that will cause your account to be activated again.
What will happen when the account is deactivated
During the time that your account is deactivated, certain things may or may not happen that you should take into account, as mentioned in the following list:
Your profile will not be visible to anyone.
Messages you have previously sent will still be visible.
Your Facebook friends will still see your name only on their friends list, but they will not be able to go to your wall.
The administrators of the groups to which you belong will continue to see your publications, comments and your name in the list of group members.
You will not be able to use your Facebook profile to access the products or your Oculus information.
If you still have Facebook Messenger active, you can use it as you always do. That's thanks to the fact that they are two independent apps despite being part of the same Facebook.
How to reactivate the account
To reactivate the Facebook account is extremely simple, you will only have to log in in the traditional way, either from your mobile or PC. It is important that you bear in mind that you must have access to the email or telephone number attached to the account in order to complete the activation.
Just as there are negative reasons why you should stay away from Facebook for a while, there are also reasons to keep your account active. And is that Facebook, if used in a good way, is an excellent tool to keep in touch with friends from all over the world, as well as stay informed about what is happening in your environment. It's up to you!