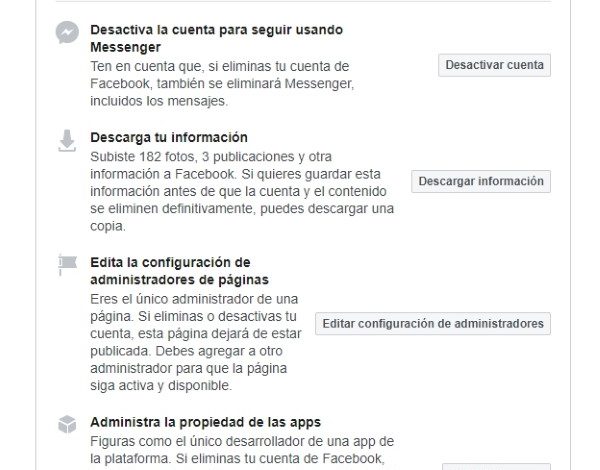 The world's number one social network, Facebook, currently has billions of registered users. Founded in 2004, to this day it has managed to reap unprecedented success, having even acquired other services such as Instagram or WhatsApp Messenger. Of course, the company is not exempt from criticism, and it has received many complaints from users regarding its management of personal data.
There are many users who want to take a permanent or temporary break by disabling or deleting their Facebook accounts forever. There may be many reasons, regardless of them, the truth is that the social network offers temporary and permanent alternatives so that you can put this social network aside, at least for some time. In InfoCuentas we will guide you step by step so that you can do all this without complications.
Permanently delete Facebook account
To delete your Facebook account temporarily, the social network has an option to do it in a matter of minutes.
Note : If you delete your Facebook you will definitely lose all the information contained in your account and you will not be able to recover it. You will not be able to log in with Facebook in the services linked to your account, nor will you be able to use Facebook Messenger. The messages that you sent to your contacts will be available in their inboxes but you will appear as "Facebook User". You can download a copy of your information before permanently deleting your account (see step 5). If you don't like the idea of ​​losing everything, you can see how to temporarily deactivate your account, below.
To delete your Facebook account you can go directly to the page facebook.com/help/delete_account/ or follow the detailed steps listed below:
Press the arrow located in the blue bar anywhere on Facebook, in the upper right corner.
In the menu that pops up, press " Settings ".
In the left column, go to " Your Facebook information."
Click on the " Delete your account and your information " section.
Next, a section will appear from which you can access options such as continue using Messenger or download personal information. If you are not interested in these options, you can continue with the "Delete account" button.
Enter your password, press " Continue " and then " Delete account " again.
With these steps your Facebook account will have already been completely deleted, without the possibility of being recovered.
Reasons to stay away from Facebook
If you still have doubts about deleting or deactivating your Facebook account, perhaps you should think about the reasons why you should keep your profile on this social network or delete it permanently. Among the reasons why it may be recommended that you stay away from Facebook permanently or for a while, we can mention:
It's distracting : so much content on Facebook can distract you from what's really important, like doing your daily tasks.
It's almost an addiction : if you spend hours browsing through Facebook, the best thing to do is give yourself a break.
Not very useful content : If you think that all the things you see on Facebook are not very productive, this could be a reason, however, you can customize your content at any time.
I added a lot of people I don't know : if you've been adding strangers to your Facebook, it may be tedious to delete "friends" one by one, so the quickest solution will be to simply delete your account.
I don't use it : if you don't use your account, it doesn't make much sense to have it active.
I have more than one profile: generally one profile is enough.
Others.
Just as there are reasons to leave Facebook, there are also reasons to keep your account. And is that Facebook, if used in a good way, is an excellent tool to keep in touch with friends from all over the world, as well as stay informed about what is happening in your environment. It's up to you!