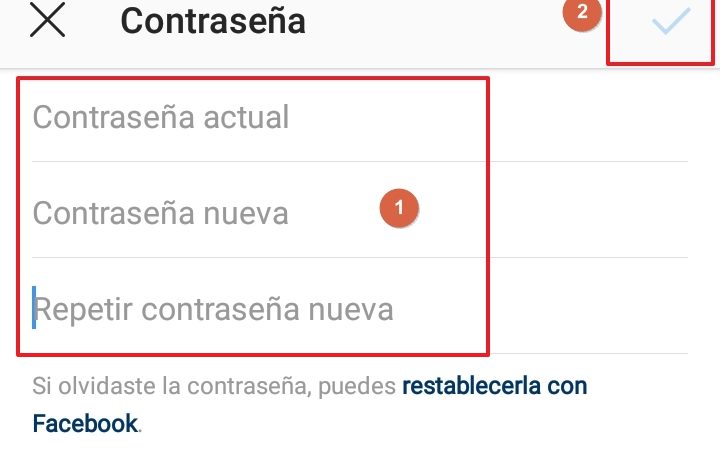 There is no doubt that Instagram has positioned itself as one of the most important social networks today, although as its use increases, the risks of suffering account theft or unauthorized access by third parties also increase. Therefore, it is always advisable to keep the password updated on this and other social networks.
There are two options to change your Instagram password : the first is through the web, we consider that the simplest and most direct; the second is through the mobile and tablet application that will also allow you to change your password in a matter of seconds. Next, in InfoCuentas we show you step by step the procedure to follow to change the password of your account.
From the web version
It is possible to change the Instagram password directly from the web version, accessible both from the computer and from a mobile device (although it is also possible to do it from the application). Follow these steps to change your password:
Accede to https://www.instagram.com/accounts/password/change/, the section of Instagram.com corresponding to the password change. You can also go to your profile, press the " Edit profile " button and then click on the " Change password " option .
Enter your old password in the first field.
Enter your new password in the second field, repeat it in the field below to confirm the new password.
Press the " Change password " button.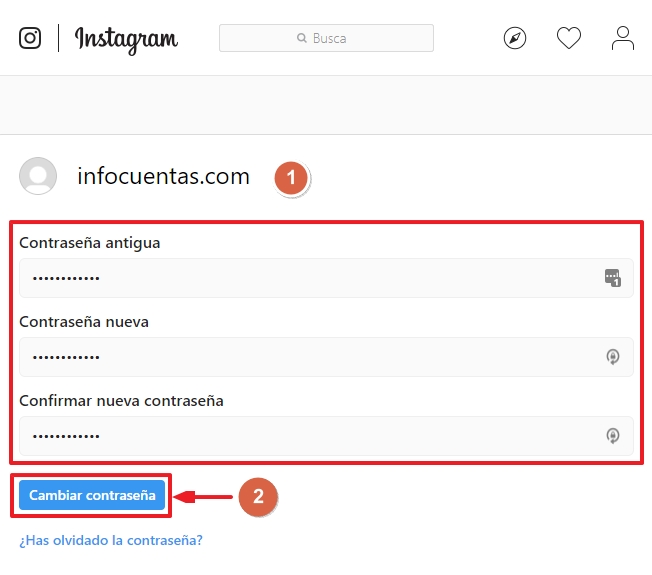 If you don't remember your current password, click on the " Forgot your password? " Link and follow the steps to get a new password, or you can access our tutorial on how to recover an Instagram account.
From the app
From the official application, the password change process is quite similar to that of the web version. Following a few simple steps you will have successfully changed your account password. Here is the step-by-step password change process .
Access the Instagram application and log in if you have not done so already.
Go to the " Profile " section .

Tap on the three horizontal lines in the upper right corner.
Tap on " Settings ".

Go to " Security ".

Then go to " Password ".

Enter your current password in the first field, in the next two fields enter your new password.
Press the button in the corner to confirm the change.

You can also reset your password with Facebook if you don't remember your current password. To do this, in the password change section (step 6) press the link " reset it with Facebook " and if there is an account linked to your Instagram, you can change the password directly without having to know the current password.
Change the password of the Facebook account linked to Instagram
Not only with your Instagram password you can access your account; If you have a Facebook account linked to your profile, anyone who has your account password can also access your Instagram. Therefore, it is necessary that, apart from keeping the Instagram password updated, you also keep your Facebook account safe.
More information : How to change your Facebook password.
Tips for a strong password
If you are going to change your Instagram password, don't choose such an easy password! As much as possible, you should avoid using your personal data as a password that others could obtain. Some tips to correctly choose the new password for your Instagram account.
Do not use your personal data within the password; If possible, avoid putting data on your date of birth, telephone number, name / surname, hometown or residence, among others.
Choose a password that is difficult to guess, but at the same time easy for you to remember.
Don't use the same password on different services.
If possible, use long passwords that contain a combination of numbers, letters, and even symbols.
Use an online password generator such as www.Password.es and memorize it or write it down in a safe place.
As we have already mentioned, if you have a Facebook account linked to your Instagram, keep the password of both updated and above all different.
If you follow these recommendations for your account, it will be very safe and impenetrable Now enjoy Instagram with peace of mind!