Networking
Programs to share Wi-Fi in Windows with other devices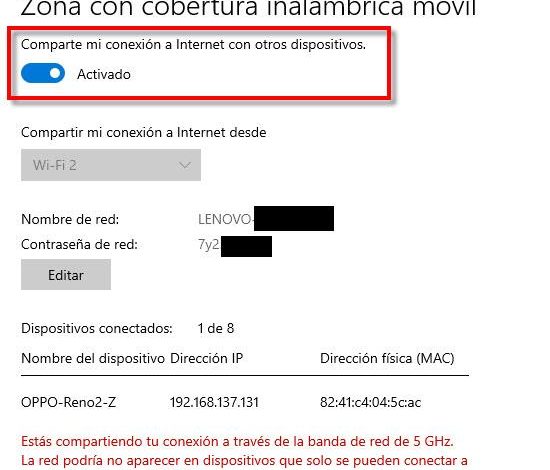 Currently living without the Internet is very difficult or almost impossible. The reality is that we need a connection to the network of networks to squeeze our equipment to the fullest. In addition to this, we have to add that to traditional PCs and laptops, others such as smartphones, tablets and more and more IoT devices have been added. A solution that we can adopt when we do not have a Wi-Fi router available is to turn our laptop or PC into a Wi-Fi access point. In this tutorial we are going to offer you some free programs to share Wi-Fi in Windows easily.
Perhaps some of you have heard of or used Connectify. Unfortunately now it is a paid software, but do not worry because we are going to present you some free alternatives. Here we are going to talk about free programs to share the Internet from our computer very easily and quickly, without having to pay anything to use the software.
MyPublicWiFi
One of the Wi-Fi sharing programs that we can use is MyPublicWiFi. We are going to find an easy-to-use software that will turn our PC or laptop into a Wi-Fi wireless access point, a repeater or a multifunctional access point (AP). Thus, any user who is nearby can browse the Internet through its shared use. Regarding the system requirements, you need a 32-bit or 64-bit Windows 7, 8 or 10 computer along with a Wi-Fi card. In case you want to try and download the program, we could do it from the True Software developer page from the following link .
This is the main screen of the program: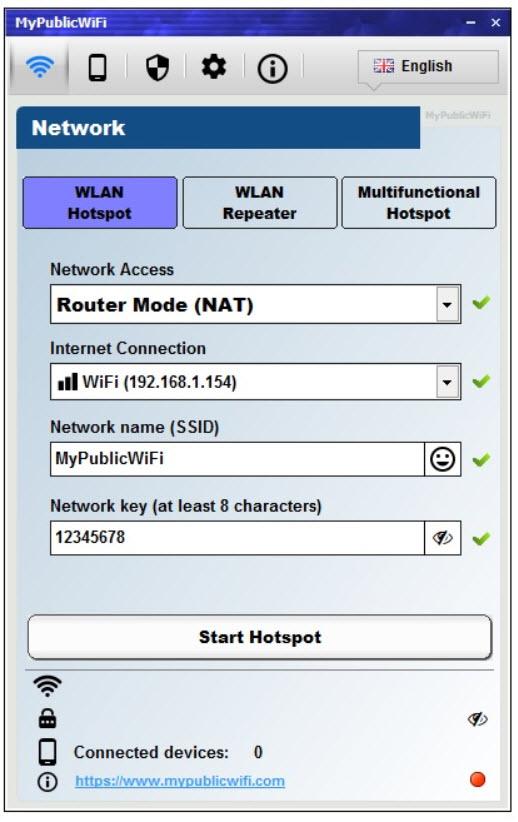 It also allows to enable user authentication, then clients will be redirected to their login page to authenticate with access password or accept the terms of use before being able to enjoy the Internet connection.
In case you are interested, here is an installation video:
In addition, it can be used to restrict user access to specific servers, prevent the use of P2P programs and block the use of social networks or advertising. Other characteristics it has are:
You can allow sharing a VPN connection.
The wireless network created uses WPA2 encryption.
View connected devices.
Supports the use of QR codes to avoid having to type the password.
Bandwidth Manager helps you control the download speed of your users.
It allows you to record and track all the URL pages visited on your virtual WiFi hotspot.
It supports Wi-Fi Direct for Windows 10.
As you can see, it is a really very complete software.
Baidu WiFi Hotspot
The next of the Wi-Fi sharing programs that we are going to look at is Baidu WiFi Hotspot. Thanks to this software we will be able to create a WiFi wireless network directly from our PC or laptop using this free software. Regarding the connection, you will not have limitations to share data and you can also connect any device. This is the main screen of Baidu WiFi Hotspot: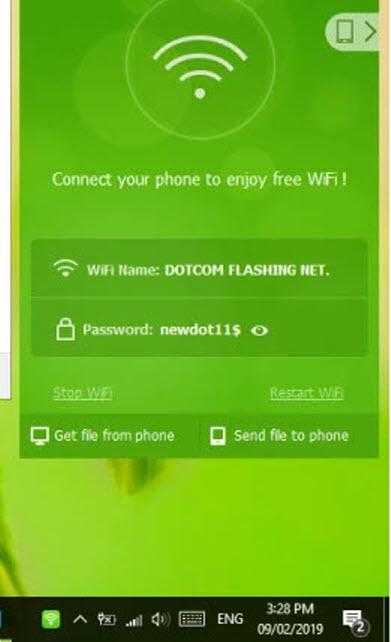 To be able to use it, we will need a computer with Windows XP, Windows Vista, Windows 7, Windows 8 or Windows 10. If you want to try the program, you can do it from the following link . An interesting thing that this program offers is that it also allows you to send files from your computer to the phone and also vice versa.
The way in which you guarantee security is by using the password that the devices that connect will be required to use. Also, it has the ability to block any device from connecting to the internet by using a blacklist. Finally, it should be noted that it is well optimized and can be run with guarantees on older computers.
Wi-Fi HotSpot Pro
Among the programs to share Wi-Fi we have one from Microsoft. In case of being a Windows user that does not require any special option, this application may be an interesting option. Regarding the recommended Windows version, it is Windows 8 onwards, so Windows 10 is also included. Without a doubt, it is a safe option that we can download from the Microsoft page .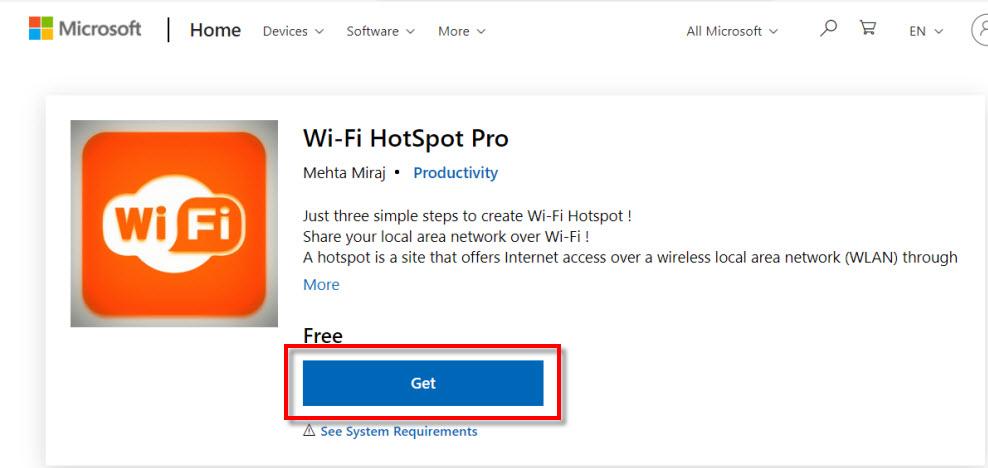 If we want to get the application we will have to press the Get button . Then it will redirect us to the Microsoft Store where we will click the get button to install the application. Thus, we can easily create a Wi-Fi access point by following only 3-4 very simple steps that I am 100% sure that if you follow all the steps that are indicated, you will not have problems.
The best of all is that it is free, it is in the Microsoft store with certain guarantees, and if you do not like it you can always try some of the other programs to share Wi-Fi.
OSToto Hotspot
OSToto Hotspot is a very simple program to turn our PC or laptop into a WiFi access point, to which we can connect any device that is nearby. Thanks to this software we can enjoy Internet access for any smartphone or tablet. As for the configuration, it is simple, as soon as you open the program, you will see the name of your new Wi-Fi network and the password. If you want to try it, you can download the program from here .
Here you have the main screen of the program that you can see offers a very simple interface:

As soon as we know the access data we can share it with our visitors, so they can quickly connect to a separate network. In addition, from the program's control panel we can quickly see all the devices connected to the new network, and if any of them do not belong to your group of family or friends, you can block it immediately. One of the special characteristics is that it has a speed test to know the quality of our connection.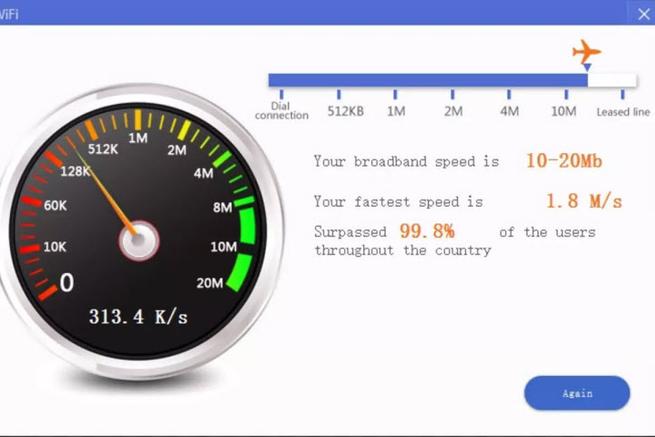 Obviously it is for Windows, free as well and in this case only available in English.
Virtual Router Plus
Another of the Wi-Fi sharing programs that we can use is Virtual Router Plus. With this simple software we can transform our Windows PC or laptop into an access point. The connection is completely secure as it uses WPA2 encryption. If we want to install this program we can download it from the following link . This would be the main screen of the program, and the one we would see when we started it for the first time: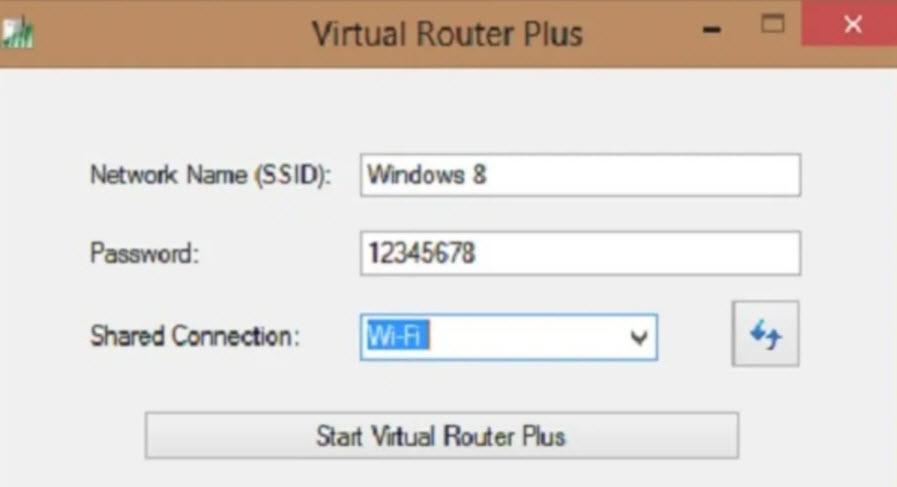 Its way of working is very simple, we put a name to our Wi-Fi network in SSID. Then in Password, we add the password that we want to use and in Shared Connection we put Wi-Fi. For the access point to start working, click on Start Virtual Router Plus. Like the rest of the programs, it is free and can be used on computers from Windows XP to Windows 10.
Create an access point in Windows 10
We have seen several free Wi-Fi sharing programs. However, Windows 10 also offers us the possibility of doing the same, as long as we have a Wi-Fi card in the computer or laptop. What happens is that sometimes we are still interested in doing it on older computers without Windows 10, or that require more advanced features such as those offered by MyPublicWiFi. For those cases, you have to select the one that best suits you from the aforementioned free software.
If we want to create a Wi-Fi access point in Windows 10 we will go to:
Start Menu.
We write Configuration and press enter.
We click on Network and Internet.
We are going to Zone with mobile wireless coverage.
Then a screen like this will appear:
In case we want to change the configuration, we will click on the Edit button .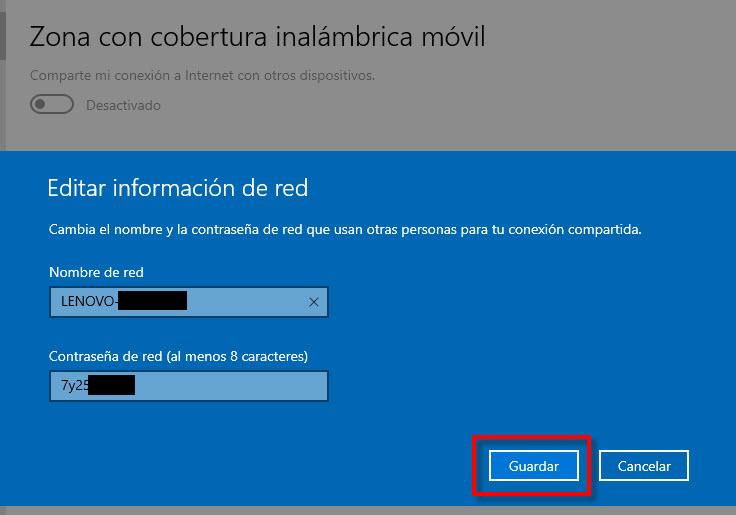 Here we can change the network name and password. Once the changes are made, if we believe it necessary, we will return to the screen where we were.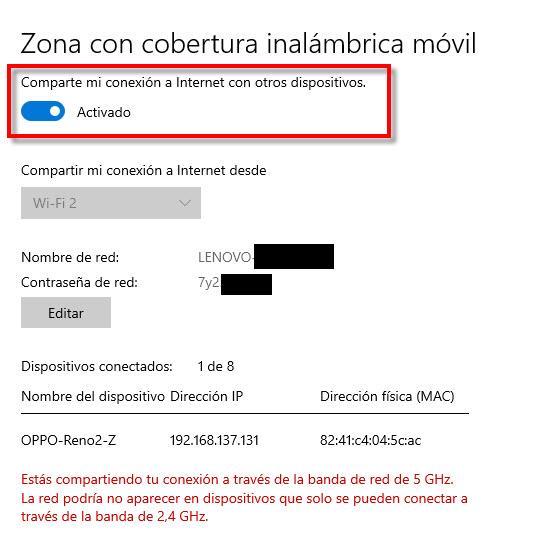 Finally, if you click on Share my Internet connection with other devices, your access point will be created and if you look below you will see the connected devices.