Networking
Net Download Manager: improve download speed in Windows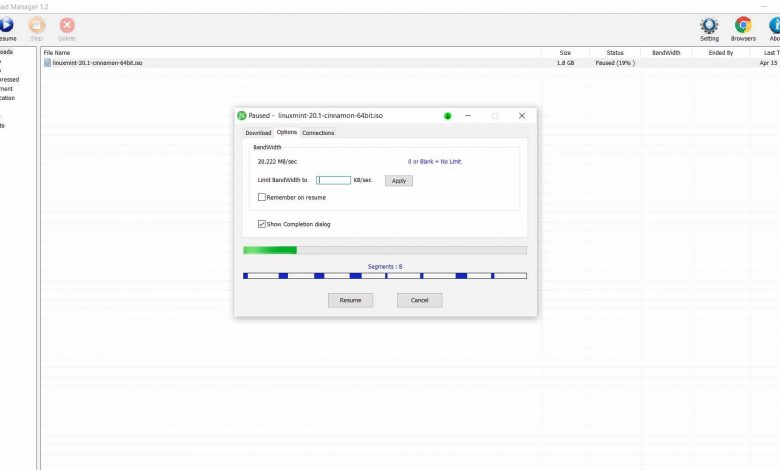 When we surf the Internet, one of the most important factors is the speed of the connection. We want that when opening a page it loads quickly, that when downloading a file it does so in a short time and that, in short, everything works correctly. However, on many occasions problems can arise and there are factors that influence the speed. We can solve this by having different tools and changing some aspects of the configuration. In this article we are going to talk about Net Download Manager, a download manager that will allow us to download the Internet with greater speed.
Internet and download speed is very important
As we have indicated, having a good Internet connection that offers good browsing and download speeds is essential today. We have many devices connected to the network, many services and platforms that need to be connected in our day to day.
Take, for example, the use of the cloud that we have today. There we store a large amount of content, files and documents that we constantly upload or download. We must also take into account the amount of content that we download directly from the browser.
In this last sense, when using the browser to download, it is normal that we do not have anything installed. That is, we go to a download path and download the file directly with the browser itself, with what it has integrated. Now we can use external programs to improve speed.
That's where Net Download Manager comes in. It is a download manager with which we can obtain important improvements when downloading a file from the Internet. They are alternative options to the programs that we already have and that can come in handy.
Why use a download manager
At this point we may wonder why it is important to use a download manager. The benefits are multiple, as we are going to see. It is a program that can help us in our day to day and thus improve the speed when downloading something from the network.
One of the most important advantages of using a download manager is that they will improve speed. Normally the browser offers good results, but not so optimized when we are going to download large files. We may have some performance limitations.
Another important improvement is that we will be able to better organize downloaded files. We will be able to divide them into sections, for example, and thus have a greater order. This is important if we are downloading a large number of different files.
It should also be noted that it offers certain functions that the standard browser does not have. For example, we can pause a download and resume it later. This is interesting in case we have problems with the connection and we prefer to resume it later.
Net Download Manager, a manager to improve downloads
All of this that we have mentioned can be done by Net Download Manager. It is a download manager that we can easily install on Windows, the most used operating system on desktop computers, and thus better control all the content that we download when browsing.
Net Download Manager is an ideal program for all those who want to have greater control over downloads, using something alternative to what comes standard with the browser. It is very easy to use and it should also be mentioned that we can install it in the operating system and also add an extension for the main browsers such as Google Chrome or Mozilla Firefox.
How to install Net Download Manager
The first thing we have to do to start using the Net Download Manager download manager is go to their website and download the program. It is completely free and we will see that it is very easy to start up.
Once we download and install it, an image will open as we can see below. That is the main screen from which we can access the different options, see the files being downloaded, etc.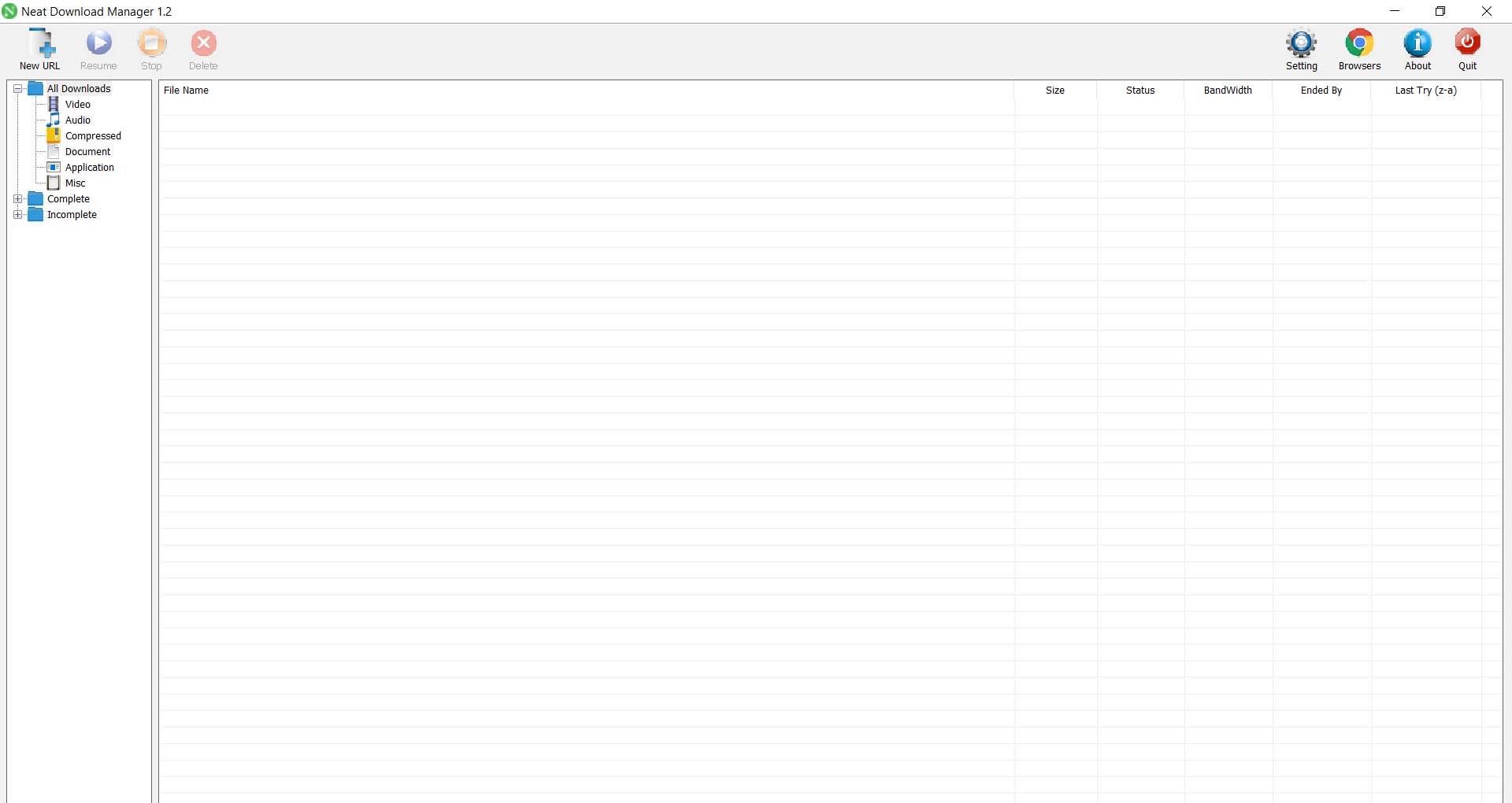 We can add the Net Download Manager extension in a simple way in Chrome (and those based on Chromium) or Firefox. To do this we have to click on the Google Chrome icon that appears on the top right and a new window is automatically displayed to add the extension in one of these two browsers.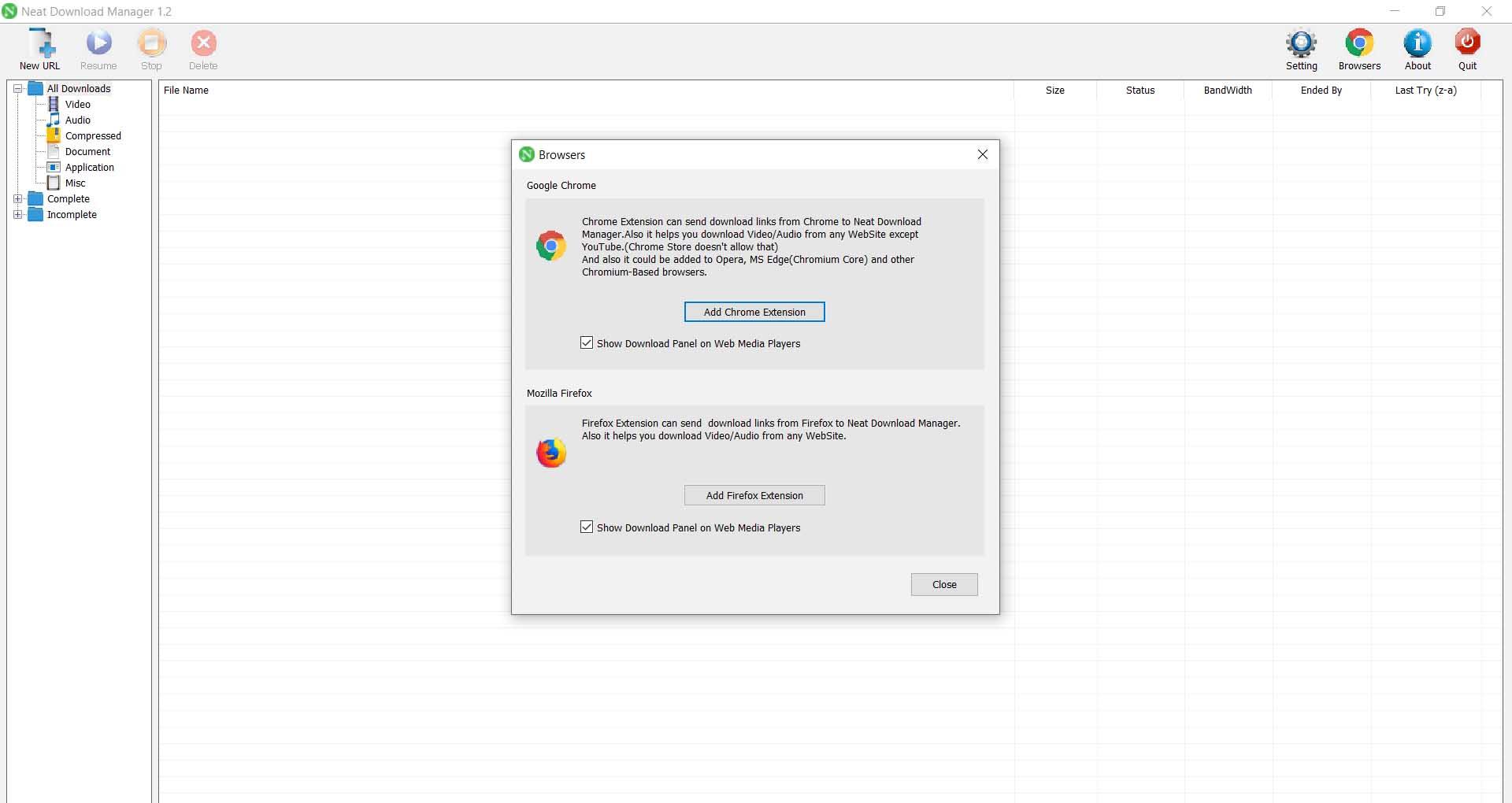 Clicking on add extension, either in Chrome or Firefox, automatically takes us to the official page of the browser and there we add it. As we always say, it is highly advisable to always download the software from legitimate sites that are reliable. In this way we will avoid adding programs that may have been maliciously modified by third parties.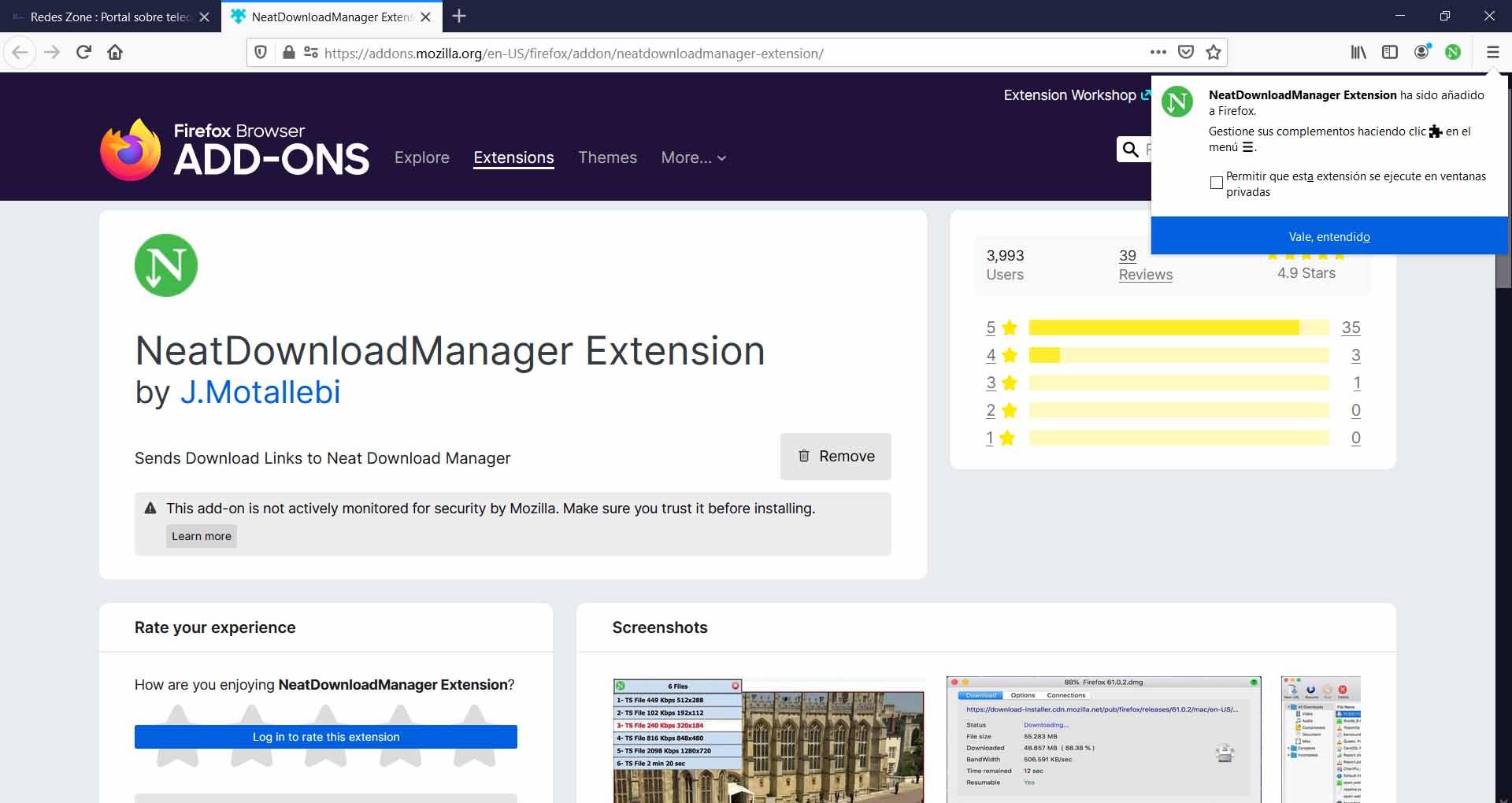 Download with Net Download Manager
We already have Net Download Manager installed, we have added the extension to our browser and now we only have to start using it. This is very simple, as we are going to see. It is practically automatic and we will not have to do much.
In our example we have tried to download the ISO of Linux Mint, one of the most popular Linux distributions. Simply clicking the download button automatically adds you to Net Download Manager and starts downloading through the program.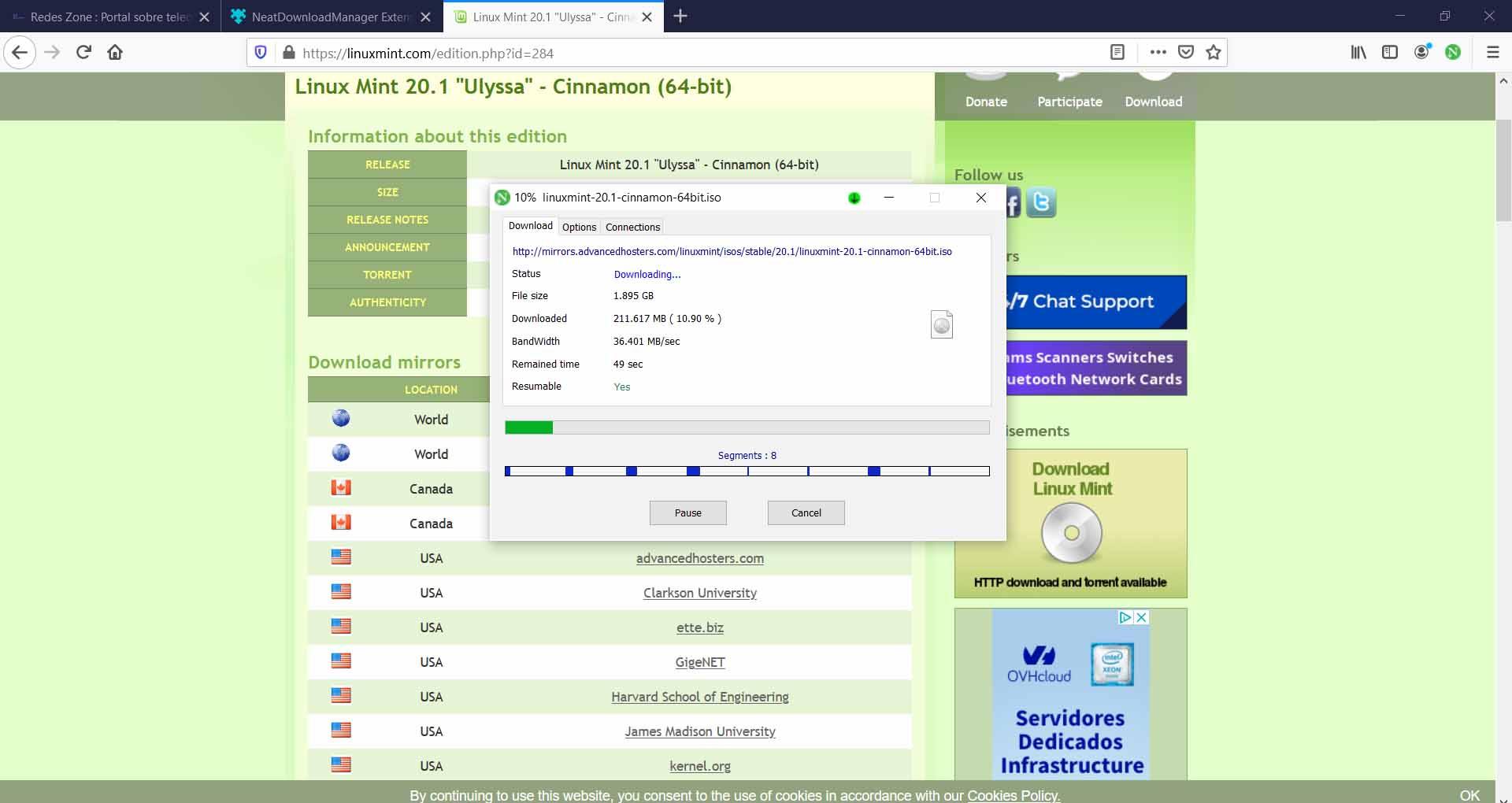 As we see in the image, a second window is displayed with the specific information of that download. It tells us the size of the file, the download speed or the time until it finishes. A very interesting point is that we can hit Pause and then continue.
If we click on the Options section , which appears above, we can configure certain parameters. For example, we can put a limit on the bandwidth that it will consume. A way to limit the download speed and that cannot affect other devices that are connected to the network. This is especially interesting if we are using a very limited connection.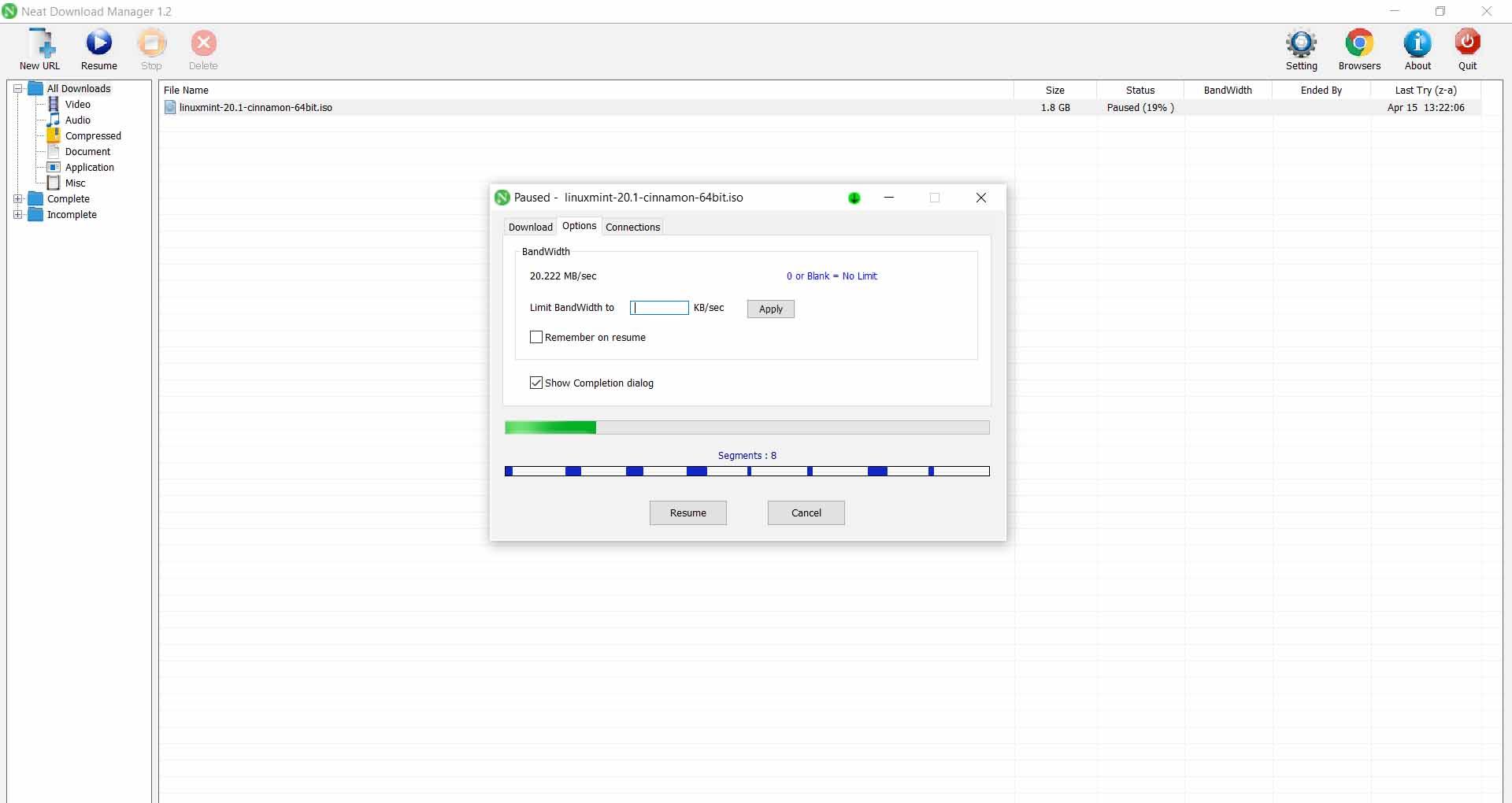 Now in our example we directly clicked on a download link from Mozilla Firefox and added it to the program. What happens if we do not want to install the extension or we are using another browser that is not compatible? There is no problem. In this case we simply have to click New URL, top left, and paste the link there to start the download. It will automatically add it to the program and start.
In short, Net Download Manager is a very interesting program that we can install in Windows 10. It is also compatible with macOS, although in our case we have tested it in the Microsoft operating system. It also has an extension for the main browsers and this greatly facilitates the task of downloading from the Internet and that everything works correctly.