Networking
How to transfer WhatsApp conversations from one mobile phone to another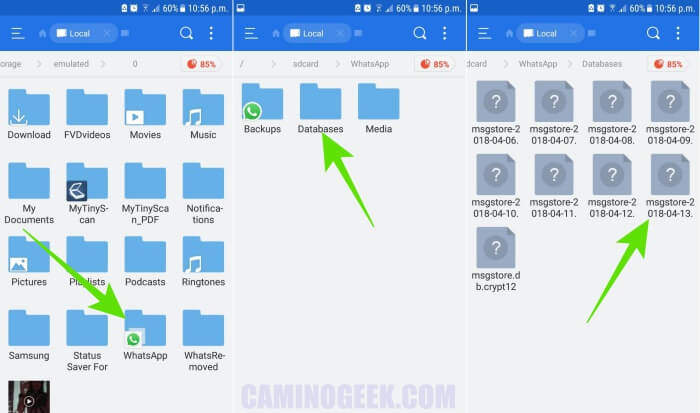 If you are going to switch to a new phone, one of the things you need is to configure your WhatsApp on it, without losing anything. In this post we explain how to transfer your WhatsApp conversations to a new device and pick them up where you left off.
WhatsApp is possibly the most popular instant messaging application in the world. It is very rare that someone does not use it to communicate with their associates, at least from time to time. But if you buy a new phone and transfer your WhatsApp account, your previous messages do not accompany you automatically.
Transfer WhatsApp conversations to another mobile
1. Transfer chats with Google Drive
The latest versions of WhatsApp include automatic backups to the Google Drive account. In this way, the process of transferring your WhatsApp chat history between phones is even easier than before.
Simply press the trio of dots in the upper left corner of the screen within WhatsApp and go to Settings > Chats > Backup.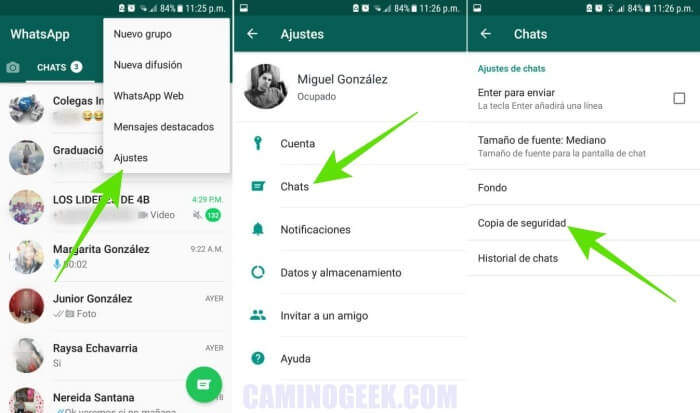 From here, you can either take a backup manually or configure it to automatically backup as regularly as you like. When reinstalling the WhatsApp app, you will be asked to recover your chats and multimedia from Google Drive.
2. Make manual backup of chats and restore it
If you don't have the automatic backup option yet or don't want to enable this option for whatever reason, it's still relatively easy to create a backup and move it to your new phone. It simply proceeds as follows:
Open the Settings menu within WhatsApp, press Chats and then Backup.
If your old Android phone and a new one use an external SD card for memory, just take the SD card out of your old phone and put it in the new one.
For phones that save to internal memory, like most newer devices, connect the Smartphone to your PC with a USB cable ; and look in the device's internal memory for the WhatsApp / Databases folder . This is where all the backup files are saved with a date. They will look like "msgstore-2018-03-27.db.crypt". Copy the file with the most recent creation date to your PC in an easy-to-find location.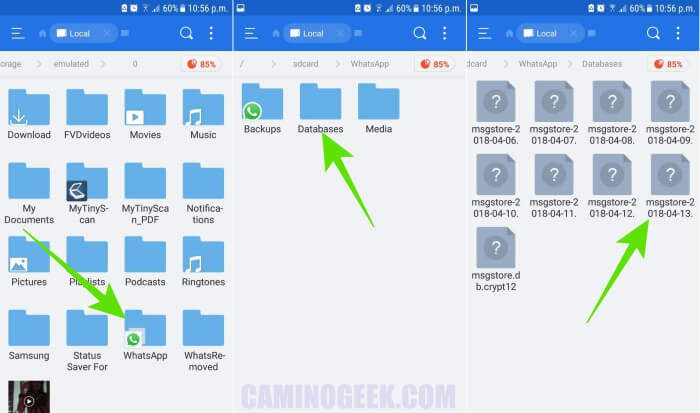 Install WhatsApp on your new device but do not start the application.
Connect your new device to PC via USB. Since you have downloaded WhatsApp on your new phone, the WhatsApp / Databases folder should now exist. Otherwise, you can create a new Databases folder in the WhatsApp folder .
Copy your WhatsApp conversation backup file to this folder.
Now start WhatsApp on your new phone and verify your phone number. You should receive a notification that a message backup was found.
Just hit Restore, and you're done. After a few seconds, all of your messages should appear on your new device.
Conclution
I hope this guide has been useful for you to transfer your WhatsApp chats from Android to iPhone, or in whatever combination. The good thing about this is that you can easily do it using Google Drive backups. You can also recover deleted conversations as we saw in a previous post.