Networking
Get 100 Megabytes or more from your operator with these tips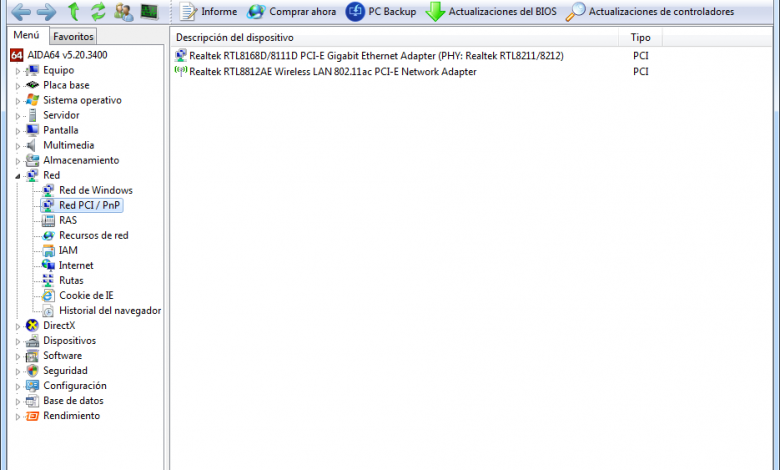 Currently in Spain we have FTTH connections that reach up to 1Gbps speed, although the most normal speed that we can find today ranges between 300Mbps and 600Mbps. However, it is possible that if you do a speed test you will not get the one contracted, and you will have a speed of 90-95 Mbps, both in download and upload. Why is this happening and how can I fix it? Today in RedesZone we explain step by step everything you should check on your local network, and how to solve it.
The reason for having a speed test with a download of about 95Mbps and about 95Mbps of upload (if you have contracted symmetric fiber) is because our local network is not operating at Gigabit speeds (1,000Mbps) but is operating at a maximum of 100 Megs Hence, the speed never exceeds 100 megabytes. In order to fix it, we must review our local network and follow our recommendations.
1. Check ONT and router
Currently all the ONTs and the routers of all the operators have Gigabit Ethernet ports, in case you have very old equipment, it is likely that they do not support these speeds. If you have the right equipment (an ONT or a new router) it is because the rest of the local network is not well configured, or does not meet the necessary requirements to have Gigabit speeds. An important detail is that with the recommendations we will achieve 300Mbps via cable without any problem, and even more, specifically up to approximately 950Mbps real, since it is the maximum speed of the Gigabit Ethernet interface.
2. Check the wiring
To achieve Gigabit speed with a network cable it is totally necessary that said cable has four pairs of wires, that is, that it has all the wires in the RJ-45 connector, as you can see in the following image: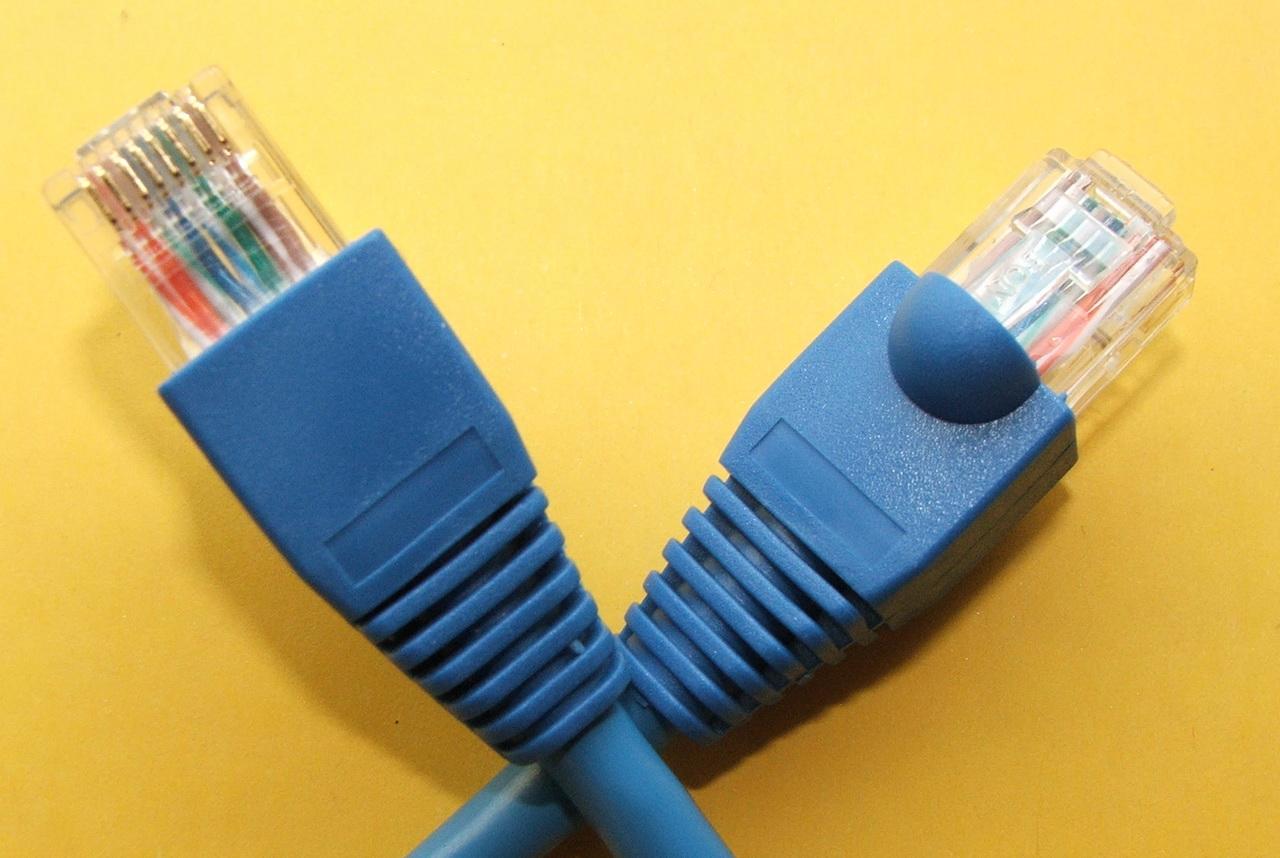 Currently all the cables provided by the operators are Cat 5E class, this type of cable is totally valid as long as it has the four pairs of wires mentioned above. If we choose to purchase a new network cable, it is recommended that it be Cat 6 since the price difference is very low, although both categories provide speeds of 1Gbps without problems, so you should get the maximum performance from your Internet connection.
The following type of cable will not work at Gigabit speed but only at 100 Megas, if you look closely, it only has two pairs of wires: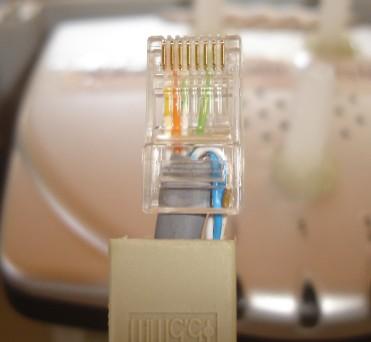 This detail is important, because even if we have a Cat 6 cable and we have only crimped two pairs of wires, the speed will be 100 megabytes. Nowadays it is highly recommended to buy network cables of Cat 6 or higher, either made or crimped by yourself, since this category of cable is the best value for money you can buy. However, if you are going to wire your home, or buy new network cables and want more speed, we recommend buying Cat 7 cabling as it will provide us with greater bandwidth, and we will go further at high Internet speeds.
When buying a network cable, it is also very important to look at whether it is UTP, FTP and even SFTP, that is, the level of shielding we have in the cable. UTP cables are quite flexible, however, the other two types of cables are more rigid, therefore, if you are going to wire your house, you should take into account the type of cable to buy. If you are going to pass the network cable through an exclusive channeling of the network cable, then with UTP network cable it will be enough, however, Cat7 cables are already shielded and screened to provide us with the highest possible bandwidth. If you do not have exclusive channeling of network cable, then we strongly recommend opting for FTP or SFTP cables, which are the ones with the highest shielding, in this way,
3. If we have a switch, review its technical specifications
If the four Gigabit Ethernet ports of the router that the operator has given us, we have fallen short and we have bought a switch, we must see if the switch has Gigabit Ethernet ports or are Fast-Ethernet. In the technical specifications of a Fast-Ethernet switch there will be something like "10BASE-T and 100BASE-TX", that is, 100 megabytes maximum. However, if our switch is Gigabit Ethernet, something like this will come: «10BASE-T / 100BASE-TX / 1000BASE-T «, that is to say, 1000 megabytes at most that we can achieve without problems.
Do you need a switch and you don't know which one to buy? We recommend two models, the D-Link DGS-105 with IGMP Snooping, and also in its 8-port version which is the D-Link DGS-108 model.
It is very important that if we use a switch, it is Gigabit Ethernet or higher, since nowadays there are also Multigigabit switches, and even high-performance 10Gbps switches. Of course, we must not forget about the cabling between the main router and the switch, we must make sure that we have a cable that supports Gigabit Ethernet speeds as we have explained before, in addition, in this case the switches have an LED that will show us the synchronization of the port, the color that should be green, indicating that the speed works at 1Gbps speed, if it is in orange the speed is 10 or 100Mbps, therefore, we could have the bottleneck here.
4. Is our network card Gigabit Ethernet?
If we have a computer with many years or a low-end laptop, it is likely that the network port is Fast-Ethernet (100 Megas) and not Gigabit Ethernet (1,000 Mbps). To check if our network card supports Gigabit speeds in Windows 10 operating systems, we must go to the «Control Panel»: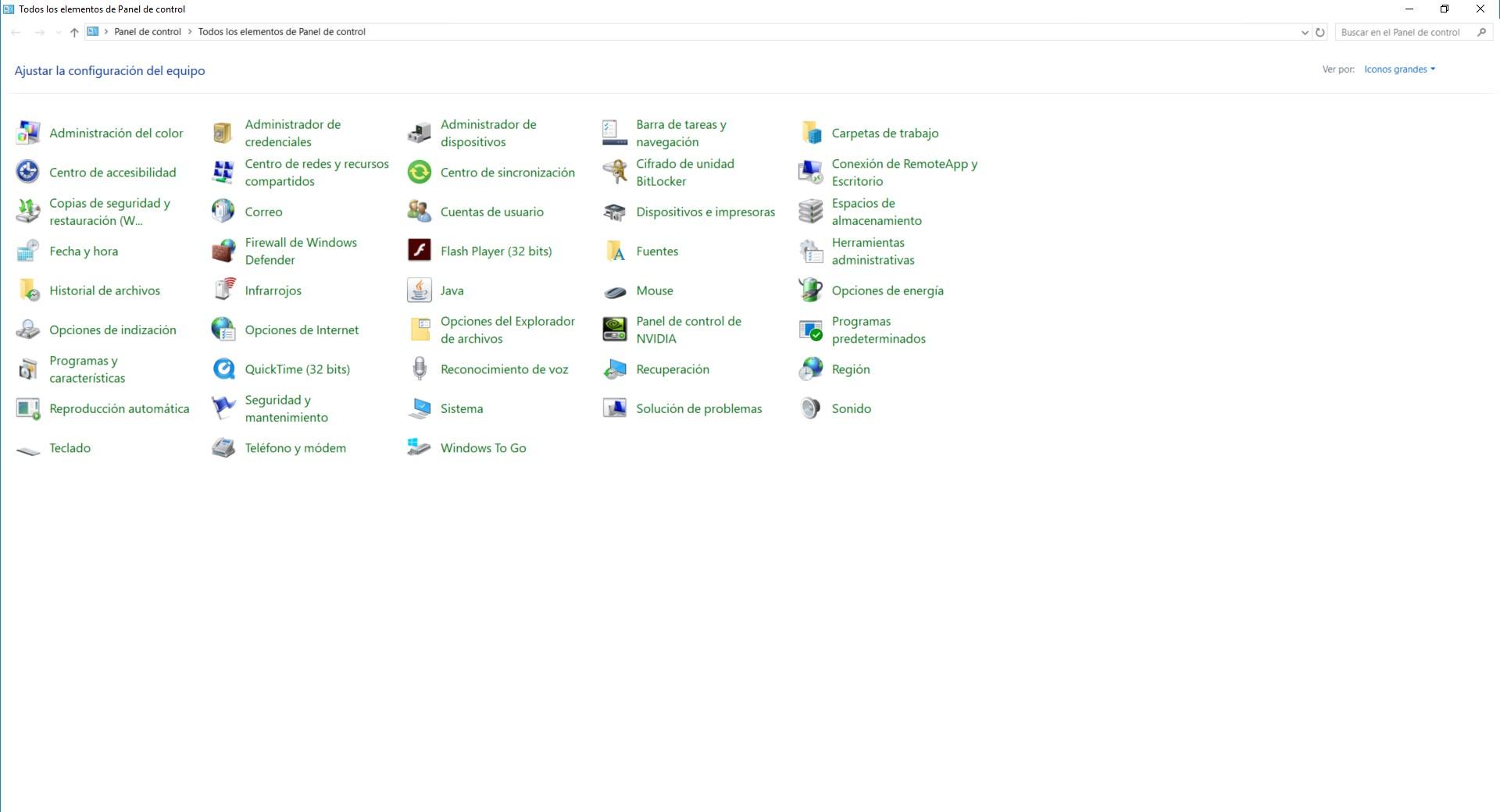 Once inside the Control Panel, we click on « Center of networks and shared resources «, and we click on « Change adapter settings »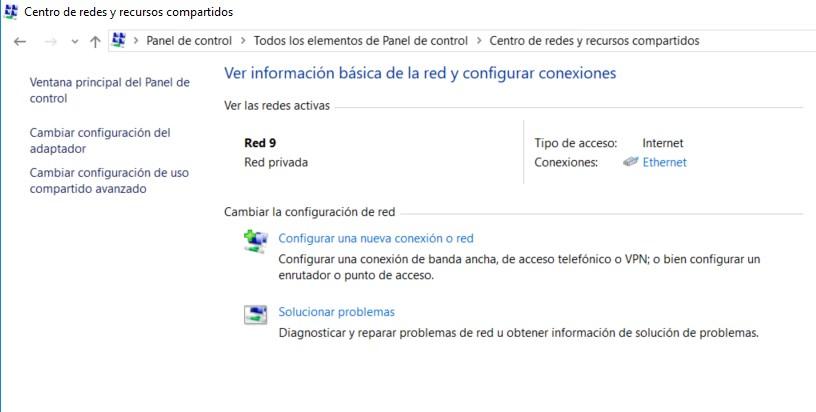 We will have to choose our real wired network card, since if you have VMware or Virtual Box installed, you will also get other virtual network cards: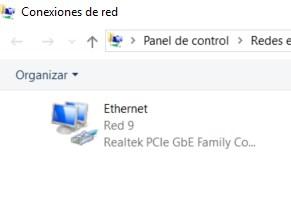 We select our network card with a double left click and we will get something similar to this: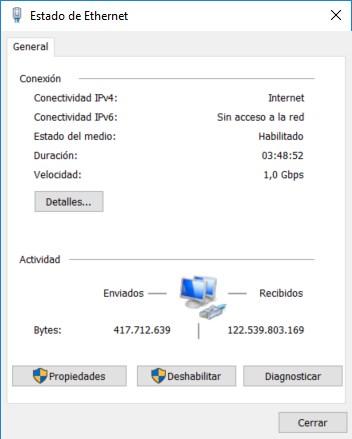 If instead of "1 Gbps" we get "100 Mbps" it will mean that at the level of the link with the router we are synchronizing at 100 Megas, this may be due to a configuration failure, because our network card is not compatible, or because we don't have the drivers correctly installed. One of the best Ethernet network cards that we can buy is the ASUS XG-C100C, a model that supports 10Gbps speeds, and that is Multigigabit, so we can achieve speeds of 5Gbps and 2.5Gbps as well. Another recommendation for Gigabit speeds or higher is to activate Jumbo Frames, or also known as 9K byte Jumbo frames, to transfer files on the local network at the maximum possible speed and not have a bottleneck.
4.1 Check the configuration
Before checking if our network card is not compatible or if we have the wrong drivers, we are going to click on " Properties " in the same menu as before, then click on the "Configure" button next to the network card to check if it is a configuration failure.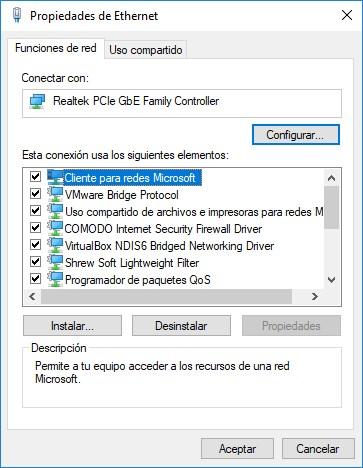 Once we are in the "configure" menu we will see several tabs at the top, we must go to " Advanced options " and within there we must select " Speed ​​and duplex " as you can see in the following screenshot: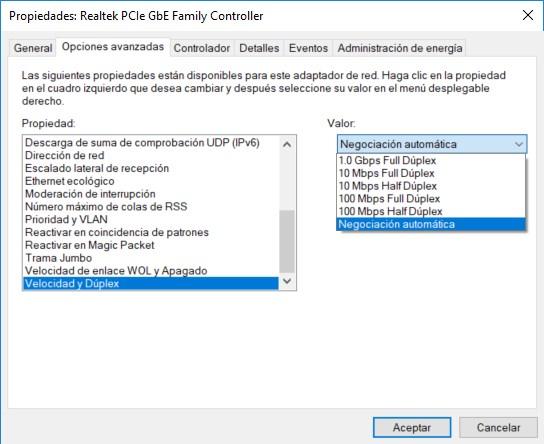 In the right part where it indicates "Value", we will have several options, if we do not have the option " 1.0 Gbps Full Duplex " available it means that either our network card is not compatible with Gigabit speeds or that the drivers are not correctly installed:
4.2 and 4.3 Find the model of our network card to check its specifications and download the drivers
If you have come this far it is because although you have reviewed everything that we have explained above, you still do not have 300Mbps because you do not "synchronize" with the router at 1 Gbps but only do it at 100 Megas. The last thing left to check is the exact make and model of our network card. We recommend that you download the AIDA64 Extreme program, the portable version, to see the exact model of our network card.
Once we run the program we go to " Network / PCI Network " and we will see the model of our network card, in our case it is a Realtek RTL8168D / 8111D PCI-E Gigabit Ethernet.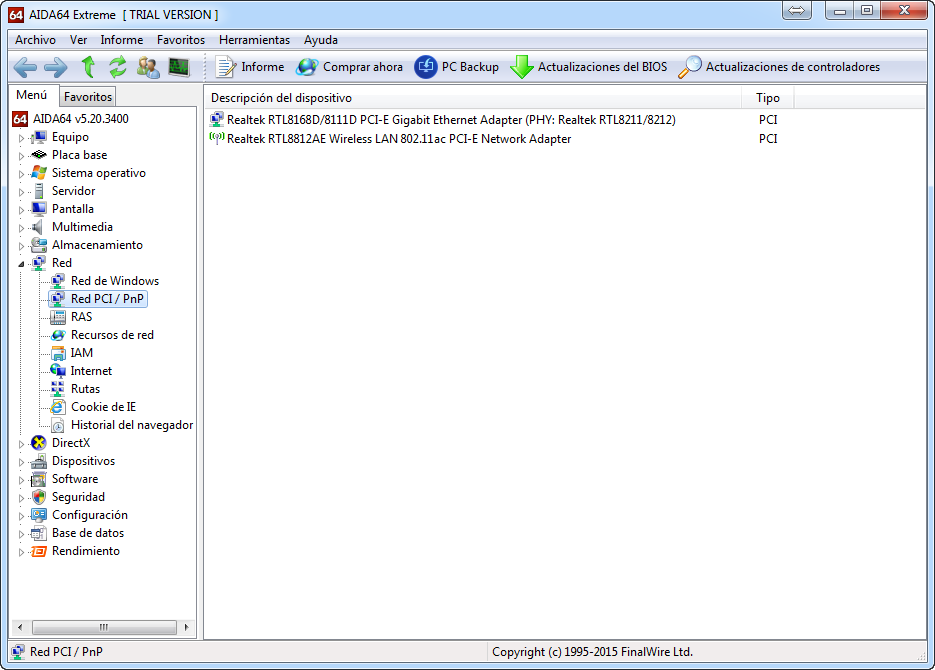 Now we only need to look for it on the manufacturer's official website and see its technical characteristics to see if it supports Gigabit speeds, or download the correct drivers to be able to have the speed.
If with these recommendations you are still a bit lost, you can leave us a comment and we will help you find and solve the problem. In the vast majority of cases it is due to the state of the network cable or a bad configuration in the PC.