Networking
Easily fix Windows 10 Wi-Fi connectivity problem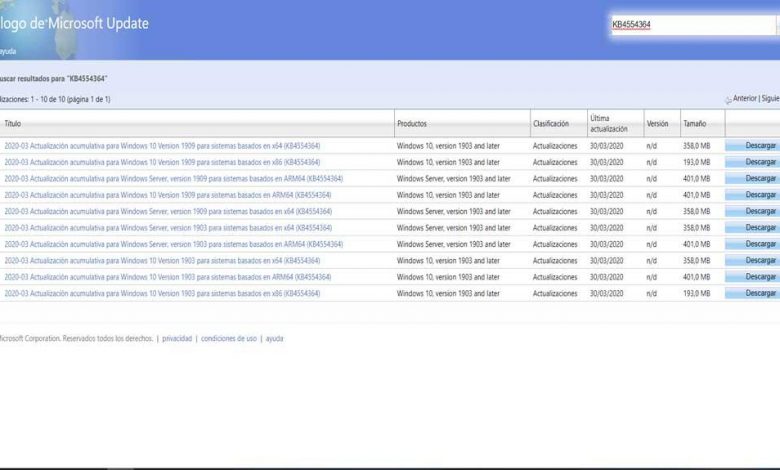 There is no doubt that wireless networks are more present than ever. There are many devices that we have at our disposal that can be connected by Wi-Fi. This makes having a powerful network with good coverage and speed necessary. However, sometimes problems may arise that cause a malfunction or that we can not even connect. In this article we are going to talk about one that affects Windows 10. We are going to explain how to easily fix the Wi-Fi connectivity problem .
How to fix Wi-Fi connectivity problem in Windows
As we have always recommended, having the systems updated and with the latest patches is vital. In this way we not only include possible performance improvements that are present, but we will also solve possible security problems. Sometimes there may be vulnerabilities that can be exploited by hackers to carry out their attacks.
However, it should be mentioned that sometimes updates can cause problems. This is often present in wireless networks. We have seen bugs with the Bluetooth after an update and also bugs with the Wi-Fi. It can occur due to incompatibility with the operating system, for example.
This time we are going to focus on a problem that affects Wi-Fi connectivity in Windows 10 after the last update. It affected some users and this issue results in the inability to connect to the Wi-Fi network. The problem is that although Microsoft has solved it and released a new patch to correct it, it does not reach users automatically. This means that we will have to do it manually.
Keep in mind that this patch only has to be installed by users who have had Wi-Fi connectivity problems after the last update. Microsoft released the update for different versions of the operating system and each of them needs a different patch.
Patches depending on the version
The first thing we have to do is enter the Microsoft update catalog page . There we will have to search according to our version. This is the list that we must take into account:
Windows 10, version 1909 (KB4554364)
Windows 10, version 1903 (KB4554364)
Windows 10, version 1809 (KB4554354)
Windows 10, version 1803 (KB4554349)
Windows 10, version 1709 (KB4554342)
As we can see, they are different patches depending on the version of Windows 10 that we have installed on our computer. We will have to know what our version is and later see the corresponding update code. We have to put that update code in the search engine that appears on the Microsoft website.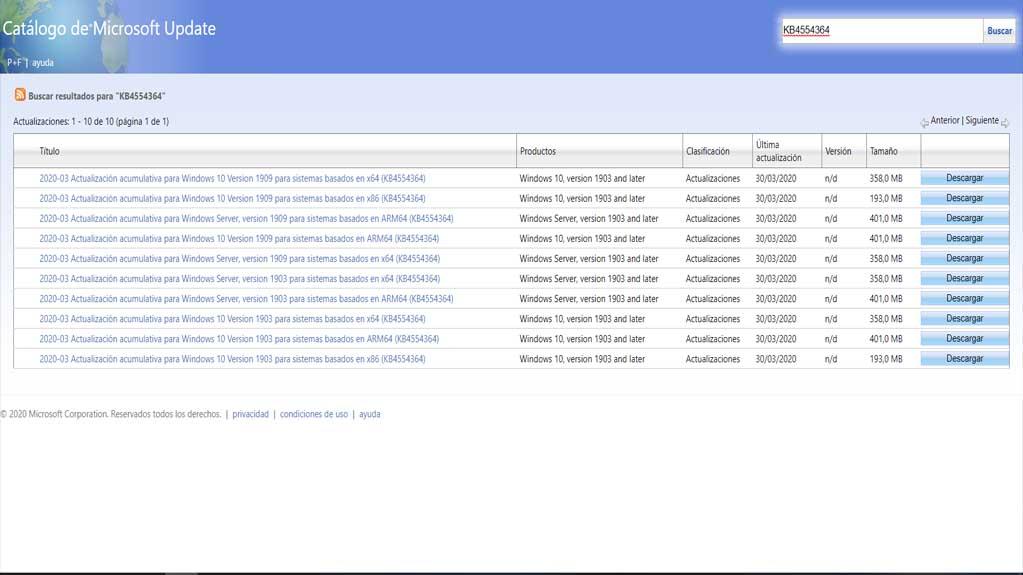 This means that if, for example, we are using Windows 10 version 1909, we will have to install the KB4554364 patch that we will find on the Microsoft website. These updates are really nothing more than the solution to the error we mentioned. They were released on March 30.
All those users who have experienced problems connecting to Wi-Fi in Windows 10 in the last days and who have updated the operating system to the latest version recently should try this that we mentioned. It is very likely that this update caused the error and that we should add that patch that corresponds to each version to correct the problem.
Keep in mind that we must choose what type of operating system we have. That is, as we will see, it will show us the 32-bit and 64-bit version, as well as the server version. We will have to download the one that corresponds to our system. This failure can occur in Home, Pro or Server version users.
When the patch is downloaded we will simply have to run and install it normally. Later we recommend restarting the computer and thus checking if this problem has been resolved and we can now connect to the Wi-Fi network normally.
In short, if we have problems with Wi-Fi connectivity in Windows 10 and we have recently updated the operating system, the failure may be solved simply by installing this patch.
Wi-Fi networks, increasingly used
It is a reality that today we use wireless connections much more than just a few years ago. If we look back, before it was normal to have a computer connected by cable to the router. But that little by little has been changing thanks especially to the rise of mobile devices and also to improvements in wireless networks. We can achieve more speed, quality and stability of the connections, which was more difficult before.
However, sometimes problems can arise as we have seen. We try to connect to Wi-Fi in Windows and we see that there are failures. Behind these errors there can be many causes. Perhaps it is a software failure, a problematic driver update, or a misconfiguration of the operating system itself. Whatever the problem, it is important that we find a solution. The objective is none other than to be able to connect our equipment with guarantees.
In recent years there has also been a considerable increase in devices connected to the Internet. Everything we know as the Internet of Things or IoT devices has made it necessary to have reliable networks that offer a good connection and that speed is always present. For this reason, we must avoid those failures that may affect our wireless networks on a day-to-day basis and that result in the inability to connect properly.
In short, we can say that Wi-Fi networks are increasingly used. This means that we must take care of our connections, protect them, avoid problems that may compromise stability and especially solve possible failures that may arise, such as the Wi-Fi error in Windows 10 caused by an update, as we have seen. in this article.
Why we must keep Windows always up to date
We have seen that sometimes problems can arise when updating Windows or once we have updated the operating system and this has caused failures in the software or some component of the equipment. However, we must always keep in mind the importance of keeping the devices correctly updated. This will help us avoid problems that may affect our day to day.
On the one hand we can say that updating Windows is very important to improve performance. It is a reality that with each new update they include some improvements to make it work faster, more stable and also have certain added features that can come in handy.
But in addition to this, we must also talk about security. It is a very important factor and that we must take care of at all levels. There are many attacks on the network and hackers use a wide variety of techniques. Sometimes they are based on vulnerabilities that they find unpatched on computers. Thanks to the updates we can include changes and patches that solve these problems.
Ultimately, updating Windows, like any program or operating system, is essential. It is something that we must take into account at all times. In addition, we must always download these updates from official sources, to avoid problems that could put at risk both the proper functioning of the system and the security itself.