Networking
Airplane mode windows 10 what is it, what is it for and when is it necessary to use it on your pc?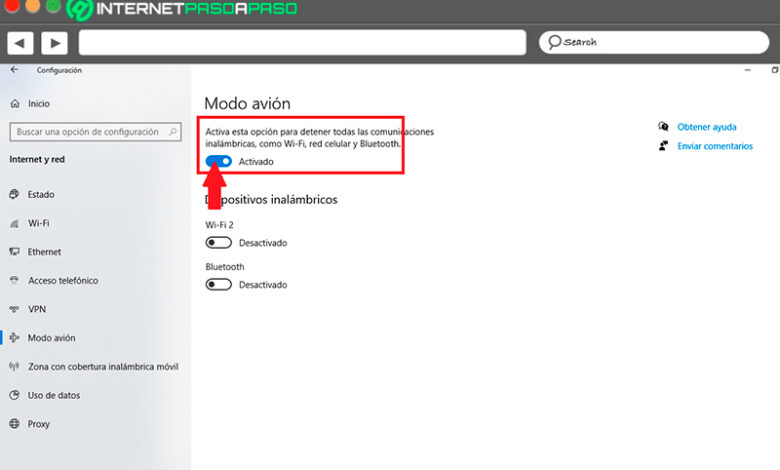 Windows 10 has become the latest version of Microsoft's operating system , with it a large number of functions and tools have arrived in order to offer a better experience to each of the users. In this way you can find out what the "Airplane mode" function is, so many will wonder what this tool can do on a laptop or desktop computer.
Keep in mind that Airplane Mode is a very useful function on certain occasions, especially when you are on a long trip and you want to  save battery life on your device , either on a smartphone or even on a laptop, since this It will prevent the device from establishing any type of wireless network connection .
However, many Windows 10 users are still unaware of this possibility that the OS offers them. That is why here we are going to teach you a little more What is it, what is it for and how can you use it on your computer to get the most out of it? To do this, follow in detail everything that we are going to teach you next in the post.
What is Windows 10 airplane mode and what is this operating system function for?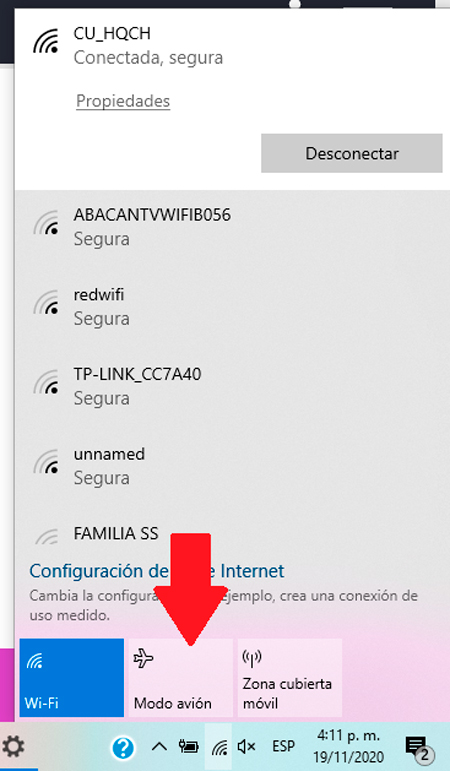 It is an option that with a single action will allow you to cut off all types of communication, therefore you will not have any access to any type of network as you will to the Internet in the case of computers with Win 10 . Thus it can be considered a very useful tool in some situations where you do not want absolutely nothing to affect such connections, as it can be a WiFi connection for Ethernet connection or via Bluetooth.
Therefore, it can be said that it eliminates any type of communication of the technological device with the outside, so that the user will not be able to receive any type of notification that is associated with the network. It should be borne in mind that when this function is activated, only the connections are affected, so the rest of the activities such as accessing a program, opening the music player, among others, if they are going to work without any novelty. . Since this only limits the communications that can be established in the equipment.
In this way, airplane mode can be considered as a mechanism that deactivates the incoming and outgoing connections of our laptop, smartphone or tablet and at the moment of activating it, the following connections will be canceled:
Navigation through 3G / 4G networks and others.
Bluetooth
Wireless network signal .
Ethernet cable connection .
Service GPS location.
NFC transmission .
Telephone signal in case of smartphone.
It should be mentioned that in the case of smartphones, when activating this option, the sound of the equipment is also deactivated, something that does not happen in the case of Windows computers, since in this case the sound is not deactivated, which allows users to listen to music while working in airplane mode.
When is it convenient to activate airplane mode on my Windows 10 PC?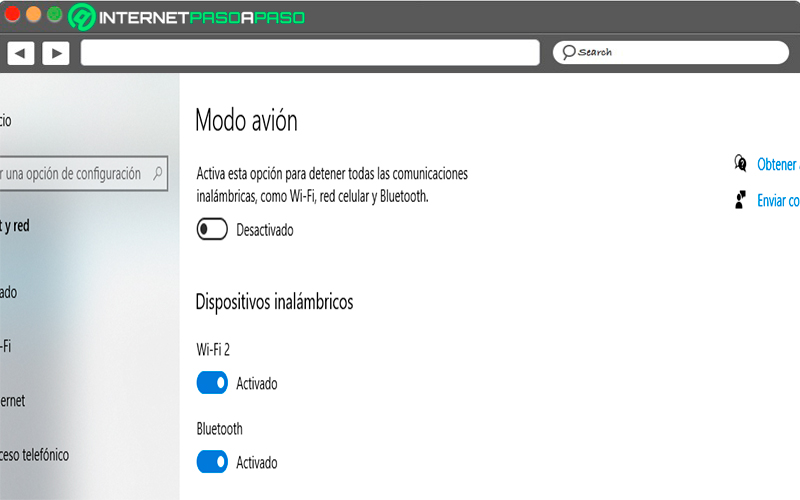 In this case, it is a tool that is possibly not very necessary to use, so its activation may need it sporadically, something very similar to what happens with it on mobile devices .
Where it is mostly activated when traveling by plane, to sleep or when the person wants to disconnect from the outside world through the device. But although it is true, in the case of computers this changes, since a laptop is not going to be carried in the pocket like a mobile phone everywhere, and calls are not received there so that it will be ringing during a conference .
In accordance with this, here we are going to show you some of the occasions where it may be convenient to have airplane mode activated on the PC with Win 10:
Achieve battery saving when working offline: With airplane mode activated, the user will have the opportunity to achieve quite a large battery saving compared to having it deactivated. This is because any possible search for wireless connections is disabled , which tend to waste a lot of resources on laptops and therefore increase battery consumption.
Also, if you are working offline and you don't need to have an Internet connection, then this is your great alternative for it:
Charge the laptop battery more quickly: By spending less resources clearly the charging time will be much shorter, this will allow you to save time for charging the battery, something quite useful if you have little time for it.
Block advertising: One of the most frequent problems in Windows 10 has been the advertising that is obtained through incoming messages from the Windows notification center . In addition, on many occasions many websites tend to insert publications on your computer so the appearance of these advertisements becomes quite tedious.
Keep in mind that these notices usually appear when there is an Internet connection, so deactivating all this thanks to airplane mode will help you to rest from these notices at least while you are working offline.
Avoid being disturbed when you sleep: On some occasions, for certain reasons, the computer must be left on all night or for an entire afternoon, either to install a program large enough or to carry out any other type of activity on the computer. PC which can be time consuming.
Therefore, if you must perform this type of activity, it is best to put it in airplane mode, as this will prevent any type of notification or alarm from reaching you and interrupting your sleep . Simply when you are available again you can deactivate said service and attend to any notification you have there.
Learn step by step how to activate and deactivate the airplane mode of Windows 10 from scratch
Taking into account the importance of this function on your Windows 10 PC, here we are going to show you how you can start activating and deactivating it in an easy and fast way according to your needs.
To do this, follow in detail each of the methods that we are going to teach you below:
Activate
The process to activate airplane mode in Win 10 is very simple, for this you simply have to follow each of the following steps:
To start you must enter the Windows 10 start menu and there select the "Settings" icon which is a wheel.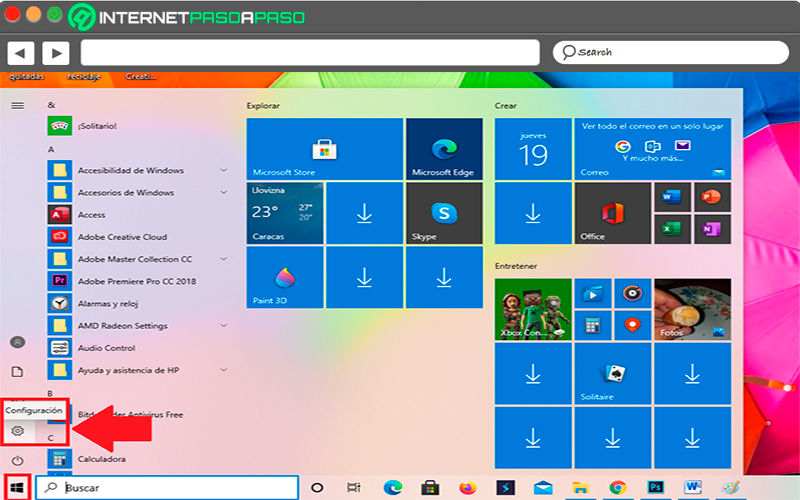 Once you enter the "Settings" window, you must select the "Internet and network" category by clicking.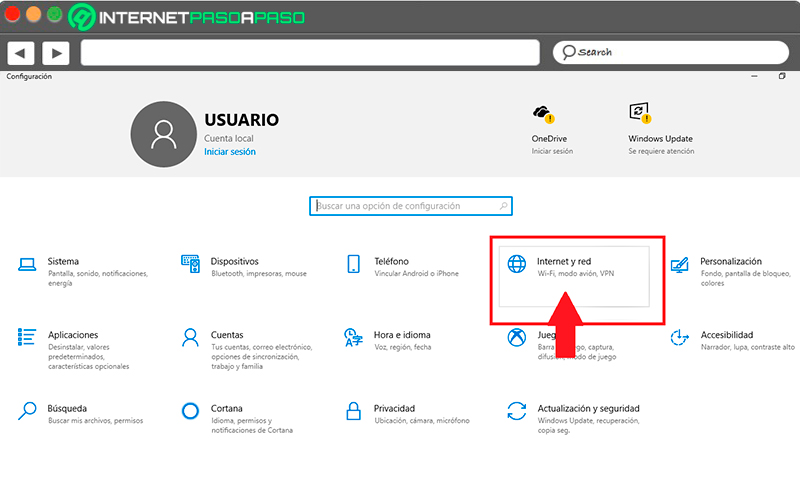 Here a new window will open where you will find a menu on the left side of your screen, there you must select the item "Airplane mode".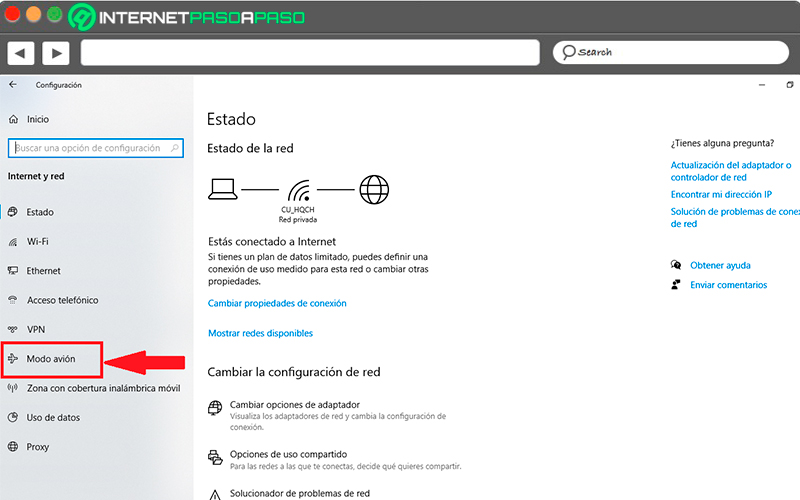 Once you are in the "Airplane mode" section, an option will appear where you can activate it in order to stop all wireless communications on the computer. To activate this function, all you have to do is activate the switch that appears there, that way you will be activating this function on your Windows 10 PC .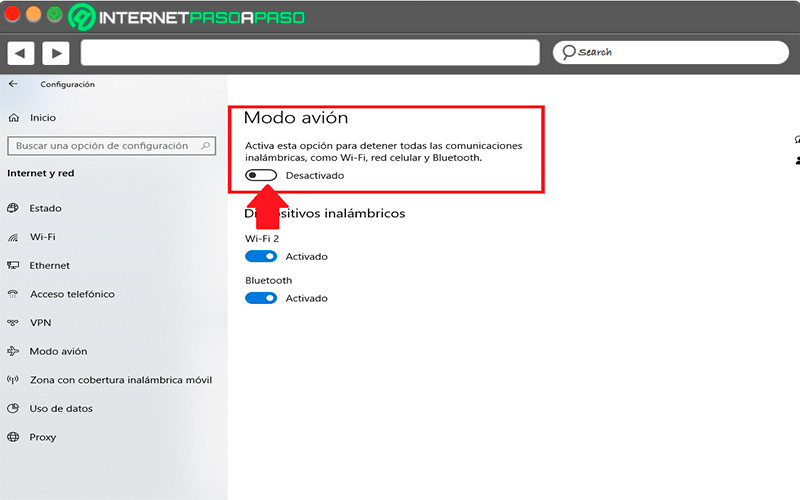 Deactivate
If for some reason you have activated this function on your PC and you want to deactivate it again in order to have communication with your wireless networks again, then it is important that you follow each of the steps mentioned in the method above. Once you are in the Airplane Mode section of Windows, all you have to do to return your computer to normal conditions is to turn off the switch that was turned on in the previous method.
In this way you will be deactivating the airplane mode of your PC and automatically your machine will re-establish a connection to your already associated wireless network. By deactivating this option, you will have access to the wireless network and Bluetooth connections again . Therefore, in this simple way you can activate or deactivate this tool every time you need it.