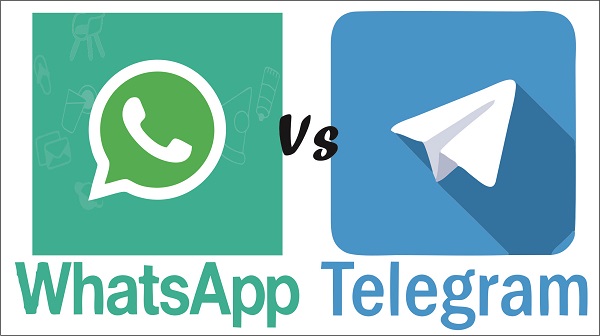 Facing two giants can leave a lot of cloth to cut, especially when it comes to messaging so different, but similar at the same time. While WhatsApp came first, Telegram has earned a very important place in the market.
For that reason, we want to analyze what are the main differences, similarities, characteristics and exclusive functions of each proposal, so you can choose the one that best suits you according to your needs. Without further ado, we start with the review.
Users quantity
Sometimes the number of people who download and use an app can be a surefire indication of how good it is. In this context, WhatsApp has a portfolio of more than 2.449 million subscribers or monthly users by 2020.
In contrast, Telegram has just over 200 million active people, being a very radical difference in which WhatsApp wins by a large margin. In addition, it is believed that when green messaging suffers a server crash, Telegram receives a wave of outraged users.
Perhaps that is why the developers of blue messaging have not updated their subscriber figures since 2018, which could mean that their increase has not been as significant since then.
Even a large block of those who choose to download Telegram are looking for a server from which they can communicate in a business way, which WhatsApp ended up demolishing when launching its version for entrepreneurs, called WhatsApp Business.
The chat: a world of multimedia files
The confrontation also comes according to the type of multimedia elements that we can share through individual or group chats. Telegram has been one of the promoters of stickers and stickers, but these became more popular when WhatsApp incorporated them.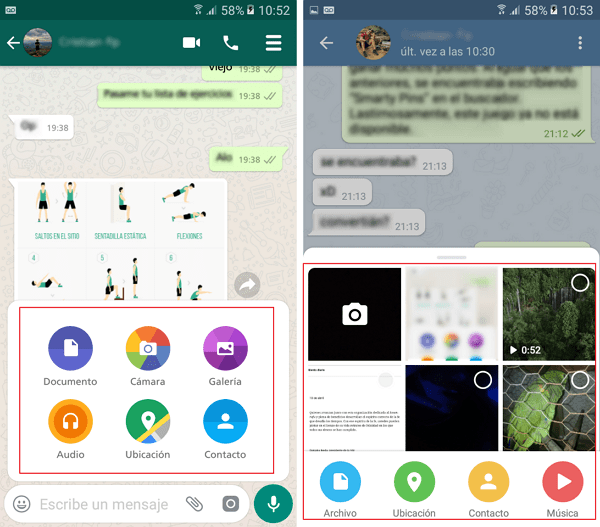 In addition to this, in both proposals you can share photos, videos, voice notes, attachments, telephone contacts, files, software, and the list continues to grow. Although in the sense of quality, Telegram is much more careful.
Now, what the "Wha" hasn't been able to add to date has been the built-in bot programs. These offer an extension to chat, where users can view information and updates from their favorite websites. You can even play video games and that's a lot to say.
Of course, Telegram provides you with unlimited and perpetual storage space, as long as the shared files do not exceed 1.5GB individually. WhatsApp rather stores everything in the memory of the cell phone, so it turns out to be the big loser at this point.
Video calls
Since 2016, WhatsApp has been tasked with incorporating the acclaimed video calls, but only individually. Later they were added to groups, where you can talk to up to 4 people simultaneously, even with a function to save data and bandwidth.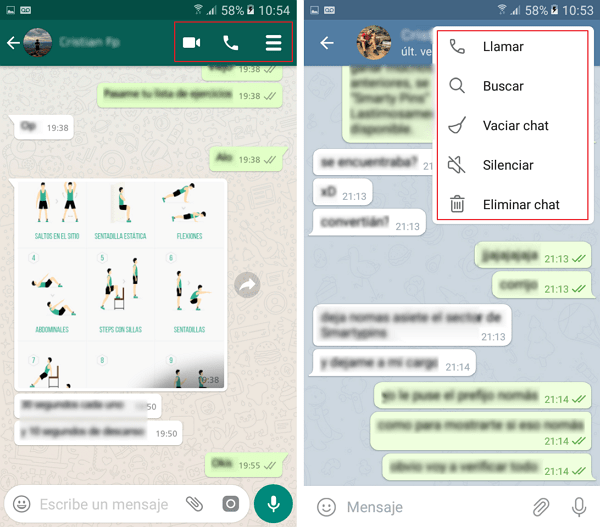 Although the quality of the video calls is not the best; They are a perfect alternative to keep us communicated visually and this point depends a lot on the characteristics provided by the camera of the cell phones involved.
But Telegram seems to have no plans to launch that feature anytime soon, even though users have been campaigning.
What about voice calls?
That point has been dominated by Telegram, mainly because voice calls acquire a high quality standard, in addition to the fact that the delay is practically zero. Now, with WhatsApp, the opposite happens: voice calls are of very low quality and the delay is long.
Cross-platform compatibility
It seems that this battle has already been lost by WhatsApp without even starting it, because its developers simply have not wanted – or found a way – to create versions of the app for tablets or desktop computers.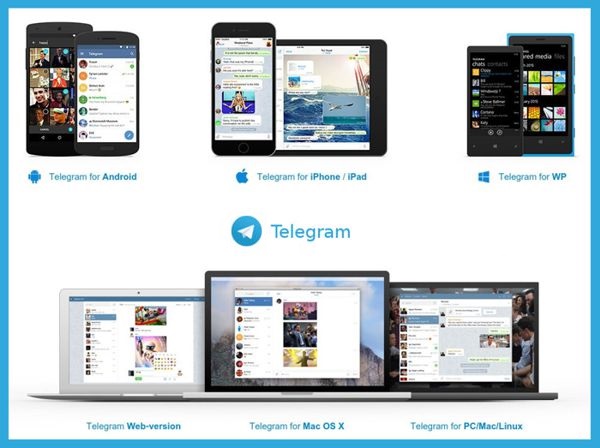 In fact, Telegram is a service that is based on the cloud, which allows you to access your account from your computer, through a browser, using your mobile browser or by downloading the official app for cell phones and tablets. Even the official API is free for third parties to develop more options.
Although WhatsApp launched its web version a few years ago, it is only limited to duplicating the server in a computer browser. Which means that you must be connected to the network on the cell phone and scan a QR code, resulting in a complete hassle.
In addition to this, this messaging has closed the stream of compatible cell phones, eliminating the oldest versions of Android and equipment such as Blackberry or Symbian. But Telegram still continues to supply many of these devices and desktop computers.
The two Ps: Protection and Privacy
All users are interested in having messaging that offers a lot of protection, both of our content and our security. Privacy is also essential and we do not want shared information to be compromised, so let's discuss the following: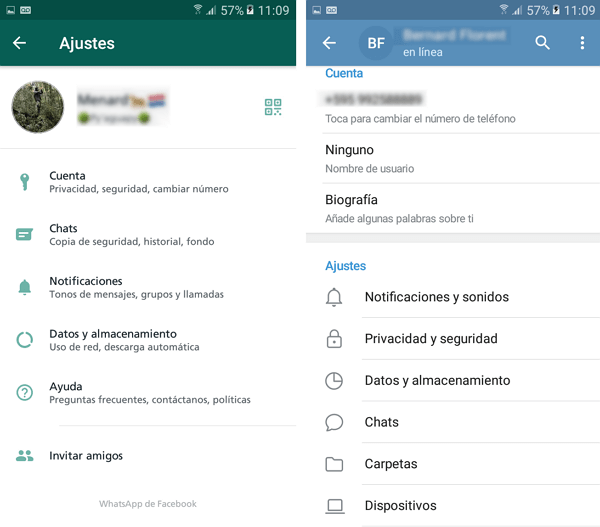 Protection protocols
WhatsApp decided to incorporate its popular Signal encryption and end-to-end protocol, which allow messages and information sent through chats to be encrypted, preventing them from being intercepted on the way. They even have to exchange certain codes.
While Telegram has been more inclined to design a custom encryption, called as MTProto. The downside is that this is not end-to-end and only applies to incognito or private chats.
Access control
Perhaps WhatsApp is a failure for not allowing us to open the account on multiple platforms, but the main reason has always been privacy. That is why a single phone number is linked to a personal account and when it is started on another cell phone, it will be closed from the first one.
But Telegram gives free rein to this, because being a cloud service, you can enter from multiple platforms, which is not very beneficial for security. You must add a confirmation code each time you do it, but there are methods to bypass it and this is not positive.
Incognito chats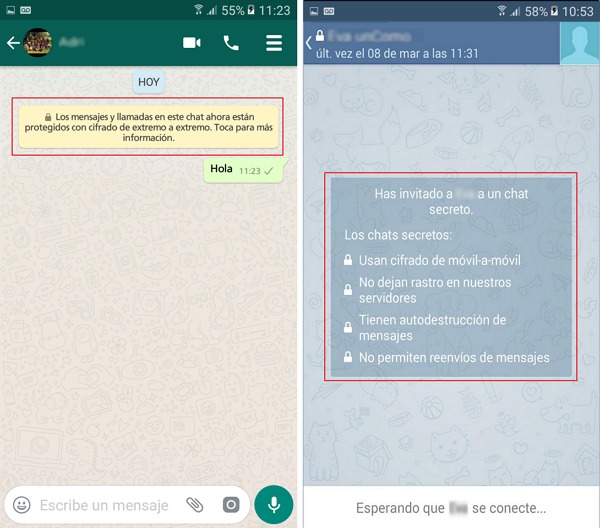 We do not always want to have "normal" conversations, since sometimes it is important to talk about private and secret topics and the information that is handled could be in danger if someone manages to access any of the devices involved with WhatsApp.
That is why Telegram has incorporated a special incognito chat, which has the security protocol we are talking about, apart from the protection against screenshots, there is a keyboard that does not store the information and messages that self-destruct after opening them .
Security locks
Green messaging recently added the opportunity to block the application and chats via fingerprint, but this is a point that only benefits devices that have this technology. In contrast, the competition already offered PIN and password locking.
Delete universal messages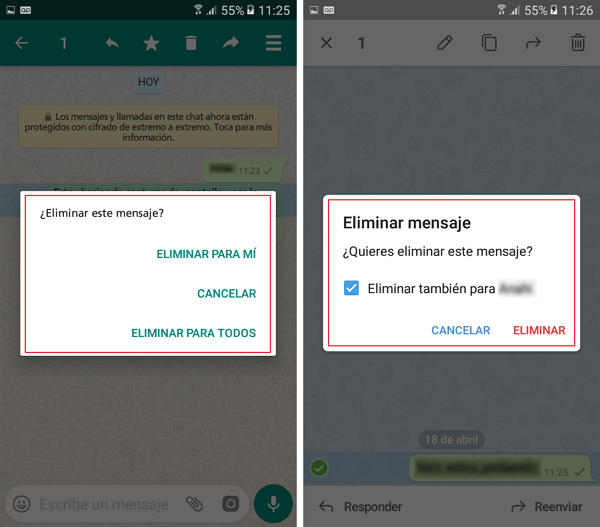 We say that it is universal because when you delete it from your chat, it will also be deleted from the recipients and this is a positive point of WhatsApp, although there are applications that can already reverse this action. Now, with the incognito mode of Telegram that we mentioned, there is no app that is worth it.
Contact methods
When we want to communicate with close family and friends, we can give them our phone numbers and nothing happens. However, in group chats or in business situations, the simple fact that this information is public means a problem for our privacy.
Fortunately, Telegram allows you to link another alternative contact method to the phone number.
The states: the opening to collective socialization
We could not leave out this incredible WhatsApp function, which for some years was incorporated to compete with Instagram and Snapchat. But the most characteristic point of it is that it opened the messaging towards an environment of public interaction.
While everyone can see the statuses you post –and you can see those of your contacts–, no one can know the number of people who have viewed them as well, nor the responses, which continue to be private through the chat.
However, the states become an opportunity for daily collective socialization, because the recipients can comment on their impressions and share them personally . None of this is possible on Telegram, which to date has not added this functionality.
Verdict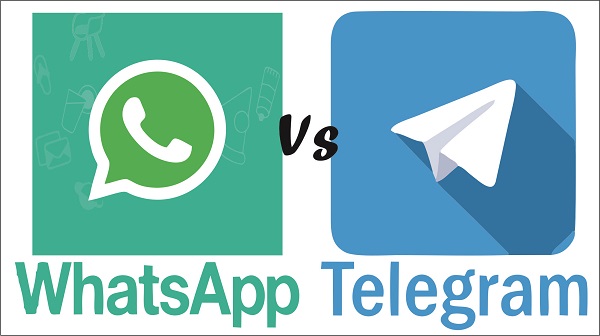 We know that you are here waiting for this conclusion, mainly when we see that the competition is very close because both platforms have characteristic and exclusive points that define and differentiate them from each other.
We could say that WhatsApp is the best in terms of privacy, the multimedia elements that you can share and the communication possibilities, which expand towards video calls, daily statuses and a very secure chat.
While Telegram has the advantage of being a cross-platform application, it allows you to enter multiple devices simultaneously and you can carry out conversations that self-destruct after a while.
Our final perception is that WhatsApp is more an ideal messaging for personal, family and intimate use, but Telegram is preferable to use it as a work platform, where you can chat with a business and corporate audience.