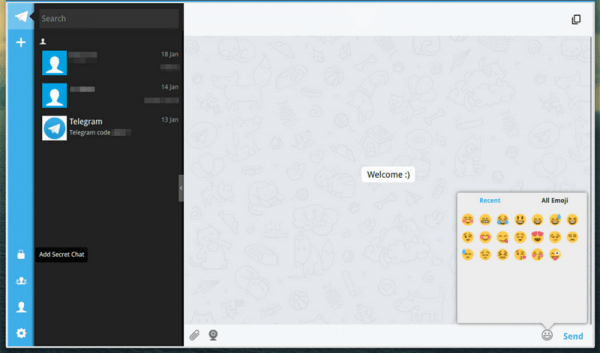 Having a platform to send and receive messages is essential today. There are applications for this purpose, however, many of them are very heavy and cause Lag type problems on your Smartphone if it is low-end. Even transferring files to your PC from these applications can become tedious, especially if you don't have mobile skills.
Telegram has a Web version of its application, which you can use in the browser from your PC. In this way, you will consume fewer resources on your mobile device and the use of the service will be more practical. It will also allow you to send and receive files directly from your computer.
How to use Telegram Web
To use this application, you must have a phone number linked to a Telegram account. The steps detailed below are the same to create your account for the first time or to link the application with the Web service.
Login to: https://web.telegram.org/#/login.
Enter your phone number and the country where you belong.
Press the " Next " button .
A box will appear where you must confirm your data, press the " OK " button . In case the information entered is correct.
After confirming, you must enter the code sent to your phone. If this is the first time you are registering, the code will come to you via text message. If you have the application downloaded on your mobile, it will reach you through the Telegram chat.
The application will start in your browser.
Once you have logged in, your account will be linked, if you have the application on your mobile. It is important to note that the options you have through Telegram Web are not all those offered by the app for Smartphones.
Telegram for PC
Telegram has an installable version for PC, similar to the application used on Android. This also allows you to link your account on different computers. Which will help you to view the same content both in the web version, mobile application and in its version for computers.
Windows
Its version for Windows is called "Telegram Desktop". It can be used in Windows 7, 8 and 10. In version 7 and 8 of the Operating System, the download must be done through the official page, you can go to it fromhere. However, in the new version, you can download it from the Microsoft Store. You have the same options as your mobile version, but with the Windows desktop interface. To do so, use thislink.

You can manage your profile, change your phone number, create and organize groups. Allows all call options and voice memos. Basically, it does not have any difference in terms of its settings, in relation to its version for Android.
Mac
For the famous company Apple, it is also available under the name "Telegram". You can get it from the official site of the application in its version for macOS, for this you can touchhere. In the App Stores it is also available for download, you just have to use the followinglink, works on device OS X, 10.11 or higher. Currently some 400 million users frequently use this platform on their Mac computers.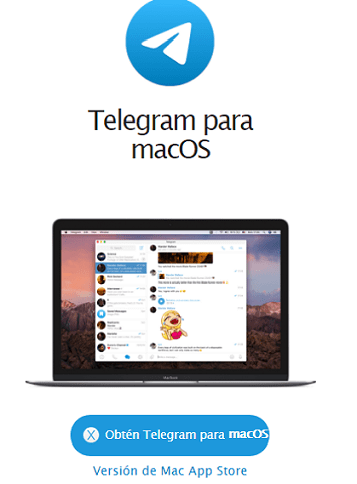 In version 5.7, they expanded the translation of their application to 8 languages ​​and added new privacy features. Now you choose which users you will inform about your existence in Telegram. It also has tools to share files from extensions; Finally, you can schedule the sending of messages in advance.
Linux
For Linux systems, there is currently an official Telegram application called "Telegram Desktop bin". This app allows you to install the latest version of the program on this type of system. You must have Yaourt to install it.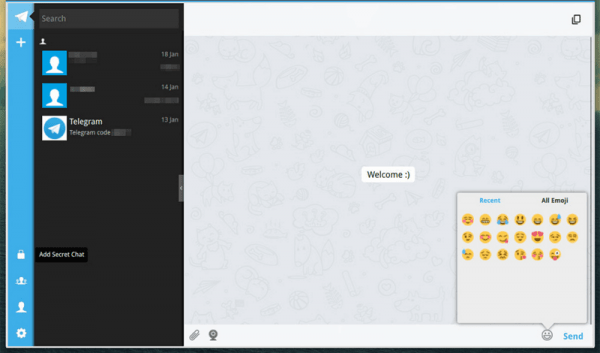 You can enjoy the most relevant and important options, for example: automatically download the received files, be able to search for channels and groups in their search bar and use the different Emojis and Gif's.
What is Telegram Web?
Telegram Web is the browser version of the popular Telegram application. It is basically a mobile instant messaging platform, through which you can communicate with others. Its web version is proof of the variety and adaptation of the platform to any environment, which is why it is the current competition of WhatsApp Messenger.
Characteristics
It has all the characteristics of a messaging application, for example: Send and receive text messages, make calls and send audio messages. However, Telegram has some characteristics that make it unique.
It has a wide interface, where you can see all its functions, from the chat window you can see your contact list and at the same time, the detailed information of each of these. You will be able to send and receive different types of files such as: images, Gif, videos or documents; just drag and drop them into the conversation. It has a great variety of customizable Stickers. It presents a mini store, where you can download any Emojis from the same chat window.
In addition, it exposes the following characteristics:
Night mode: You can put it in night mode to avoid damaging your eyes, when you use it at night.
Groups: You can create and manage different groups, invite whoever you want and assign them as administrators. In these users have interaction, as if it were a group conversation.
Channel: Unlike groups, through channels you can keep your friends informed. In these there is no interaction on the part of the members.
Archived chats: You can archive unwanted chats so they don't take up space on your contact list.
Customizable: Put the background you want to your conversations, use the most appropriate colors to leave it to your liking.
Delete messages: In this it differs a lot from its competition, since you have the option of deleting sent messages without leaving a trace. By deleting it, the other person will not notice, they will not have a message stating that something was deleted.
Search: You have a search bar, in which you can search: Messages, groups, channels and contacts; even if you are not added to their list.
Advantage
Some of the more advantages over Telegram outgoing will be listed:
Fast: The sending and receiving of messages is immediate.
Safe: Malware or viruses do not affect you, as they are constantly updating their platform to make it better and more secure.
Free: You will not have to pay absolutely anything to download and register for the application.
Practical: The application is not very heavy compared to other apps. In addition, the data consumption for the use of the platform is very small.
Versatility: You can run it wherever you want, PC, macOS and Linux. Where you can open a browser, there you can use Telegram.
Privacy: You decide with whom to share your personal information. You can even block or mute people or groups, indefinitely.