Instant messaging
Stickers for Telegram: the best packs to download and how to create your own stickers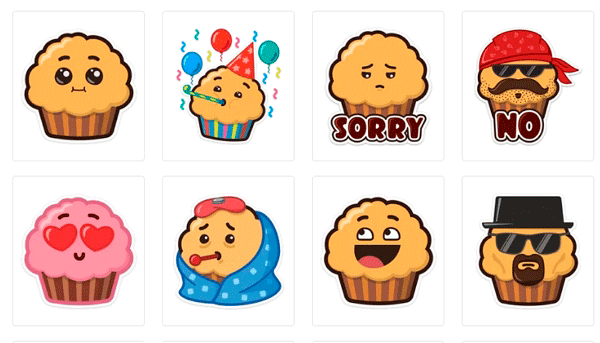 The original way of expressing emotions and feelings with stickers on Telegram, makes group or individual conversations something more fun. That is why, in the following text, you will find a list of the best stickers available to use in this popular instant messaging application. In addition, as a complement to this information, the main sites on the Internet are displayed to download them.
In the same way, you will learn how to create your own stickers for Telegram, so that you can surprise your contact list and share them or generate money with them. Since this application is betting big on the existence of this function on its platform, you will find stickers from different categories. Among which we can mention famous anime, Marvel superheroes, movies, series or TV shows, etc.
Animated stickers
This type of stickers is more striking and fun than those that are static or without movement, as they allow you to better express your emotions. Among the available list of animated stickers are the popular Milk and Mocha, Rick and Morty, as well as some quite funny ones, such as Pepe and Akio. Check out the best alternatives for this category, below:
Milk and Mocha.
Rick and Morty.
Menhera Chan
Pepe
Round Pretty Cat
Diggy Animated
Popping cat
Akio
Party parrot
Senya Animated
Cat Teftel
Crazy emoji
Pikachu
Baby yoda
Among us
Famous anime stickers
Famous anime also have an exclusive category among Telegram stickers, see which ones are the best, in the following list:
sailor Moon
Naruto Chibi
Naruto (Cocopry – animated).
K-On!
Noragami
Watashi ga Motete Duosunda
Anime Random Sticker3
Anime
Vampire girl
Sleeve
Tokyo ghoul
Katawa soujho
Mashiro Shiina
Hellsing Ova
Avatar: the last airbender
Cartoon stickers
Cartoons have been around for a long time in the life of the public. Therefore, a specific category for them is included in this list. Among the options you will find the popular Tom & Jerry, Squidward, Timon and Pumbaa, My Little Pony, Garfield, Elmo, among others well known to the public. Learn more, with the following list:
Hakuna Matata.
Lady and The Tramp.
My Little Pony.
Garfield.
Elmo (animated).
Tom and Jerry.
101 Dalmatians.
Brian and Stewie.
Squidward (Animated Squidward).
Johnny Bravo (animated).
Shaun The Sheep (animated).
Rick and Morty.
Steven Universe.
Simon's Cat
Gaturro.
Pokémon stickers
Pokémon is one of the most famous Japanese series in the world, even becoming popular in Latin America. That is why it deserves a place on this list, among the Telegram stickers in this category you will find the most iconic characters, such as Charizard, Pikachu, Squirtle, among others. Check them out below:
Pokémon.
Raichu moods.
Pikachu Detective.
Pokémon Go.
Bamo to make stiquers.
Pika Pika.
Pokémon meme face.
Pikachu Sprites.
Pokémon GO.
Charizard.
Pokémon Go Animated.
Pokémon Covid – 19.
Pokemon
Pikachu (animated).
Animated Pokémon.
Memes Stickers
Memes are part of the daily life of social networks and interaction platforms, such as Telegram. Therefore, the best stickers in this category have been taken , see what they are, below:
Simpsons Memes
Simpsons Memes 2
Simpsons Memes 3
Memes
Memes
Animals
Pepe
Spidermeme
Intelligence Pepe
Cheems
AuronPlay
Dope tom & jerry
Meme Big Pack
Otaku
Mordy 2.0
Stickers of TV or movie characters
TV shows and faces of iconic television characters, such as famous actresses, went viral in the form of stickers for Telegram, WhatsApp and other applications or social networks. That is why a list of the best ones to download is presented below:
Taylor Swift
Cate blanchett
Angelina Jolie
Marilyn monroe
Nicolas Cage
Jack Nicholson
Charlie chaplin
Sex education
Office
Office 1
Kermit
The Umbrella Academy
Game of Thrones
Winter is coming
Sheldon
Superheroes and villains stickers
Like the characters in television series, the superheroes and villains of Marvel and DC Comics also became fun stickers for Telegram. See a compilation of the best available on the web, below:
DC
Wonder woman
Avengers
Batman
Lady deadpool
Stan lee
Marvel
Chibi
Captain Marvel
Deadpool
Captain america
Thanos
Spidey
Wolverine
Avengers: Endgame
Special occasion stickers
It is always necessary to have stickers for special occasions, such as graduations, wedding anniversaries, birthdays, baptisms, weddings, Christmas, Valentine's Day, etc. Which is why a list of the most popular stickers in this category is displayed:
Grinch
Merry christmas
The lovers
Love wolves
Congratulations
Valentin cat
Wedding
Santa girl
New Year Persik
Santa
Ho Ho Ho!
Love 2
Marshmallow Couple
Couple story
Riley and Kiro
Animal stickers
Animals have become classic sticker images on all social networks, occupying a special place in the creation of stickers. So you will find the following list of stickers from this category, so you can choose the one you prefer:
Broken animals
Animals (Telegram)
Ice bear
Pusheen
Fluffy
Persik
Panda
Lis The Fox
Capoo 3
Cute animals
Animals
Stupids dogs
Vasya Piton
Cat Tenderness
Black duck
Food stickers
In case you choose to express your emotions with fun stickers of characters made with your favorite food, there are also many packs available for Telegram. Here is a list of the best:
Hot dog
Pinneaple
Egg Yolk
Donut and Coffee
Food and Mood
Mr. Avocado
Lovely banana
Bread Toast
Sushi
Muffinson
Why so sour?
Little broccoli
Scrambled Penny
Rojkoff
Sweety strawberry
How to create your own stickers
If you prefer to create your own stickers to surprise your contacts, you can do so by following the appropriate steps for it. Now, before knowing what they are, you must take into account the main requirements to make stickers for Telegram or any other app. They are described below:
The image must be a maximum of 512kb.
It will have to be in PNG format, that is, without a background.
Its approximate size should be 512x512px.
White strokes or shadows are usually added to it.
Bearing this in mind, it is important to mention that there are many mobile applications for Android or iOS, which facilitate the work of making stickers on the cell phone. Among which we can mention:Sticker Studio,Sticker Maker andSticker.ly. Now, the process to create your stickers is basically the same in all applications, the first step being the elimination of the background of the image.