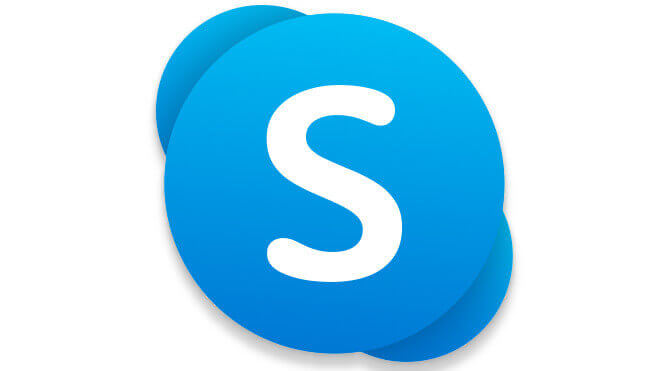 Skype is a software that allows text, voice and video communications over the Internet (VoIP protocol) and acquired by Microsoft in 2003 after purchasing the license. It works both on mobile devices (phones and tablets), as well as on desktops and laptops, allowing massive communication between people around the world, through video calls, voice calls and the sending of instant messages.
Skype
Official Web site
https://www.skype.com/
Category
Instant messaging
Developer
Microsoft Corporation
Creator
Niklas Zennström, Dane Janus Friis, among others.
Launch
August 29, 2003
Platforms
Windows, macOS, Linux, Android, iOS, Windows Phone, HoloLens, Xbox One
See guides about this service
Skype is a great platform that allows us to communicate with family, clients, friends around the world quickly and easily. We can make videos, text chats or calls. This application is completely free and is so complete that you can install it on your computer, you can see it on its online platform or in the mobile application.
Skype allows you to share all kinds of content with your friends or family, and it is a great platform that has been widely used to promote online conferences. If you have credit within Skype, you can make calls from any mobile or landline phone no matter where in the world you are from.
What is it for?
Skype is used to send information through group or individual conversation windows, being possible to communicate through video calls, voice calls through the PC, instant messages and multimedia files such as images, audio, video and documents.
In addition, if you have available credit, you can use additional functions such as: sending SMS and calls to personal phone numbers, using one of the available plans or paying as you use the service.
Characteristics
Among the most outstanding features that can be considered as advantages of Skype, are:
Audio and video calls in high definition : Skype, allows you to make video calls and voice calls with clear quality for greater fluidity in communication.
Smart messages : Thanks to the latest update, it is now possible to react to instant messages through emojis. Also, the "mention" function was incorporated so by using "@" you can mention anyone to go directly to them when it comes to group conversation.
Screen sharing : Skype allows you to show the person or group of the conversation your computer screen, in this way, they can see what you are doing while the conversation continues its course without any problem. This function is ideal for business meetings where it is necessary to give instructions to new participants.
Call recording : Another of the main features of Skype is that it allows you to record calls, in addition, you can use subtitles in the conversation, to understand spoken conversations in a better way.
Direct calls to mobile phones : You can communicate without problems with your contact list in Skype, through direct calls to mobile phones for those friends or family who are not connected at that time, using paid plans or paying once you use the service .
Conversation encryption : Skype allows you to keep your conversations private thanks to comprehensive sector encryption, included in the latest software update.
Protocol technology: The technology used in Skype is a private protocol of the VoIP company, which is responsible for encrypting and keeping all the data shared in the conversation safe.
Security measures: To keep your conversation private, Skype implements the use of the AES (256-bit) algorithm that allows encryption of voice files or instant messages. On the other hand, the Premium version of this software uses RSA (2048-bit), an ideal algorithm for voicemails, which nullifies any cyber attack attempt.
In addition to these, other advantages of Microsoft software could be mentioned, such as easy installation and compatibility with multiple devices, from PC to Mac. In addition, the free version allows you to stay connected as long as you have an internet connection.
Although this communication tool has multiple advantages, which offer security and quality in individual and group conversations to the user. It has some disadvantages. The negatives of Skype include:
Security risk: Despite the encryption of instant messages and voice files, there is a security risk in versions higher than 5.6, both on Windows and Mac computers, due to automatic updates. However, in some cases, this problem seems to be able to be solved, from version 5.9 onwards.
You need a broadband connection: In order to maintain its crystal-clear audio and video quality, Skype requires an uninterrupted connection to the internet, preferably broadband.
Possible quality problems in audio and video : Although the application offers high resolution for video calls, there may be problems that may arise due to the quality of the microphone or the camera used.
Computer slowdown : In computers that use the massive consumption of RAM memory, the interface (appearance) of Skype can become slow and tedious when you need to communicate quickly.
Most of the services are paid : If you need to make direct calls to mobile phones or use the use of text messages (SMS), you need to use the paid version or contract a plan that allows you to use these services.
Alternatives
Although Skype is one of the most famous and used platforms that were created by VoIP, there are alternatives to this program that have the same functions, some of them may be:
Google Hangouts : Like Skype, this program can be used on both Android or iOS laptops and mobiles. Among the functions offered by the Hangouts system, the live broadcast and group conversations stand out. This is useful if, as an entrepreneur, you are looking to conduct meetings, courses, or conventions online.
Facetime : Available only on the iOS system, this platform is compatible with Mac, iPhone and iPad computers. Although, for the latter, it only has the function of calls and online meetings with users of the same Apple OS.
Wechat : It mixes the functions of different platforms, such as WhatsApp, Instagram, Twitter and Facebook, also allowing the function of video calls.
Viber : It has functions similar to those of Skype, such as instant messaging and the sending of messages in the form of audio, including the transfer of multimedia content. It is compatible with a wide variety of operating systems, from Windows to Mac, Linux, and Android. However, this app is limited to only 2 users per video call. The call service to phone numbers is also paid.
Facebook : Despite being globally recognized, few users know that through Facebook Messenger they can make audio or video calls, with up to 50 different users at the same time. Being able to share, in the same way, multimedia content and instant messages with fun emojis. However, it does not have end-to-end encryption. This function is available for both the desktop version and the App.
WhatsApp : Another platform that has positioned itself among the first places. It has end-to-end security encryption, allows the delivery of different types of content, including geographical locations in real time. You can make audio or video calls with different contacts at the same time, through a wireless connection or through your operator's data plan.
Story
The software was originally created by the VoIP communications industry and acquired by Microsoft in 2003, after having acquired the company. Its creators were Niklas Zennström and Janus Friis, of Danish and Swedish nationalities respectively. The idea was developed and complemented thanks to the technicians who gave life to the project Priit Kasesalu, Ahti Heinia and Jaan Tallinn, all from Estonia, where, curiously, Skype began.
Currently, both the protocol and the application code remain under strict corporate authorship, free from external influences. However, the platform has a free version for those users who wish to use the executable of this software, being able to download it directly from the manufacturer's website.
During September 2005, eBay decided to buy the communication platform for the sum of 5.9 billion dollars. However, this company was sued by the initial developers of Skype because the licenses of Joltid (provider of codes of the core of the system), were still under the subsidy of their former owners. While eBay made deliberate use of this, in violation of the usage policies, that was when the agreement expired.
Finally, after failing to implement an option other than Joltid, eBay sold 70% of its shares in Skype to the Silver Lake Partners group.
During the month of May 2011, the Microsoft company announced the absolute purchase of Skype for the sum of 8,500 million dollars. And it was in 2012, when he noticed the withdrawal of Windows Live Messenger from the communication platform, initiating a transition period for the absolute elimination of said network, which ended in March 2014, when the MPS protocol (which allowed access to the service) stopped working.