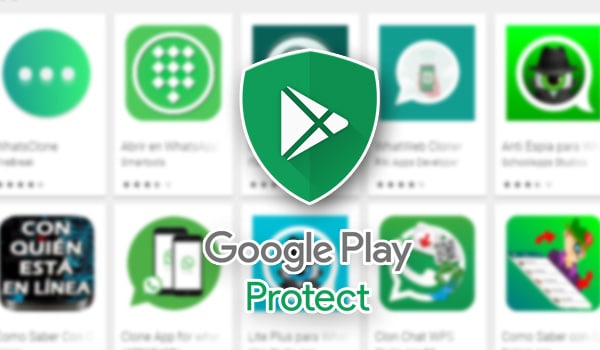 How to spy on WhatsApp has always been characterized as one of the most frequent searches in the browser, despite the fact that it is not a legal practice nor is it totally effective. Therefore, in the following post, parents or couples who suspect infidelity will be able to find out the most common ways of accessing the content of another account within the app. That is, they will discover how to look at the other person's conversations, files, or contacts.
In this sense, one of the most used (and probably the safest) ways is using WhatsApp Web. Similarly, there are certain third-party applications, such asmSpy orFlexiSPY that are specially designed for parental control, have useful functions to spy on WhatsApp and other applications. On the other hand, this post mentions some tips to avoid spying on your account, in addition to the risks in certain apps.
Using WhatsApp Web
As is known, the web version of this application allows you to view, not only the conversations, but also the contacts and the different types of multimedia files received or sent. Now, for this method to work, it is necessary to have physical access to the device that is intended to spy, since both computers must be synchronized. The latter could be a hindrance for some people, but with a little cleverness you can get there.
Once you have the victim's equipment, you will have to go to web.whatsapp.com from the browser on your computer or mobile device. However, for the latter you must activate the "desktop version" in the browser. To do this, you simply have to click on the icon with the three vertical dots located in the upper right corner and check the box for the option in question.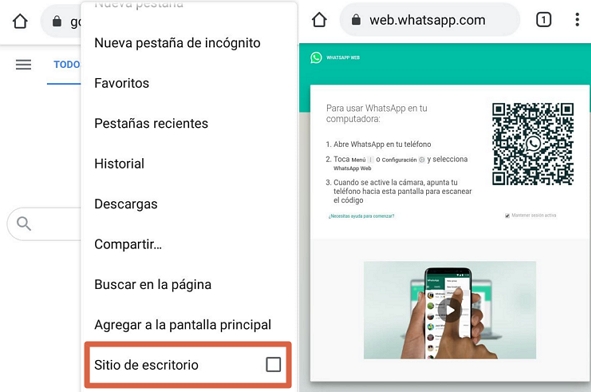 When you complete this step, all you have to do on the other person's cell phone is open WhatsApp, press the menu icon and select "WhatsApp Web". Then, scan the QR code that is displayed on the screen of your mobile and wait while all the conversations of the account are displayed.
In this way you will be able to view all the chats sent or received from the mobile of the person you want to spy on. Keep in mind that, for this method to be fully effective, you must deactivate WhatsApp notifications or the other person will notice that there is an open session on WhatsApp web. To do this you will have to go to Settings> Applications> WhatsApp> Notifications and deactivate the toggle in " Allow notifications ".
Using third party apps
Third-party applications that promise to "spy" or "hack" WhatsApp accounts or any other platform, many times end up being false or dangerous for those who use them. However, there are some payment options that you can use if you suspect something improper on your child's or your partner's cell phone. These includemSpy andFlexiSPY, which are specially designed for parental control.
These applications allow you to monitor the activity of WhatsApp, Facebook, messages, contacts, gallery, etc., remotely from your computer or from another mobile device. It is worth mentioning that each of these tools requires the purchase of Premium plans or subscription in order to be used.
mSpy
This is a payment tool that allows you to have full access to the different functions of the mobile to be tracked, since you will be able to monitor any activity that is executed on the device. In this sense, you can view from the call history, to the file gallery and those that are sent or received via WhatsApp. It is worth mentioning that mSpy is compatible with different Operating Systems, including: Android, iOS, Windows and Mac.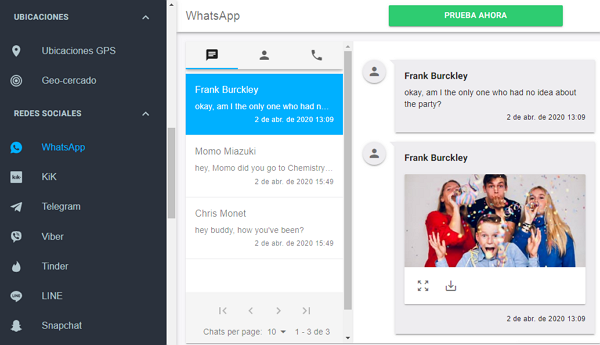 FlexiSPY
It is an application similar to mSpy, in terms of spy functions and options for WhatsApp or other instant messaging apps. It can be used on Android, Windows or iOS to monitor installed applications, image or video gallery, incoming or outgoing calls, etc. It is considered one of the most effective alternatives to know the activity of other people, remotely.
Other alternatives
You should know that, in addition to the alternatives mentioned in this post, we do not recommend any other method to spy on or hack a WhatsApp account. Since, this application has end-to-end encryption, something that prevents anyone outside the conversation from accessing the messages that are sent or received.
However, there are those who choose to restore backup copies of WhatsApp accounts to know what is behind each conversation. However, this is something that requires knowing the other person's cell phone number and creating a parallel account with the same information.
Dangers in the use of external applications
Although in the Android store and perhaps, in the App Store, there are many applications that guarantee to hack a WhatsApp account, most of these end up being a fraud. Well, they simply show when the other person is online, without having access to the chats or the content that is shared in them.
In the same way, a large part of these "spy" apps require special permissions or access to the information on your device, which represents a threat to your private information. Some are even infected with malicious software or viruses that try to corrupt your mobile system and decrypt confidential data, such as access information to bank accounts, for example.
Luckily, Google Play Protect blocks this type of application, making it impossible to run on mobile. Therefore, it is recommended to heed any warning related to external apps and uninstall them immediately.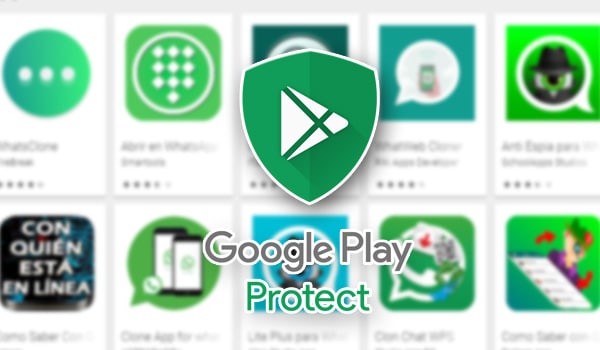 Tips to take care of you
account
As seen throughout this post, there are functional methods to spy on WhatsApp accounts. But what if you want to protect yourself against these illegal practices? Well, here are some tips that you can use to prevent strangers from accessing your conversations or files within the app:
Verify that end-to-end encryption is activated : although this function is activated by default in WhatsApp, it is possible that someone with access to your mobile has deactivated it, pretending to see what happens in your account.
Use automatic blocking and application blocking : to prevent someone from having access to your cell phone content, including conversations on WhatsApp, it is recommended to use automatic mobile blocking. Now, it is important that you configure it with the shortest possible time, because by setting it to 1 or 2 minutes, you give enough time to anyone who wants to spy on you.
The same goes for blocking applications, most high-end devices include this function, it is an additional security method that prevents others from seeing your information. You just have to make sure that you use a password that is difficult for others to guess, but very easy for you to remember.
Check connections to WhatsApp Web: it is worth checking periodically the connections to WhatsApp Web in your account. If you notice any irregular activity or session that you don't remember starting, close it immediately.
Do not deactivate Google Play Protect: this function comes by default on Android devices, preventing the installation of potentially harmful or suspicious applications. That is why it is recommended not to uninstall it, to avoid this type of attack on the mobile.
Do not share your cell number with strangers: through your cell number they can try to hack into your account or access your conversations using a backup copy. Therefore, not sharing it with strangers or people not so close to your social circle is the best way to protect your information.
As you have seen, there are various ways to spy on WhatsApp, but there are also methods to defend yourself. Whatever your position, you can use what is described in this article to know someone else's conversations or, to prevent someone from reading yours.