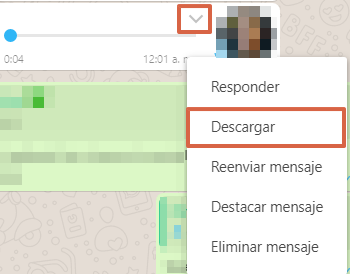 To save or download WhatsApp audios you only have to go to external applications such as Opus Player. With this app you can listen, share and store voice notes in any folder on your device. On the other hand, you can also access WhatsApp Web from its official page or from the desktop version. In this way, by pressing the voice memo tools you will find the option to "Download".
Many times Android does not recognize the audio messages sent by WhatsApp when the internal storage files are entered on the device. That is why you must resort to an external application if you want to search for a specific voice note, within all the audios sent on the platform. Audio cannot be downloaded from the phone, but it can be shared and saved in other folders or applications.
For android
You have three methods to save or download WhatsApp audios on Android devices. The first is to share the audio through other applications. The second way is to download an application that reads and saves the platform's voice and audio note format. And finally, the third option tries to enter the internal storage of the phone to play the voice notes from the WhatsApp folder.
Saving the audio in the mail
Voice notes cannot be downloaded through the WhatsApp application. On the other hand, the shared audios can be downloaded and these are automatically stored if you have a Wi-Fi network or click directly on the download icon. In view of this, you can save or download an audio from WhatsApp by sharing it with some other application such as Gmail. To carry out this procedure, the following steps are detailed:
Enter WhatsApp on your Smartphone, open the chat of your choice and choose an audio.
Hold it down until the " Share " icon appears on the top bar of the screen. Press the option.
Choose " Gmail."
Write your own email and press the send icon.
Open the message you received and press the download symbol on the audio.
Then open the audio on the phone. A series of options will appear. Choose the one that you like the most.
With Opus Player