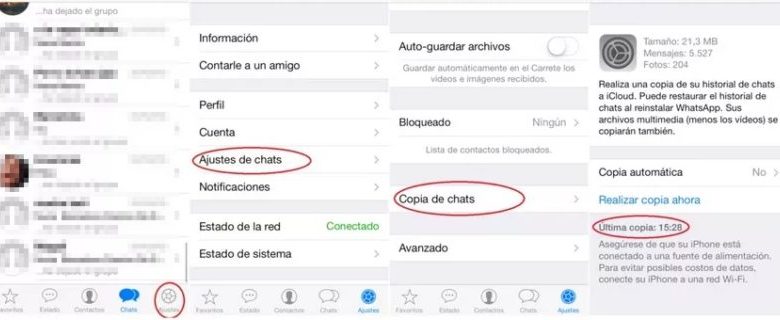 It can happen to all of us: we delete an important conversation or message, and then we have an anxiety attack when we see that we cannot get it back. The good thing is that we can implement some alternatives and today we are going to teach you how to recover WhatsApp conversations quickly and easily.
It is also common for many people to lose their cell phone and want to recover the conversations and files they had on WhatsApp.
The success of these tricks will depend on whether you have activated the "Backup" function in the WhatsApp options of your mobile. This function allows you to save a copy of your WhatsApp files from time to time in Google Drive and iCloud, including chats that you have deleted from your history. If you forgot to activate this synchronization, it will be difficult to recover your chats, although the attempt can be made.
We will do our best to cover all the alternatives available today so that you can recover those valuable conversations on WhatsApp, which for some reason you ended up deleting at the time.
Preliminary considerations
WhatsApp does not keep backups for more than 7 days on your cell phone. Every day at 4 am, put the backup from the previous day. If you deleted any conversation in the last 7 days, you can still recover it in the Databases folder , which is a sub folder of the WhatsApp directory that is in the internal memory of your mobile or on the SD card. It is not a readable format (although you can try it with a text editor ), so you will have to keep reading to be able to use this resource.
However, we will teach you how to recover WhatsApp conversations from a year ago, or less through Google Drive. To do this you have to have "Backup" activated in your WhatsApp options. To do so, you must follow the following steps:
Go to the 3-point menu in WhatsApp (above and to the right of your mobile screen).
You follow the following command sequence Settings ► Chats ► Backup ► Google Drive settings. We clarify that you can make manual backups that will be recorded on your mobile, in case you do not want to save them in the cloud, that is, Google Drive.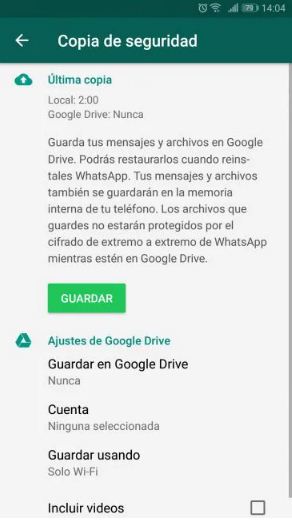 In Backup you can choose to make a manual backup or schedule automatic backups in Google Drive. You can choose the periodicity of these backups. We recommend that you choose the option to Save using Wi-Fi only, so that your mobile data does not "evaporate".
In case you want to know how to recover old WhatsApp messages, older than a year, it is still possible to install programs or applications that offer this service, although you should try them on your own, since there is no guarantee that they will work in your case. You always have to be careful when using these types of third-party based solutions.
Retrieve conversations on Android
Let's now get into the matter with the solutions to know how to recover deleted WhatsApp messages. We are going to see 3 methods that you can try to recover a WhatsApp conversation, if you use the Android operating system.
Using a browser
This methodology implies that you can only recover the messages that you have deleted in the last 7 days and that it is still possible to recover them within the files stored on your mobile. To do this, you must use your phone's browser or download an application that installs a browser on your android.
To download a browser from the Play Store you can use the following link: https://play.google.com/store/apps/details?id=com.alphainventor.filemanager
You locate the internal storage folder of the phone and within it you enter the WhatsApp directory . In case you can't find it, you can look for it in the SD Card folder.
Inside the WhatsApp folder you must locate the Databases folder. This folder contains all the backups generated during the last 7 days. That is, if you deleted a chat in that period, it will be saved in Databases.
According to the approximate date of elimination, you will have to find the chat that you want to see or recover. You can only recover today's conversations, so you will have to use a trick to restore some deleted chat in the other 7 days.
What you have to do is change the name of the last chat (which is related to the current day). This file is called today msgstore.db.crypt12. You change the name by marking this file and choosing the 3-point menu in the " Rename " option . Give it a name that reminds you that it is the current day's backup, since you may want to leave things as they were later.
We look for the backup that we want to recover, we copy and paste it in the same Database directory in order to have a copy and an original of it. To do this you just have to mark the chosen file, you go to the menu of the 3 points, choose Copy to …, it will send you to Downloads, but you will touch the menu of the 3 bars (top left), you will touch the parent directory (where the available GB appear) and there you will navigate until you find the WhatsApp ► Databases folder , and proceed to click Copy.
This will give you two identical files with slightly different names, for example msgstore-2019-10-19.1.db.crypt12 and msgstore-2019-10-19.1.db (1) .crypt12. This can change, depending on the browser used, but the idea is that you have two files from the same backup that you want to restore, in Databases.
Now you must take the copy to rename it. Proceed to name it as if it were the current backup, that is, msgstore.db.crypt12. For this you take msgstore-2019-10-19.1.db (1) .crypt12, keep this file pressed to mark it, go to the 3-point menu and choose the option " Rename ". There it will be edited in a pop-up box and you will only leave msgstore.db.crypt12 and you will give it OK.
Now you must uninstall WhatsApp from your cell phone. You reinstall it and you will see that a search for Backups begins . You will get a message that says " Backup found ". You must click Restore and it will recover the backup that you chose. When finished, click on " Next ".
In this way you will be able to recover backup copies of chats that you have deleted a few days ago. If you want everything to be as you had it before, you must do the following steps:
You go to Database, delete the file msgstore.db.crypt12 and recover the previous one that you had renamed and call it again msgstore.db.crypt12.
Now you uninstall WhatsApp and reinstall it. As if by magic, everything will be as it was before.
Note : All these procedures can be done on your PC, copying the Databases folder on your computer, making the suggested changes and pasting it back on your mobile. You just have to be clear about the changes you are making.
Using Google Drive
This method is not very different from the previous one, only that for it to work you must activate the Backups in Google Drive, as we showed you previously. This method is very useful in case of cell phone loss.
With Google Drive you can have all your files in the cloud, which is very useful if you have lost your cell phone. In these cases the following should be done.
After you have synchronized WhatsApp with Google Drive, let's assume that you deleted a message or lost your cell phone, so in practice you do not have any of your recent activity on WhatsApp.
What you should do is uninstall WhatsApp from your cell phone, and reinstall it. Or if you lost it, you must install WhatsApp on a new cell phone with your old number.
Upon completing the installation process, WhatsApp will detect a backup and you must click the RESTORE button to recover all the data you had on WhatsApp.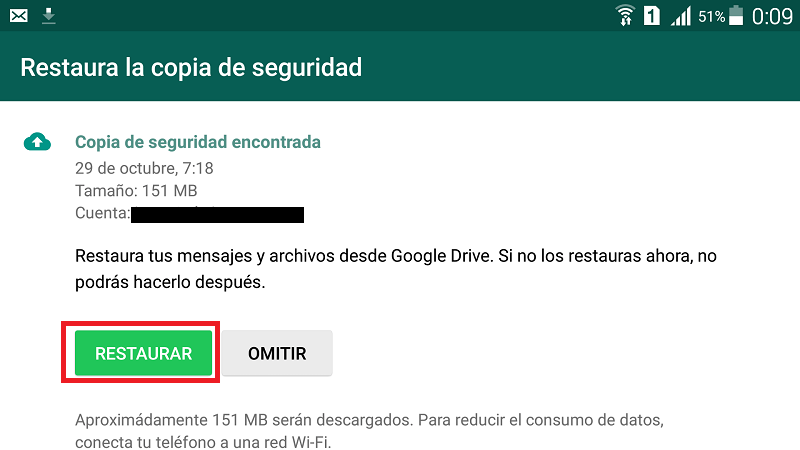 This is a good way to know how to recover WhatsApp messages from another cell phone. You only have to keep the WhatsApp line number so that you can recover all the information from the last backup that you had generated on your lost mobile.
Using programs and applications
If you want to know how to recover WhatsApp chats without android backup, there are programs and applications that offer to solve this problem. In this case, we will only name a few that you must test under your own responsibility since the success of the procedures will depend on each particular case.
This alternative can solve the problem of how to recover deleted WhatsApp messages without uninstalling it :
Enter the options that we recommend are the following:
Install FoneDog Toolkit- Android Data Recovery, a file recovery program.
Install the WhatsRemoved application from the Google Play Store.
Another recommended application is Unseen.
With this trio of options, you can try to recover WhatsApp messages online that have been deleted for more than a year. We do not attest to its effectiveness, but it is worth taking a test.
Recover conversations on iPhone
This is a procedure that requires you to have an iCloud account, although there are also other alternatives such as using applications and programs. In general, the procedures are very similar to those described in the case of Android, although only some names and small details change.
Subtracting backups
It is the same case as in Android. You have two options:
Make manual backup. From your iPhone you must follow this command line WhatsApp ► Settings ► Chat settings ► Copy chats. You must select " Make a copy now ". This saves a backup on your iPhone.
Make automatic backup. This is when you need to have an active iCloud account. You have to follow the command line (it may vary according to the version. See also the image below) WhatsApp ► Settings ► Chat settings ► Copy chats, but this time you must take the option " Automatic copy " and choose a time to make these copies cyclically in your iCloud account.

To recover your deleted files (which are in the last backup), in both cases you will have to uninstall WhatsApp from your iPhone, reinstall it and verify your phone number. At the end of the process you will see the option to Restore backup. When restoring your last backup, all the files that were stored in it will appear, including those that you had deleted.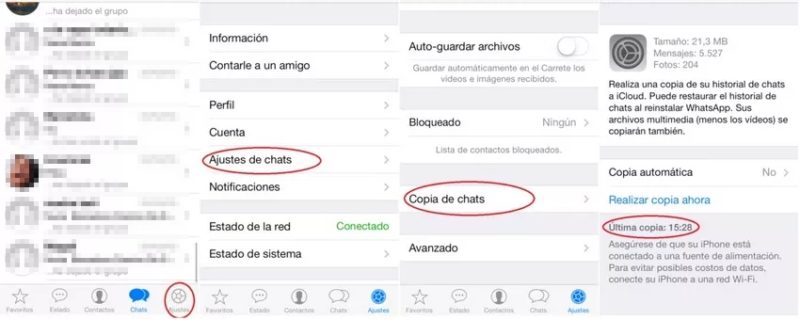 These processes are best done with a Wi-Fi connection to save data. It is also possible to make backup copies using iTunes.
Using programs and applications
We can recommend the following programs and applications which you should try under your own responsibilities, since it is not possible to guarantee that they will work in your case to recover deleted chats on your iPhone. Many times this will depend on many factors, including your version of the operating system.
Free WhatsApp Recovery from Tenorshare.
Tenorshare UltData (recover deleted WhatsApp messages without uninstalling it).
EaseUS MobiSaver which allows you to recover old messages.
Find WhatsApp conversations on Google Drive
This is not possible directly. You must have the synchronization between WhatsApp and Google Drive activated. Then you must uninstall WhatsApp from your cell phone and reinstall it, as we show you above so that you can recover the files that have been saved in Google Drive.