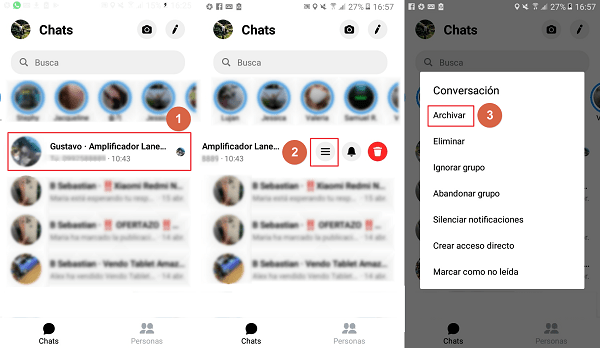 You have just mistakenly deleted an important conversation in Messenger, you need to recover files from a conversation that you lost, or you simply regretted deleting the chat with that person that you can't let go, and you don't know how to get it back. Here you will know how to recover your conversation on Facebook.
Communication has undoubtedly evolved with social networks, not only words are exchanged, but also photos, videos, audios, documents and links to websites. Communicating through Facebook Messenger is really very spontaneous and natural, so users of this app use it practically every day to talk from the most trivial things to information that can be very important.
This problem has several ways to solve it, depending on the type of device you use, in addition, you will learn to archive your conversations to purify your inbox and be able to recover those conversations without any problem.
View archived messages in Messenger
Reviewing your archived conversations is easier done than said, there is no other method to unarchive your messages, follow these simple steps and you will achieve it.
Once in the FB Messenger application, in the search bar type the name of the person or chat you are looking to recover.
A list of conversations will appear, first, the archived ones, select the correct chat, and you have it!

As you can see, it is not complicated at all and it is a very effective method to look at your old chats, without having your inbox congested.
If you want to delete any of these chats permanently, you just have to place the pointer over it, you will see the three dots …, you will click on them and you will choose the "Delete" option .
How to archive messages in Messenger
Archiving your conversations in Facebook Messenger is a way to hide them without having to delete them, since they will not appear in your inbox until a new message arrives in these chats.
Archiving your conversations on Facebook Messenger through the web is a very easy trick that we will teach you below.
Once in the Facebook Messenger application, we select the chat that we want to archive and move it to the left.
Some options will scroll, click on the 3 horizontal bars.
At this point a box will appear with several options, we select "Archive", and that's it!

As you can see, the conversation has disappeared from your inbox, but this does not mean that it has been deleted, since it has only been saved in a kind of hidden folder. To access this folder you must continue reading below.
Is it possible to recover deleted conversations from Facebook Messenger?
If what you have done with your conversation is to delete it, unfortunately you will not be able to recover it. As much as we try and tell you extensive tricks, the only thing you will achieve is wasting time and we do not want this to happen. As you can see, Facebook Messenger does not have a "Trash" where deleted chats could be saved.
You can try to recover files by downloading file management applications such as "ES File Explorer", but we do not guarantee that you will be able to recover it if you have permanently deleted it.
Here is a link to download the application, and we wish you all the success in your search.
Download ES File Explorer
Take the following steps to try to recover some of what was lost, but as we warned you, nothing is guaranteed.
Open the ES File Explorer application and enter

"SD card storage"

.

Choose the " Android "

folder

, since there we can find all the data related to the applications that we have installed on our device.

A folder called "

Data

" will open, we will click on it, and then a list of all the applications that are installed on our device will open.

Select the app called " com.facebook.orca " and click on it.

Now click on the

cache and then "fb_temp ", where you will find all the backup files that are constantly being saved by Facebook Messenger.

In this way you can recover all those chats that are in the cell phone cache.