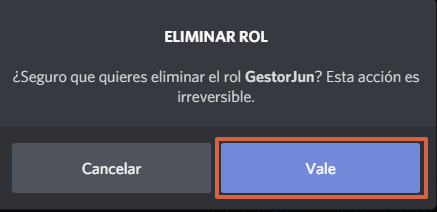 Online gamers use Discord not only for the ability to create communities or servers to share video games. If you are a server administrator, you can grant certain permissions (roles) to other people to help you optimize the community by adding content in text, voice or video format. There are various roles that you can assign, create, combine or delete on your own to control information in the community.
Therefore, this article will teach you how to put roles in Discord. You will also see how to create and delete them if you need it. With this you will be able to grant permissions such as being part of the server administration, adding links, silencing certain users, creating instant invitations, etc. In general, there are more than 29 permits that can be granted, but in this case only the most relevant will be mentioned.
Role types
A role is a permission with a predefined name that grants a user the opportunity to generate or perform some task within the server. They are binary codes that can be combined to perform various actions between users and administrators of the channel or community. In Discord there are permissions that are divided into:
General : These are server administrator permissions , emojis, roles or channels. You also have the ability to remove or ban members and change nicknames.
Texts : With them you can send messages, TTS (text to voice messages), mention users, add reactions, attach files and read message history.
Voice : Allows you to connect, speak, mute, deactivate the audio for some members, use of priority speaker, etc.
Role creation
The creation of roles on your Discord servers is a task that can be tedious but that you will undoubtedly need in the long term in your community. With the roles you will be able to manage all the messages in voice, text and video format that each user sends. With that said, check out how to create roles in Discord :
Open Discord on your computer.
Click on the icon of your server.
Press the arrow on the right side of your server name.
Select the " Server settings " section.
Choose " Roles ".
Click on the plus symbol (+) next to " Roles ".
Give it a name and a color.
Choose the permissions you want to grant.
Then press " Save changes." You can create as many roles as you need.
Drag the roles to sort them according to their hierarchy.
The roles will be assigned to each member of your server once the vast majority have been created. If you want to change the permission settings, you can do so only by clicking on the role name, and activating or deactivating the options in the list of general, text or voice permissions.
Assign roles
If you want to properly manage the users on your servers, it is ideal to designate and assign roles to those who are the most frequent. In fact, if you can have roles created before you have people in the community, it is much better to start controlling the exposed content and assign the necessary permissions. If you want to start adding roles to Discord, do the following:
Open the server you manage.
Left click on the name. You will see a window appear.
In the " No Roles " section, press the plus symbol (+).
Select the roles you want to put.
Right clicking
This is another much more direct and faster method to start assigning roles in Discord. Regardless of the form you choose, you will notice that the user's name now has the same color as the first role you added. If you want to use this method, take a look at these steps that will be shown below:
Select the user.
Click right on your behalf. A drop-down menu will appear.
Go to " Roles ".
Choose the permissions you want to add.
In case you want to remove the granted roles, you just have to do the same procedure to be able to deactivate the permissions. In this way, you will continue to have control of who can add content or send messages within the servers you manage.
Delete roles
You may have duplicated the same role and need to remove one. Or on the contrary, you have created a role that has caused you problems and you need to delete it as soon as possible. To delete roles, it will be explained step by step how you should do it:
Select the server you manage.
Click on the drop-down arrow next to the name of the server.
Choose " Server Settings."
Click on " Roles ".
Click on the role you want to delete. In this case, "GestorJun" will be deleted.
Scroll down and click on the " Delete Jun Manager " button.
A pop-up window will appear asking if you want to delete the role. Choose " Ok ".
As the community grows there is a need to control each information received, but it is tedious and complicated if it is done without a team. For this reason, putting roles (permissions) offers the facility to manage the account simultaneously with people who are trusted and know the objectives of the server, in order to provide a fun and enjoyable coexistence within the community.