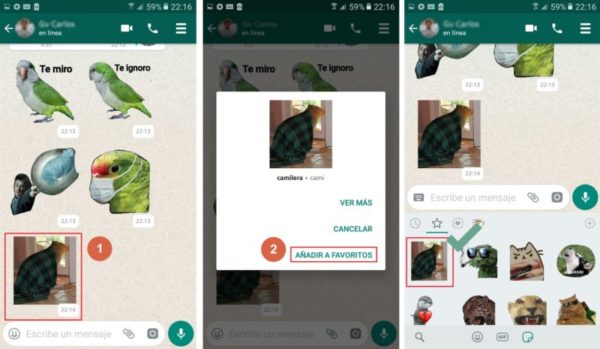 At the beginning, what we had available to represent emotions when writing a text message were only emoticons or emojis, after that came GIFs, which undoubtedly achieved their goal, but nothing funnier than having stickers on WhatsApp, they not only demonstrate emotions or desires, but they are more effective, since you can have stickers of yourself or your friends and colleagues.
Surely you have wondered how they do to create the stickers and that is why you are here. You will learn how to design stickers and add them to your list, as well as the best applications. You will have your own creations on whatever you want, let's go!
Creating your own stickers for WhatsApp is a relatively simple task, just use a third-party application, available in the Play Store, although you can also easily program your own. In this case, we will teach you how to create stickers for Android and iPhone.
How to create stickers on Android devices
It is really very easy to create stickers, we will summarize how to do it in this guide that will serve you for any other application you want to use, just follow each step carefully and you will be able to enjoy your creations.
Once in the application to create stickers, go to "Create a new package of Stickers".
Name your package and then select "create".
You will see that the sticker pack has been created, enter it.

You will have blank boxes, so you should start creating. Select a box.
Then you will have the option to select from where you want to obtain the image, press "Open Galery" or from the gallery.
It will enter the gallery of your device, select the image you want to convert into a sticker.

You will start the editing work . Crops the previously selected image.
Then you can add text to it, you can skip this step if you don't want to.
Select "Save."

Once you have the minimum amount of stickers or the ones you want, press "Add to WhatsApp", at least it is usually 3 to 4 stickers.
A text box will open where you must click "add".
And finally you will have the message that it has been successfully added to your WhatsApp stickers, press "ok".
You see that it is very easy, this guide is designed so that you cannot go wrong, have fun creating stickers of what you like the most.
Android Apps:
In the Play Store platform for Android there are several options of applications for the creation of stickers for WhatsApp, some are free or free download, while others are paid. Among the most recommended by users are:
Sticker studio: it 's the best application to create your own stickers, and it's free! you can cut your backgrounds, add text, with different fonts, add emojis and it is very easy to use.