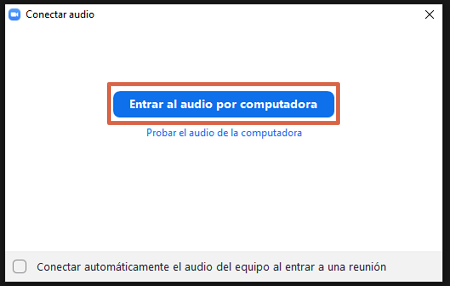 To join a meeting in Zoom you only need to have an access method, be it a link, meeting ID or the access code. The main advantage that Zoom offers is that you can enter their meetings without being registered on the platform. That is, if you do not have a Zoom account, it will not be inconvenient for you to access a meeting. You only need the access link, your Smartphone or computer, camera, microphone and a good Internet connection.
Therefore, in this post you will observe the procedure to enter a meeting in Zoom from your computer or with the application on your smartphone. You will also see the detailed steps in case you have a Zoom account or if you have not registered for the tool. You will also find out the difference between their access methods and how you can schedule a meeting for other dates.
Access codes
Zoom has 3 access methods to any meeting planned or held on the platform. It is important that you know them and identify in which devices they are usually requested to avoid confusion or momentary errors:
Link: the links to enter Zoom are a URL address with which you can access the room from any device, be it your mobile or PC.
Meeting ID: This is the room's identification number. It usually comprises between 10 or 11 digits. You can enter it on any computer that has the Zoom app.
Access code: they are characterized by being an alphanumeric key, that is, it contains both letters and numbers and, when entering the code, uppercase and lowercase letters are taken into account. It is most requested right after entering the meeting ID and when using the Zoom desktop app.
From the phone
Once you have knowledge about each access method on the platform, you can enter any room as long as you have that login link. You can enter a meeting in Zoom from the official application for bothAndroid as foriOS as follows:
Open " Zoom."
Press " Join a meeting ".
Enter the meeting ID and a username. Then press " Enter."
Enter the access code and press " Ok ".
Choose if you want to enter with or without video.
Note: If you have directly pressed the link to enter a room in Zoom, you will only have to write your name. Now, if you have a Zoom account and want to log in with it, in step 2 you can press " Login " and enter both your email address and your password. Then, you must press " Enter " and the platform will ask you for the meeting ID or its direct link.
From computer
Through the Zoom website you can also enter meetings in a practical and simple way. It does not matter if you have previously registered or not, you just have to follow these steps to enter a Zoom video conference from your computer :
Press the link that has been sent to you to join a meeting in Zoom.
You will automatically observe that an installation file will be downloaded to enter the room.
When the download is finished, double-click on the file to install the application on your computer.
Once the installation is complete, Zoom will automatically enter the meeting you requested. When the host has accepted your request, you can enter your username. Then press " Enter."
Enter with the audio from the computer or a particular microphone and you will automatically be in the meeting.
Note: you can also enter the Zoom website through thislink and press " Join a meeting ". You will need to enter the meeting ID and then the Zoom installation file will begin to download. After this, all the steps are the same as those mentioned above.
The procedure to join or join a meeting in Zoom is extremely simple. You must have at hand the login link and a computer with a camera and microphone, either your Smartphone or computer. It is recommended to create an account in the app in case you make video calls with a certain frequency. Similarly, Zoom offers basic and premium packages that will allow you to have access to other attractive and unlimited benefits.