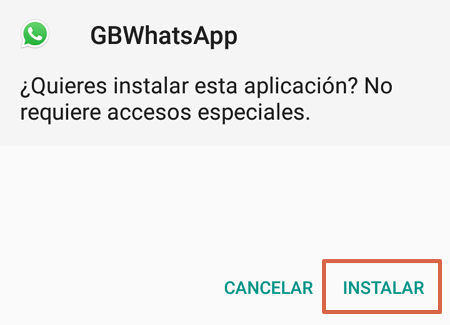 Transparent WhatsApp is an unofficial version of the WhatsApp application that has different customization and privacy options. To download Transparent WhatsApp, you must first make a backup copy on your device and follow the steps that will be explained later. Now, because it is not an official app of the platform, you must constantly check the page of its origin to verify that you have the latest version.
The most attractive thing about this app is its customization, because by having a transparent interface you can place any image or theme as a background for both the chat and the start of WhatsApp. In view of this, in this post you will see how to download and update Transparent WhatsApp for free. You will find the steps that you must carry out previously and how you can update it according to the version you have available.
Characteristics
Transparent WhatsApp is characterized by being a MOD or an unofficial variation of the app. It differs from the original version because its interface is transparent and changeable, that is, its background can be modified by any image or theme of your choice. It also has emojis and emoticons with more details, which are more expressive.
Additionally, another feature that the original app does not have is to hide the "Online" status and the blue checks that appear when reading the message or when listening to a voice memo. You will be able to read and listen to the messages of your contacts without them knowing. This app can be installed on Android 4.0 phones or higher versions.
How to install it
Before starting the procedure to install Transparent WhatsApp, it is necessary to mention that this app is only available for Android phones. You won't be able to download it for iOS devices and it doesn't have a desktop version either. After clarifying this point, the steps to follow will be to create a backup copy and begin the installation of the app, see more below.
Make a backup
If you want to install Transparent WhatsApp without any inconvenience, you must first make a backup of your conversations so that you can quickly migrate them to the new app. Having clarified this point, these are the steps you must take to create a backup in WhatsApp :
Enter " WhatsApp " and press the three vertical dots located in the upper right corner of the screen.
Click on " Settings ".
Open " Chats ".
Swipe and choose " Backup."
Press " Save." Wait for your chat history to be completely saved to your Google Drive account.
How to download it
Once you have saved the backup of your conversations, you will be able to download Transparent WhatsApp and run the installation by following the steps that will be explained below:
Go to " Settings " or " Settings " on your phone.
Enter " Security ".
Swipe and activate the " Unknown sources " option. In this way you will grant the permission so that WhatsApp Web can be installed on your phone without any problem.
Now, go to " Applications ".
Search for " WhatsApp."
Press " Uninstall ".
You will see a confirmation question. Click " OK " to start the uninstallation.
Click on this link to download WhatsApp Transparent V10.20.
When it has downloaded, open the .APK file and a security question will appear confirming if you want to install this app. Press " Install ".
Once the installation process has finished, Transparent WhatsApp will indicate that it has already been installed. You just have to press the " Open " button .
Steps to update the app
As it is not an official app from the Google Play Store, Transparent WhatsApp will not update automatically. Therefore, you should constantly check some reliable pages to download the app safely and check if there is an update available. If you find one, follow these steps:
On the internet, check for a new update.
If you got it, create your backup copy of your conversations by following this path " WhatsApp> Three vertical dots> Settings> Chats> Backup> Save ".
Now, uninstall the version you have of Transparent WhatsApp from your phone.
Then, the download and installation of the new version begins.
Advantage
Its main attractions lie in the customization of the app and the privacy options provided during conversations. With Transparent WhatsApp you can change the background of the messaging and your chats and you can also hide your "Online" status, the last connection time and if you have observed the status of your contacts.
Another benefit is that you can deactivate the Wi-Fi or your mobile data of the application to not receive messages, but you will remain connected in the other applications. You'll be able to send large attachments, have automatic replies, and watch messages even after the other person has deleted them for everyone.
Disadvantages
Its main disadvantage is that it does not update automatically in case of a new version and performing the installation process again becomes a tedious task. Likewise, the original WhatsApp app can cancel or block the account of users who use these unofficial MODs.
On the other hand, you will not be able to make backup copies in Google Drive, so you will not have a backup of your conversations when you reinstall the app, unless you do it manually. It should also be noted that your data will be exposed by computer scientists who know little or nothing of its origin.
With all these steps, you will be able to download or update Transparent WhatsApp in a comfortable, fast and simple way. However, it is important to mention that since it is not an app from the Official Stores, it is not guaranteed that your information is protected under the appropriate security parameters.