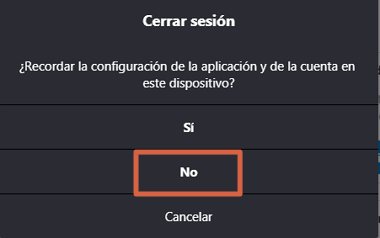 Unsubscribing from interaction platforms, such as Skype or any other similar, is something that users implement when they are not satisfied with the service or simply want to pause using it. So they are looking for a way to delete their account on the web, so that no one else can contact them through that route.
Well, if this is your case and you want to delete your profile in Skype, you should know that there are several alternatives that you could use before completely disappearing from the Microsoft video calling application. Some of them are not as drastic as deleting the account, on the contrary, they only hide your personal information from your contact list. To learn more about the subject, continue reading this post.
Delete account
Before starting, it is necessary to clarify that the profiles in Skype are linked to the Microsoft account (Hotmail or Outlook). So it is impossible to delete the first without having to do it with the second as well. That is why you should think very well if you want to continue with this.
In case the answer is yes, you just have to follow the instructions shown below to delete your account from the platform.
From PC
Opens Skype on your computer (the desktop application).
Click on your profile picture.
Select " Settings."
A new options window will open. Choose " Close account."
For security measures, you must enter your Microsoft account and verify it through a unique 7-digit code sent to your associated email.
Write the associated email and press " Send code ".
Go to your inbox, copy the code, and go back to Skype to write it. When you do, click " Check."
The system will ask you if you want to keep the session logged in, choose the option you want and continue with the process.
In the next window you must scroll to the end and click " Next ".
Read carefully each of the options and check the respective boxes.
Finally mark the confirmation box, select a reason from the dropdown list and click " Mark has to close."
At the end, you will receive an email in your associated email informing that you have 60 continuous days from that moment to reverse the closure of your account in Skype. After this time it will be closed permanently and you will have to open a new one.
From the phone
The steps to follow to close your Skype account from your phone are very similar to those used on the PC, with certain exceptions. However, to get a clearer idea of ​​the necessary procedure, see the instructions below.
Login to https://go.microsoft.com/fwlink/p/?linkid=845493 from your mobile browser.
You must enter your Microsoft access information (User and password).
Once you log in, it will ask you to verify your identity through a unique 7-digit code. Which is sent to the email or phone number associated with your Microsoft account. For this to happen you must press " Send email to … ".
Enter the email address or phone number and press " Send code."
Search your inbox and make a note of the code received. Then go back to the browser and type it in the empty field. Once done, click " Check ".
Microsoft will ask you if you want to keep your session logged in to the device, select the option you prefer and continue with the process.
Then, you will see a series of instructions that explain what you will lose when you close the account. Scroll to the bottom and hit " Next ".
You will advance to a new window where you will have to check each of the available boxes.
Finally, check the read confirmation box, select a reason from the drop-down menu and press " Mark account for closing ".
When you finish, your account will have been marked for final closure. So you will receive a confirmation email from the Microsoft team, informing about what happened. It is worth mentioning that this is a reversible process that you can undo in a period of less than 60 days, entering again through Skype.
How to hide your account
There is a way to hide your Skype profile information from other users. In this way you would remain "invisible" to anyone who wants to look for you. It is a less drastic method than the one explained above, in addition, it is totally reversible. To do so, you simply have to follow the instructions described under this paragraph.
Login to https://www.skype.com/es/.
Click " Login " in the upper right corner of the page.
Select " My account."
Note : In case the session does not start automatically, you will be taken to a window where you must log into your account using the respective access credentials.
Once you log in, scroll down and select " Modify Profile."
You will advance to a new window, here you will have to scroll to the "Profile settings" section and uncheck the " Detectability " box.
Remove your account from the login screen
Skype, like other platforms such as Facebook, allows you to keep your account on the login screen to speed up the login process with each new access. To prevent a stranger from entering your account without your consent, you just have to press "No" to the question that appears on the screen at the end of your activity.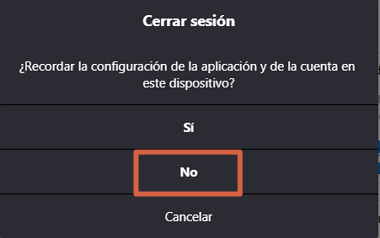 It is worth mentioning that the latter can also be done on the cell phone. In this way you will prevent anyone from having access to your information, in case you lose your phone. Remember that the process of definitive closure of an account in Skype lasts 60 days in which you can easily reverse it by entering your profile in Microsoft and complying with the parameters of the System.