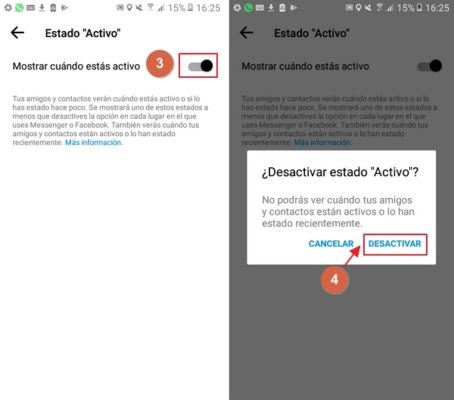 It has happened that when you delete your Facebook account or decide to deactivate your account for a while, the Messenger application is still active. Typically, the reason you unsubscribe from your Facebook profile is because of the annoyance caused by the ease with which strangers have access to your profile, especially direct messages. In addition to this, the fact that an additional application is required to use this service.
If this is your position, you are surely in this post because you want to deactivate the Facebook Messenger account completely. This occurs since you continue to receive messages through said messaging service and you do not want your profile to remain active in it. You should not worry about it, in this text you will find a detailed guide to know how to do it.
Is it possible to deactivate the Messenger account?
The reality is that you can't disable Facebook's instant messaging service without completely deleting your account. If you made the mistake of using your phone number to access Messenger, this service will become independent of your Facebook account and even if you deactivate or delete it, Messenger will remain active.
As Facebook Messenger corresponds to an application developed separately from Facebook, you can remove the Messenger application. Even so, the messages will continue to arrive in your inbox, you can only read them by reinstalling the app or from your computer.
How to disable Facebook Messenger
Next, a step-by-step guide will be detailed to deactivate Facebook Messenger from each device, whether your phone is from the Android or iOS Operating System and even from the PC.
From the phone
This procedure is extremely simple to perform. You must bear in mind that there are two procedures, everything will depend on whether or not you have deleted your Facebook profile. In this first procedure that is detailed, the profile has been previously deleted, so you must follow the steps mentioned below from the Facebook Messenger app:
After opening the application, enter the menu (the photo of your profile that is in the upper left corner).
Follow the following command line until you find the option " Conditions and policies ".


Enter the option "Deactivate Messenger".
Choose " Disable ". With this you will have deactivated Messenger on your Android Smartphone.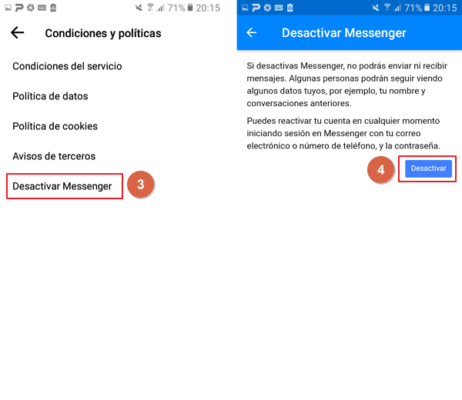 After that, you will only have to uninstall Facebook Messenger from Google Play or the App Store as appropriate. This can be done from the following buttons: