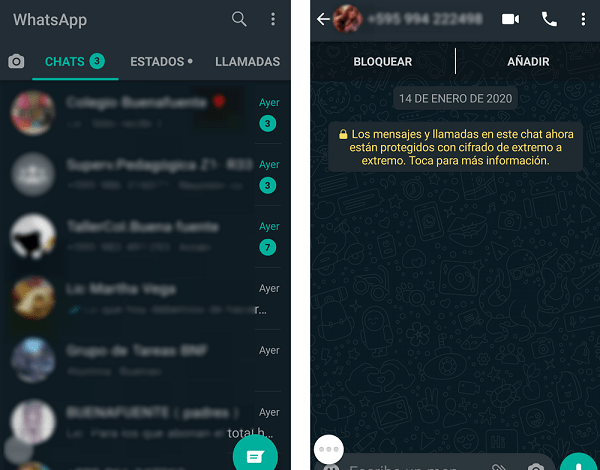 Popular instant messaging has finally pleased us with something we've been asking for for a long time: dark mode. And rather they had been slow to activate it, since Telegram already allowed to install a similar theme and naturally it could not be won by the competition.
WhatsApp has always stood out for being at the forefront, although from time to time it decides to incorporate certain popular functions from other platforms, such as stickers and statuses. For now, we explain how to activate the dark mode in WhatsApp from any device.
What is dark mode? It is a theme enabled by the applications, which turns the interface of its APIs into one with darker colors. Usually the white background is replaced by a black, gray or dark blue one, and the additional colors are changed for others that go with this theme.
In fact, in WhatsApp it is known as a dark theme and its main function is to protect your sight when you use it at night or in places with poor lighting. The popular messenger is usually very used throughout the day, so you can already protect your health or simply make your Wha look more beautiful.
Enable dark mode on Android
Because some Smartphones already come with the option to activate the dark design in the system and in the installed applications; WhatsApp offers us the opportunity to enable the option by default, so that the theme is activated when this feature is in operation or simply manually.
Enter WhatsApp and click on the menu button, which is located in the upper left corner.
Options will be displayed and select "Settings".
Click on the "Chats" section.

The new update will have the option of " Themes", select it.
A window will appear with 2 options, select " Dark ".
Just choose the dark option click "Ok". Clever! your WhatsApp will already have night mode enabled .

The three options
As you may have noticed, the menu displays three theme options to select them when trying to change it within the WhatsApp settings menu. This is what they mean:
System Default: Used for WhatsApp to automatically recognize when your Android device has switched between the light and dark theme of its own system. This will be adjusted at the time you make the changes on the device and not with WhatsApp.
Of course: it is the basic and traditional theme of the application, where the background color will be white, the black and green letters and the contextual menus will have greenish tones according to the visual aspect of the app itself.
Dark: here the background is replaced by a blue one, typographic fonts become white, and the menu bars switch between green and gray. Also, the default chat background will be the same, but with a more opaque color.
Update your WhatsApp Android application: