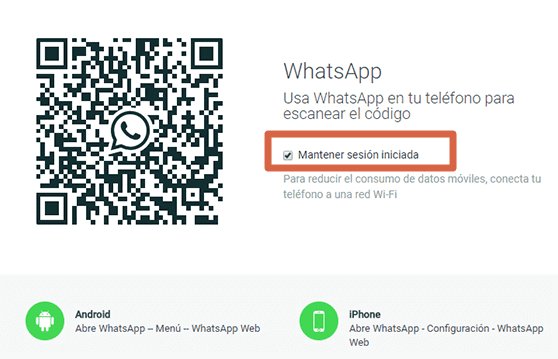 In order to access WhatsApp Web it is necessary to scan a QR code with the camera of your device. However, this is annoying for some users, who sometimes do not carry their cell phone or are tired of logging in on the same computer over and over again. So they are looking for alternative methods that allow them to use the desktop version of the instant messaging app without so much protocol.
In this sense, the first thing you should know is that entering WhatsApp Web without scanning the QR code is not possible. Since, so far, the platform does not offer different alternatives for this. This being the main requirement to do it, however, there are a couple of methods with which you can bypass this check from the cell phone. To find out what they are, keep reading the next post until the end.
Why can't WhatsApp Web be used without a QR code?
As mentioned before, using WhatsApp Web without scanning QR code is not something that can be done. Since this is a necessary synchronization method to be able to pair both devices (mobile and PC). Therefore, as you do not have a Smartphone with a functional camera, you will not be able to log into the online version of the well-known mobile application.
It is worth mentioning that, so far, there is no other method verified or approved by WhatsApp developers to access the web version. Similarly, there are alternatives that you can use to bypass the constant login from the same computer.
How to use WhatsApp Web
Using WhatsApp Web is as simple as going to web.whatsapp.com and follow the instructions described below:
Open WhatsApp on your device and click on the icon with the three vertical dots.
Select " WhatsApp Web."
This will activate the device's camera, scan the QR code displayed on the screen to connect WhatsApp on both computers.
Something important to note is that, in case you have previously logged in on another device, the sessions started will be displayed instead of the camera to scan the code in question. To close any of them, simply click on it and press the "Close session" button when necessary.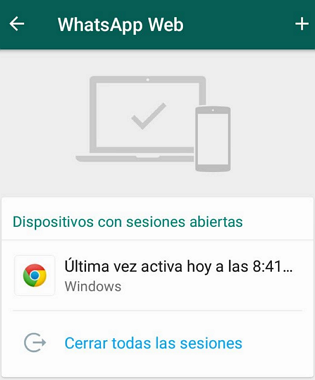 Instead, to end the WhatsApp Web session on all devices, press the " Close all sessions " button. On the other hand, if you are trying to access from a computer that has already been synchronized, the steps mentioned above will not be necessary. Since, when you enter the site, all your conversations will be loaded automatically.
Other alternatives
You should know that there is no other way to connect your WhatsApp account to the web version without scanning the QR code. Although you could try to use an emulator that allows you to use the application on the PC, this does not represent a functional alternative, since you could run the risk of deactivating your profile on the cell phone.
How to avoid scanning the QR code
While connecting to WhatsApp Web without scanning the QR code is something that cannot be done, there is a simple way to constantly avoid this action. Which consists of keeping the session active within the online platform, checking the necessary box on the page. However, you should know that, sometimes, it can close unexpectedly without your request.
On the other hand, another good way to log into WhatsApp Web and prevent it from closing isdownload the desktop version of the app. Which you can easily obtain from its official site, at no cost. Keep in mind that this is recommended as long as the computer is for personal use. Well, it is risky on shared computers, in which strange hands can have access to your personal information or conversations.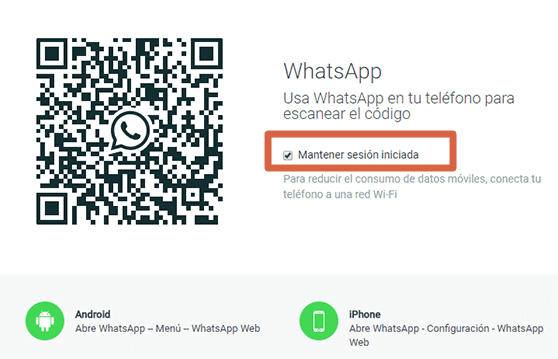 By following these recommendations, you will be able to use WhatsApp Web without scanning the QR code over and over again. Just remember to keep your connection secure from third parties, avoiding logging into shared computers.