Emails
TempMail: What is it, what is it for and how to use this temporary mail

TempMail is a website to create disposable emails, in other words, you can have an additional email that will be totally temporary. It is an excellent tool to avoid the saturation of ads or SPAM messages in your personal email or to test certain applications in which you do not want to include a frequent email. You only have to enter its web portal and the System will automatically generate an email that you can use.
The best thing is that you do not need to log in or register on the platform. The messages that reach you in this provisional email can be read immediately on its website. Thanks to its practicality and the benefits that its use can bring, in this article you will see how to use TempMail both from the computer and through its application. You will also observe several of its main advantages and disadvantages.
How to use
If you want to use a temporary TempMail email, you just have to enter its web platform or download the application available for both Android phones and iOS devices. Once you choose either method, the remaining procedure is fairly straightforward.
From PC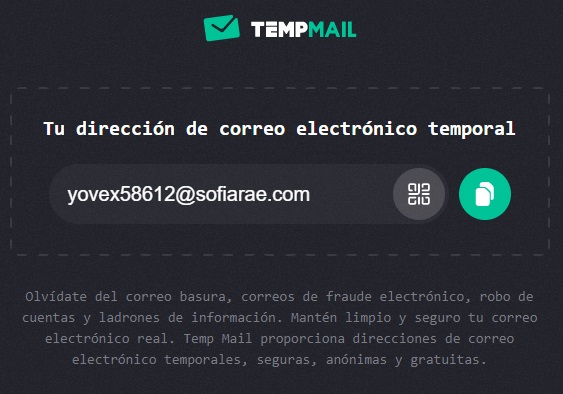 To use TempMail from your computer you just have to enter their website through thislink and copy the temporary email that will appear on the screen. You can press the " Copy " button or the clipboard icon. Then, you must enter the portal in which the email is requested, either for registration, subscription or to receive an announcement.
In the box or box indicated, paste the temporary email that you copied in TempMail. In case you need to verify the email, this platform has its own inbox, in which you only have to press the " Update " button to receive the messages that have been sent to your temporary email address.
From the app
If you want to have greater access to the tool, TempMail has a mobile application for both iOS and Android cell phones. It is a lightweight app that does not take up much storage space and has a free version and a Premium version. If you want to use the TempMail app on your smart device, follow these steps:
Download the TempMail app for Android through thislink and for iOS devices using thislink.