Emails
How to log in and configure Movistar mail (Telefónica)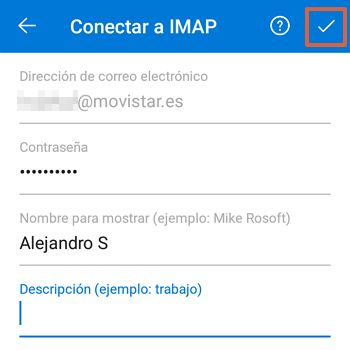 Registration for new accounts in Movistar has not been available since 2013. However, if you opened an account before this date, you can access it quickly and easily. The Mail Movistar works like any other courier. Therefore, you only have to enter the official Movistar page, enter your email and password to enter and use all the benefits that the telephone company offers.
On one occasion, Movistar was also recognized as Telefonica.net, but over time, it stayed with its current name. In fact, some emails keep this domain, so it is normal that you still see them. Having clarified this point, in this tutorial you will see how to enter your Movistar email from your Android, iOS device or even on the official Movistar website. You will also find a way to unblock your email and contact the company's support.
How to enter from the page
If you created an email in Movistar before 2013, you can still enter and check your emails as in any other messaging platform. As well as Gmail, Outlook, Yahoo and other emails, you must go directly to the page and follow the steps that will be described below:
Go to Movistar email.
Write your email and enter the corresponding domain, either @ movistar.es or @ telefonica.net. Then enter your password.
Press " Connect ". At the end of these steps, you will have accessed your inbox.
Recover account
In case you cannot enter your account due to forgetting your password, press the option " I cannot access my account " and write the alternative email you entered at the time of registration, so that the platform will send you a password recovery message . Then, solve the reCAPTCHA and press " Continue ". Then you just have to follow the instructions that Movistar sends you.
From the cellphone
Unfortunately, for now, Movistar does not have an app that simplifies access. However, to access Movistar email, you have several options that you can use from your iOS and Android Smartphone, as it has other applications in which you can configure email using the IMAP, POP3 or Exchange option .
Add account in the system
Android systems register and link a Google account to maintain access control on the device. With this, the procedures for sending and receiving messages are quickly organized in several accounts, and in turn, it stores the information you have in them. In view of this, you also have the possibility to add one more account by following these steps:
Go to " Settings " on your phone.
Locate " Accounts."
Select " Add account."
Choose " Exchange ", " Personal (IMAP) " or " Personal (POP3) ".
Add email and password. Then press " Continue ". Follow the linking instructions and you will have your Movistar email added to your Android device.
Note : Some steps may vary slightly depending on the version of the device you have.
Gmail for iOS and Android
Android has Google Play services, which includes the Gmail application to manage one or more emails at the same time. In this way, all messages that arrive in the inbox are instantly received and reviewed. To associate your Movistar email in your Gmail account, follow these steps:
Enter " Gmail " on your phone and press the 3 horizontal lines located in the upper left corner of the screen.
Press " Settings ".
Press " Add account ".
Select " Exchange " or " Other " and enter your Movistar email along with the password. In this way, you will be able to enter your Movistar email.
In outlook
Outlook is what was previously known as Hotmail. In an application available in the Google Play Store for Android, in which you can add more than one email address. Therefore, it is placed as an available option to enter your Movistar email :
Access the Outlook application on your Smartphone.
Press your profile photo to access the platform menu.
Click on the message icon with the " Plus " symbol (+).
Select " Add an account."
Press " Skip."
Enter your email address with the corresponding domain.
Enter your password, followed by a display name and description. Then, press the " Check " icon . With this you will have entered your Movistar email.
Other data to place
There is a series of data that Movistar may request when synchronizing email addresses. This is additional information that is provided so that the mail can identify the associated server. That said, look at the data that Movistar may request in your email :
SMTP server (protocol used to send emails through the Internet): if your email domain is @ telefonica.net., Then it will be smtp.telefonica.net. Now, if it is @ movistar.es, the server will be smtp.movistar.es.
SMTP port: 25.
Authentication: password.
IMAP server (used to connect Movistar, Outlook and Thunderbird mail services): imap.movistar.es.
Security: none.
Use SSL: disabled or 993.
POP port: 143.
POP3 server : pop3.movistar.es.
POP3 port: 110 or, if it is a connection encrypted with SSL, 995.
Account settings
Once you are on the platform or synchronize your Movistar email in any of the aforementioned applications, you can make settings such as changing your password, modifying your billing information and even changing ownership. In the following sections, you will be able to observe the procedure of each one of them.
Billing information
Movistar has online payments, therefore, you have the possibility to change the data of your bank accounts, the language, paperless invoice or the address to receive the invoice. To do this, you just have to enter "Mi Movistar "with your username, NIF, CIF, NIE or telephone number and password. Then click " Transactions " and seeks "option Updating of data ". Change those fields you want and click " Continue ". Verify that the changes made are correct to finish by pressing " Confirm ".
Change the holder
In Movistar you have two options to be able to change the ownership of your account. The first is by completing a form through their website. Once you fill in all the requested fields, the form will be sent for study. Over time, the analysts will tell you whether or not the change of ownership is appropriate.
The other option available is to go to the authorized Movistar Customer Service agencies or offices
Change password
To change the password of your Movistar email, you just have to go to your control panel and press the option " Change password ". Then, as in any other messaging service, you will only have to follow the instructions indicated on the page. It should be remembered that the new password you enter must contain numbers, special characters, uppercase and lowercase letters.
Unblocking the mail
If when entering your Movistar email you see that a message appears indicating that the connection data to enter the server are wrong, then you must unlock your account. To unlock it, you just have to enter the " Settings " of your account and press " Change password ". Remember to comply with the required exchange requirements.
Main errors and problems when logging in
421 Service not available, closing transmission channel : the server corresponding to the action is not available at the moment.
421 Your address has been graylisted : The mail has been sent to a recipient using a protection filter.
424 Too many recipients : you exceed the limit of recipients in a message (more than 50).
450 requested mail action not taken : the recipient's inbox is not available, therefore he could not receive the mail.
452 requested action not taken : the recipient's inbox does not have storage capacity, therefore he could not receive the mail.
However, there are certain errors that, unlike those mentioned above, are permanent. Some of them are the following:
550 Requested action not taken: mailbox unavailable or is not local : The address to which you want to send an email is not found on any server.
550 # 5.1.0 Address rejected : The email address to which the message is to be sent does not exist.
552 Requested mail action aborted: exceeded storage allocation : The recipient's mailbox may not have more storage available or the size of the mail you want to send is too large.
553 Requested action not taken: mailbox name not allowed : The address is incorrect or is not spelled correctly.
Benefits of Movistar mail
With the Movistar email you can have control and access to the other services of the company, so it is important to keep both the password and the registered information updated. The advantages mentioned here are only available to those who still own the mail:
It is free.
It serves as a connection to receive information on other subscriptions or services within the company such as Movistar +, Movistar Series, Movistar + Life, Vamos TC, etc.
Manage a professional domain.
Easy entry.
Mail can be synchronized with other applications such as Outlook and Gmail.
Movistar support
Telefónica.net or Movistar has different means of Customer Service that facilitate and help manage telephone lines and billing charges. In case you have problems with your email or any other service, you can go directly to one of their authorized stores and raise the problem. If it is due to billing problems, you must bring the bill of payment and an identification document.
Contact numbers
The main contact number is 900 10 14 90. But you can also call their numbers 1004 or 900 101 010 (individuals) and 1489 (only for Small and Medium companies). They generally have a response within 24 to 48 hours. It is important to mention that if you choose this route, you can request a claim certificate.
Via online
With this option only you have to access the page My Movistar and look for the section " Attention to the customer ". In it you must fill out a form indicating your request and your contact information. Once you complete that information, you just have to press the " Send " button and Movistar Support will contact you.
Mail and social networks
They also have social networks such as Twitter (@movistar_es), Facebook (movistar.es) and an online chat that will receive complaints or questions to help you as soon as possible. Also, if you are in Madrid-Spain, you have the option of sending a postal letter to " Gran Vía, 28 28013. Madrid ". It is recommended that you keep a copy, since with this method they will have a month to solve your problem.
As you have observed, it is a great benefit if you still have this email since you will receive in real time all the notifications, invoices or promotions of the company. In the same way, you have different means to access the Movistar email, as well as, you have Customer Service channels at your disposal to solve any doubt, concern or problem that may arise with it.