Emails
How to create automatic or default replies in gmail? Step by step guide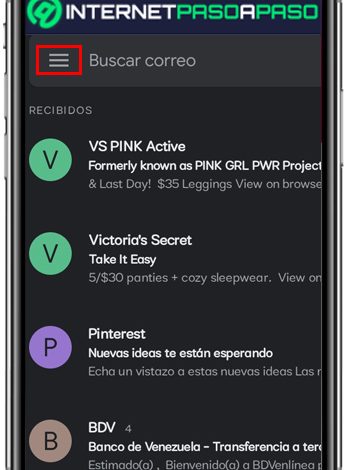 One of the best ways to grow and take advantage of the day to day is by delegating the less complicated tasks to the software we use daily. Today there are many productivity tools that are focused on meeting the goal of better time management.
We have many of these tools, but for the simple fact of not knowing how they work or in many cases for not knowing that they are there, we stop taking advantage of them and optimizing our days.
This is the case with Gmail's automatic responses, that is why in this post you will learn what they are and how they work from scratch so that you can spend as little time as possible answering emails.
What are autoresponders and what are the benefits of using them in Gmail?
Automatic replies are messages predetermined by the user so that these are sent back immediately to any contact who tries to communicate via email. The idea is that the person who tries to contact us receives a message that can indicate the state or degree of occupation in which we are.
The benefits of using this configuration can be many:
Satisfy the need for quick responses from clients or other contacts.
Save and improve the time you waste replying to messages.
Filter out the contacts who need immediate attention from those who don't.
Avoid explaining the reason for the absence or lack of activity.
It can be a way to redirect your customers to a more comfortable means of winning a sale.
On the other hand, we can add that this configuration is very versatile, since it can be programmed only for periods of time for vacations, weekends or simply as a general answer for a lifetime. With this the user can keep his presence intact during periods of rest from work for example.
Learn step by step how to create automatic responses in Gmail to automate the use of the platform as much as possible.
Automatic replies can be very useful for times when we will not be fully active in dealing with matters in the mail.
It is enough to know how to predetermine these messages, which we will see below:
On mobile
Note that this is only available for those Gmail addresses and for Microsoft Exchange addresses:
As a first step it is necessary to open "Gmail".
Click on the button with the 3 horizontal stripes at the top of the screen .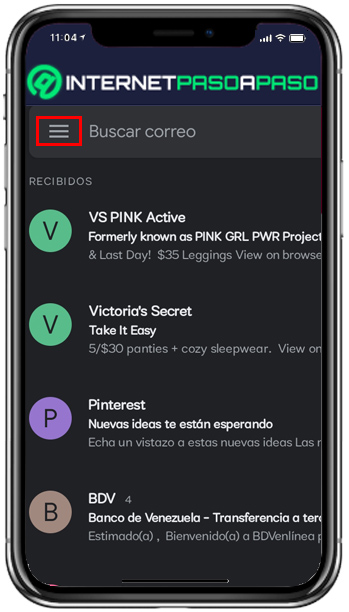 Scroll down the screen and select the "Settings" option .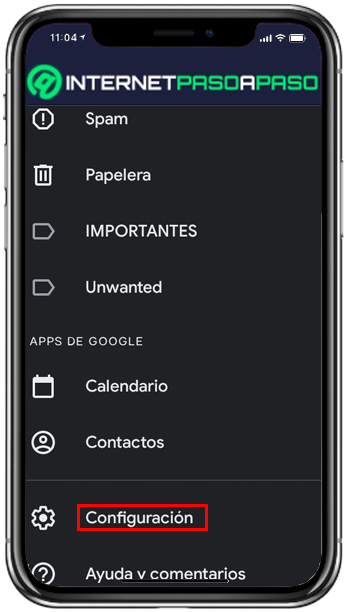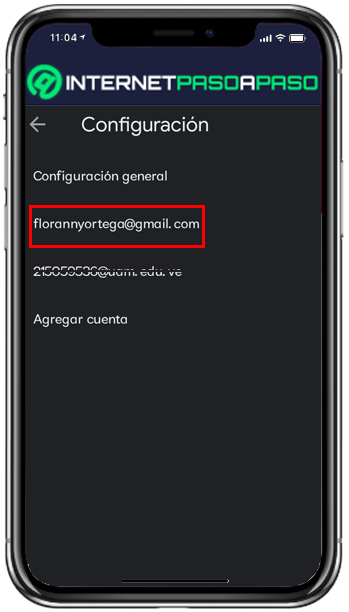 Scroll down the menu to the option "Automatic answer" and tap on it.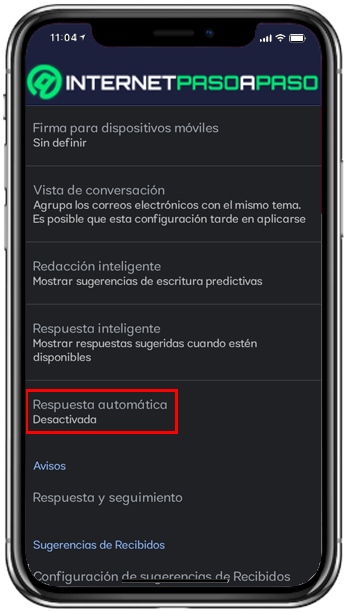 Then configure according to your preferences:
The start dates and optionally the end of the automatic responses.
Compose a suitable message.
Put a subject that alludes to the type of answer.
Choose if this message is for all users or only those who are in your contact list.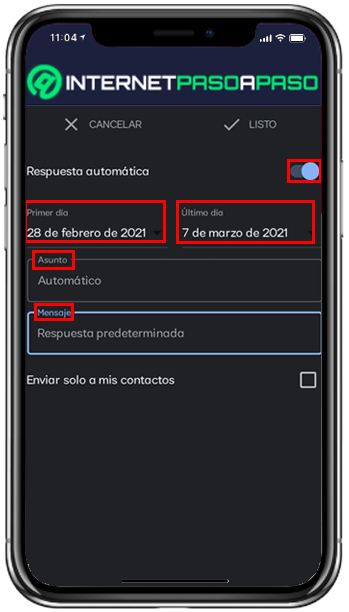 In the computer
If you will use this frequently you can make a file and save it on your computer to save time and not have to write them again:
The first thing to do is access your Gmail account .
Once there, you have to enter the "Settings" by clicking on the cogwheel button, located in the upper right corner.
We immediately select the option "See all settings".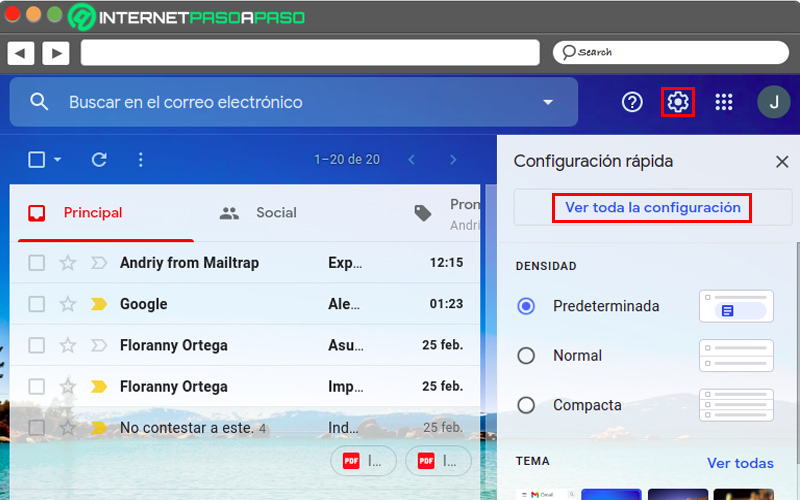 Then we must scroll down to click on the option "Automatic answer activated".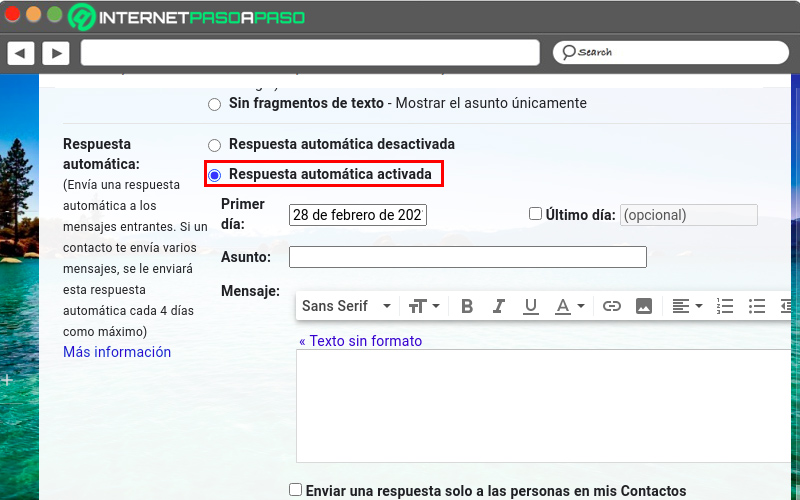 Before saving, we must configure the first day from which an automatic response is available, and optionally the date of its completion.
It should be noted that the subject and most importantly the Gmail message should not be forgotten.
On the other hand, you can also choose whether this automation will be available to everyone or only to your contacts.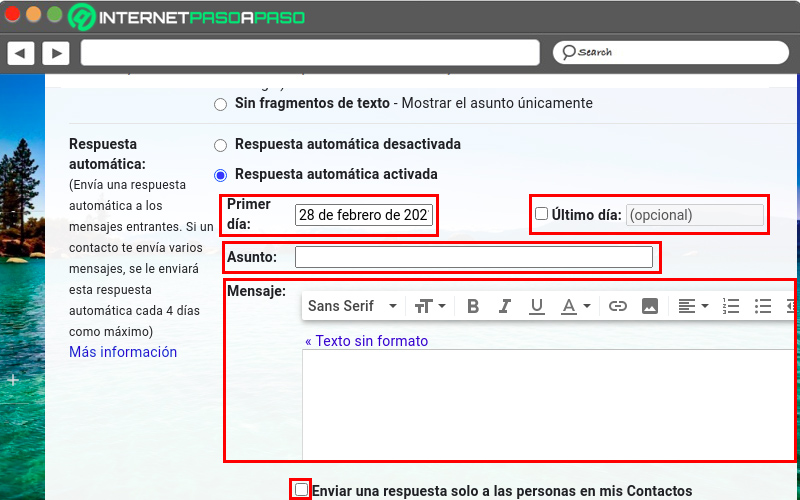 Here are the best Gmail autoresponder examples you can use to inspire yours
The occasions in which automatic responses can be used are many, so in this section we have prepared some small examples in which it would be feasible to use this configuration that Gmail provides us .
Go for it:
When they ask for additional information
It is important to be tactful when generating a sale, so it is necessary to express good emotions and transmit them to customers who show interest in our products or services.
Here are a couple of examples of a suitable default message for customers who need more information about what you sell:
"Hello dear @, we are glad to know that you are interested in our products, for more information go to the details section of [Website]".
"Hello dear, we are pleased to know that you are interested in our services, for more information contact us through [phone number]".
When they request a service
Once the client has placed an order, it is even more important to answer any questions they may have.
For that you can use this type of answers that we present below:
"We are very satisfied to have the services you need, if you have any questions, please let us know in the fast way through [most active social network]".
"We are aware of your request and we will give you a prompt response by this means as soon as your service is available."
When they greet you
In the same way, it is also necessary to take care of our close people, as this is vital to maintain family and friendly ties.
That's why you can also come up with a type of quick reply to send to your loved ones:
"Hello, thank you for remembering me, right now I am a bit busy, but tonight I will be answering you through [social network]."
"Greetings, I am glad that you are communicating with me, at the moment I am attending work matters, if it is something urgent please call me here [phone number]".
If you have any questions, leave them in the comments, we will answer you as soon as possible, and it will surely be of great help to more members of the community. Thanks!