Emails
How to create an email account in hotmail easy and fast? Now outlook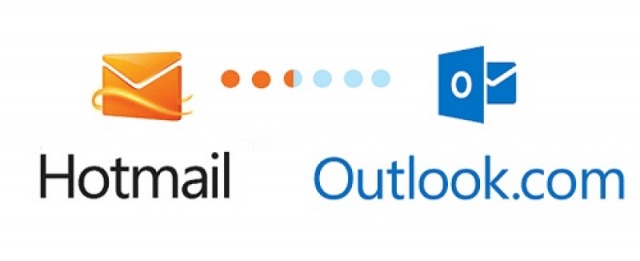 Hotmail is one of the most used emails and free communication tools that we have at our fingertips today. It was created by Microsoft in 1996 and today it has been called Outlook, its simplicity and ease of use have made it the preferred choice of many Internet users when using it as their main email service.
Currently the Hotmail service provided by Microsoft has migrated to Outlook.com, but this change does not imply any additional payment when opening an email account in Hotmail because the service is still completely free. What you will learn here is to create an email account using this platform in a few very simple steps.
Once you have created the profile, we will have the possibility to access the inbox from any device, be it a mobile phone, tablet or desktop computer and enjoy improved conditions and updates as far as Hotmail is concerned, since the great advantage is that it is a multiplatform service.
How to register an email account in Hotmail for free?
This new email from Microsoft allows users to create new email accounts not only from the @ outlook.com domain , but they will also be able to access accounts with the @ outlook.es domain or the usual and best known so far @ hotmail.com, since, as we have commented, the Hotmail accounts changed to this new Microsoft service . Previously, Internet users could access Hotmail or Outlook.com with any email address, with custom domains, but now this service has a cost.
If you want to register a new Hotmail email account for free, you simply have to follow the simple steps shown below, since the main option and with the greatest advantage that it offers us is that it is totally free, if you choose one of the domains offered by default.
1 – Create Microsoft account
To have an email in Hotmail, you must first have a Microsoft account , since the company is carrying out a process of unification of accounts in all its services and therefore, this step is essential for this action, although if you already have one , you must go to the login, but if, on the contrary, you do not have an active account, you must directly access the URL for creating Microsoft accounts :  https://signup.live.com
2 – Fill in the registration form
Once on the page, we will have several options at our disposal to make a new Hotmail, the default option that appears is the one that allows us the alternative of entering an email address that we already have in use, either with a Gmail extension , Yahoo !, AOLMail or also a second option to use a phone number .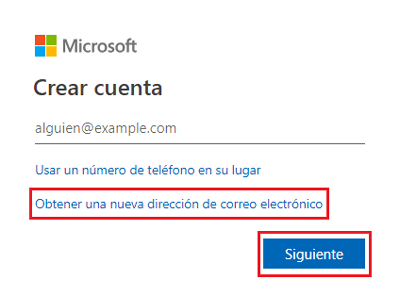 But we will look at the last option that we have available, since the case at hand is the creation of a new email, for this we click on "Get a new email address " below. Automatically we will be shown the option to create a new email, and if we click on the down arrow that appears on the right. A drop-down will open with 3 different email extension options:
@ outlook.es
@ outlook.com
@ hotmail.com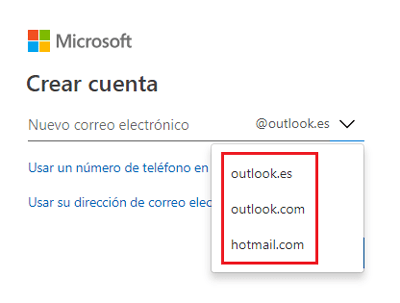 We select the latter and enter the starting part of our email, always keeping in mind that it must be unique, without spaces and without special characters such as (@, #, ¬, & etc) and being able to use numbers, letters and numbers. Once it is verified that it is correct and is not in use by another user, we click "Next ".
3 – Creating a password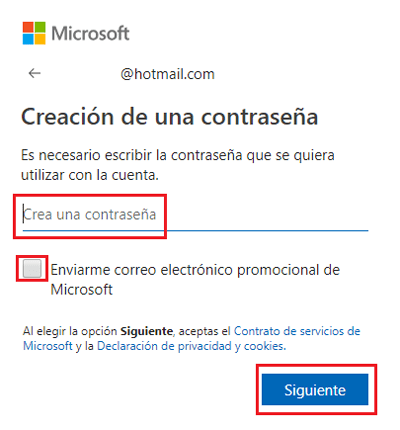 In this step we must enter a password as secure as possible and with a minimum of 8 characters for subsequent access to our email account. It is recommended to mix the use of uppercase and lowercase letters, even numbers and special characters to make it more difficult due to possible unwanted access.
Of course, we will have to remember it or write it down in a safe place so that we do not forget it . If we are already using other accounts on other platforms, you can enter the same one, although this may have some risk in the long run. If we do not want to receive advertising from Microsoft, we leave the tick that appears to us unchecked . We give "Next " to continue.
4 – We enter personal data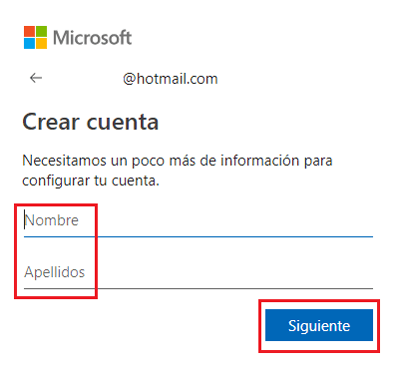 This step is easy and fast, here we find only 2 fields, our name and surnames, it is recommended to give veracity in our data for a more professional and serious use, once entered, we click "Next ".
5 – Date of birth and country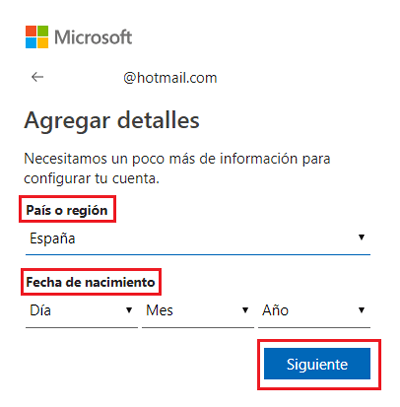 Now we will be asked for a little more information to complete the creation of our Hotmail email, we will only have to enter our country and date of birth, you must be as truthful as possible since our privacy is important. For children under 13 years of age, a parent or guardian must later verify and approve the Hotmail account .
6 – Verify that you are human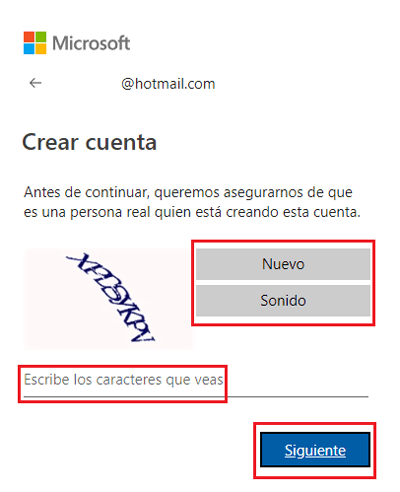 This step serves as a control against the automated creation of email account bots, since we will have to solve the catpcha to verify that we are not a robot, for this write the same letters and numbers that appear in the image, if you do not see it correctly You can choose to click on "New " to reload another image or also to listen to the message by clicking on "Sound ". Keep in mind that they are case sensitive. Click "Next " to continue.
Done! Your Hotmail email has been created successfully, now you can send and receive emails from your contacts.
* 7 – Are you a minor? You need your parents' permission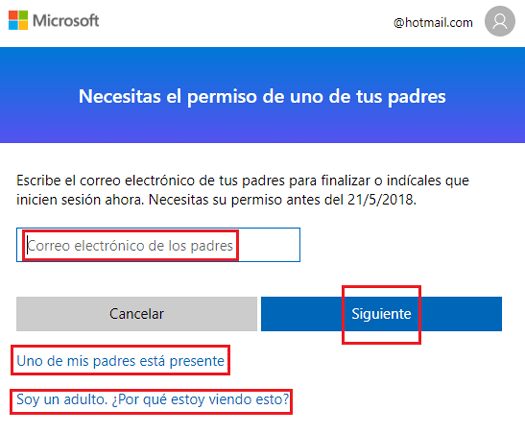 If you are a minor ( for Spain under 18 years of age ) and in the step of filling in the date of birth you entered the corresponding data, in this section we will be asked to enter the email of one of the parents in order to verify and allow registration of a new email by a minor, once this is done, an email will be sent automatically to the address provided with a code that must be entered before the date indicated.
If, on the other hand, we are adults and we gave the wrong date of birth data, we will have to click where it reads "I am an adult. Why am I seeing this? " Just below, and then we will be sent to a screen to confirm We are of legal age by entering other data of date of birth, we click "Next " and now we will have to fill out a small form offering our credit card to verify that we are adults, do not worry, no charge will be made to your account. Once you have verified your legal age, your Microsoft account and your Hotmail email will be created!
Is it possible to open my Hotmail email account for different devices? Outlook.com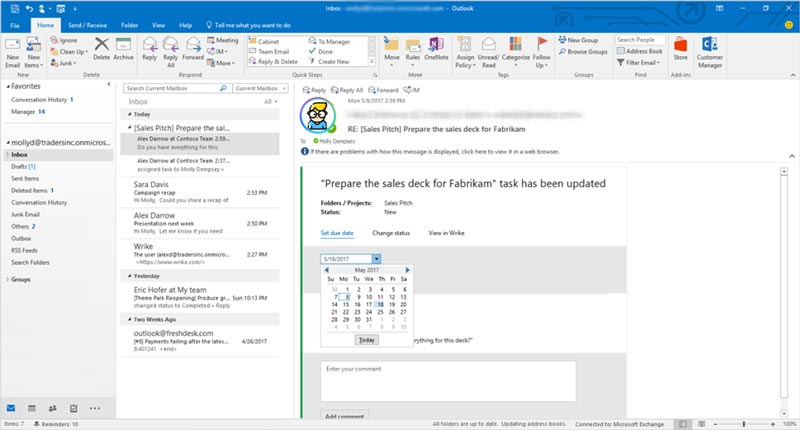 The quick answer is yes . Microsoft Office Outlook can be used to send text and multimedia messages to a mobile phone device or on another computer, as well as to receive messages from another device. In order to have the Hotmail email account configured for different devices, it is necessary to add and configure an Outlook mobile service account , which you can do from the Outlook Service page.
We are going to see the different possibilities offered to us to be able to use our free email account and how to configure it according to our device:
On computers with Windows or Mac operating systems
Hotmail now Outlook is compatible with Windows or Mac operating system computers, you can create an email account or install Hotmail on both Windows and Mac computers. Simply downloading it from its home page, or from the links that we provide, are 100% insurance.
On Android devices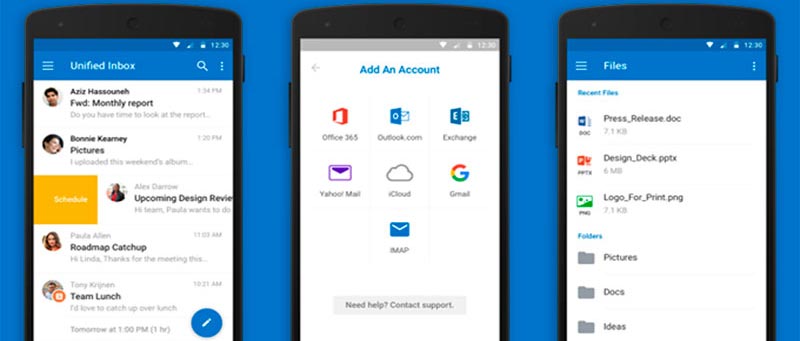 The first point is to install the official Microsoft application from the Google Play Store . Once this process has been carried out on your mobile device and within the official Hotmail application (now Outlook), new Outlook.com accounts can be managed on Android . As this Outlook mail service is new , on some Android devices the standard mail application does not automatically recognize this type of account, so it must be configured manually .
On iOS iPhone devices
The first step is to download and install the official APP on our cell phone or mobile phone. Next , the steps to have Outlook on your iPhone device is very simple, since the process is practically identical to that of adding a Hotmail account . You just have to open the iOS settings and go to the option "Emails, contacts and calendars ."
We must click on "Add account " and select Hotmail, enter our Outlook account and click continue . Once this is done, you simply have to select what we want to synchronize or not.
On Windows Phone
First install the official APP on your smartphone . To configure your Hotmail email account on Windows Phone now Windows 10 Mobile, you must open the list of applications on the mobile or Tablet and click on "Settings ". Then you must click on "Email and accounts " and click "Add an account ". You choose the type of account you want to select, in this case Outlook, and enter your email address and password to open the session on your device. You will already have Hotmail configured on your Windows 10 Mobile.
What are the differences between the old Hotmail and the new Outlook?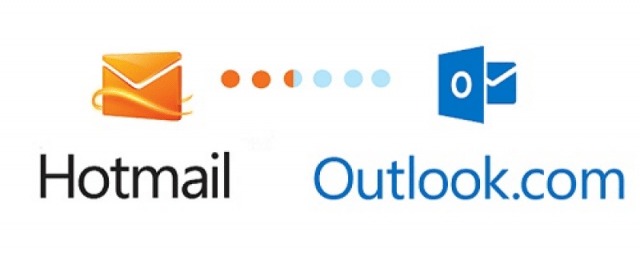 Outlook is the new name that Microsoft accounts receive, after a series of updates have been carried out in its support. It is a modern email service with a fresh and intuitive design, it also connects with Facebook, Twitter and Skype . As if that were not enough, it works transparently with Office and SkyDrive in addition to prioritizing user privacy. In short, Outlook is a new email service in the cloud, the newest and most updated version of the old Hotmail.
As you may already know, this email service was launched by Microsoft back in 1996, for many of us it was the first contact we had with what sounded like Chinese to us, having a personal email address. After these years, many things have changed, in fact, in the technological world, time does not pass in the same way as in other sectors, since everything happens much faster than normal and what was a trend yesterday, today falls into oblivion anticipated by a new technology or service that outperforms its predecessor .
The same has happened with the Hotmail mail service, and is that due to the exponential increase in users who migrated to other platforms such as Google's Gmail or even to social networks as huge as Facebook , the Microsoft guys did not have the alternative to give one step further and update the old @ Hotmail.com to the new and intuitive Outlook.com .
But, how are both services different and what benefits does new Outlook mail bring us?
Friendlier design
Undoubtedly one of the advantages that this new platform offers us is in the visual aspect, more adapted to the times that run and much more intuitive and easy to handle for the user. In addition, it allows us to customize the design of our inbox, both in color and font style, something that many users liked. With a simpler and simpler toolbar, it shows us with its drop-down tabs the right and necessary options for sending and receiving emails, which is actually its main function, and in this it has not changed.
Control panel "almost" without ads
Undoubtedly one of the greatest advantages that the new Outlook email offers us compared to the almost forgotten Hotmail is the disappearance of those annoying advertising banners . It only shows us some suggestions according to our personal tastes. These will appear in most cases in the newsletter emails that you are subscribed to, although there is an Outlook Premium service in which the new services such as Microsoft Offices 365 increase and the native advertising disappears completely.
More social mail
Another advantage that users who have migrated to the new mail version can enjoy is the possibility of having their Facebook profile contacts synchronized in your inbox, being able to view status notifications and publications from your friends on this social network. , giving a much more social and interactive factor. In addition, this does not end here, the social network of the bird, Twitter has also joined to be part of the synchronization with your Outlook.com panel. All are advantages .
More services and tools
And all this could not end here, in addition to everything we have told you, we must add the incorporation of Skype, the largest platform for video calls and sending chat-like messages in the world, joins Microsoft to be part of the pack of accounts that you can have at your disposal with your email. Skype comes to replace the old Windows Live Messenger that has given us so many good times and conversations in the past but which today has become totally obsolete.
Finally, it is worth mentioning that even the best-known Microsoft tools, the famous Offices package with Word, Excel or PowerPoint in its online version, are part of this conglomerate of tools that make up a fully functional and operational Swiss army knife for your daily tasks. Even  cloud storage platform like OneDrive joins the party, does anyone give more? .