Emails
Configurar respuestas automáticas Outlook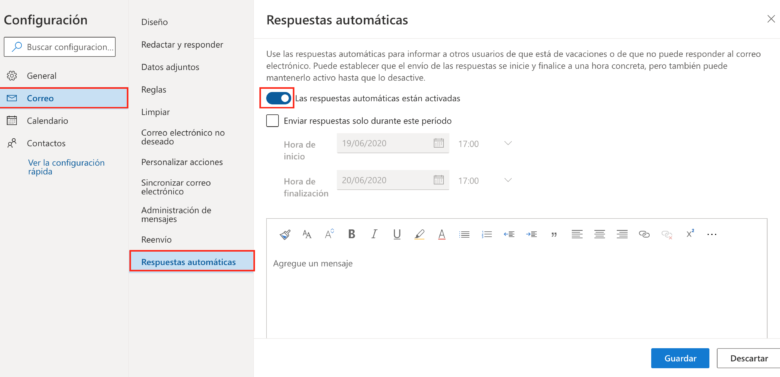 Today the use of email is essential in our day to day, it has become a form of communication especially at the level of training and studies, as well as at work. Despite this, in many of us we have the need to be absent, and communicate in case they send us an email, that we are not available.
This functionality is the well-known Automatic Reply, it is a service that Hotmail has always incorporated, in which you can schedule certain messages, so that when they send you an email, Outlook will automatically send you a reply, for example , that you are on vacation, and that until that date you will not be available.
Automatic replies in Hotmail
The automatic responses in Hotmail are very useful as well the can turn on and off whenever we want, we can even programs such responses in a time slot, for example at the weekend, warning that until Monday will not be answered, if you go on vacation , and you want to notify that you are not currently working, etc.
It is the perfect solution if you do not want to leave emails unanswered, and the sender is waiting for your response. This is ideal in a professional and work environment, for example with clients.
Create an automatic reply
The first thing we must do is create that automatic response, for this, you will have to follow the following steps to be able to reach its configuration. We recommend doing it from a PC, since it will be easier to configure the responses from the web version.
First we must log in to Outlook
Once inside, we will have to click on the gear ("⚙️"), located in the upper right menu.
A drop-down will open, we will have to go down completely and click where it says " See all Outlook settings "
Now yes, click on the left side, on " Mail "
Later, click on " Automatic responses "
You will have to see something practically the same as the following image below.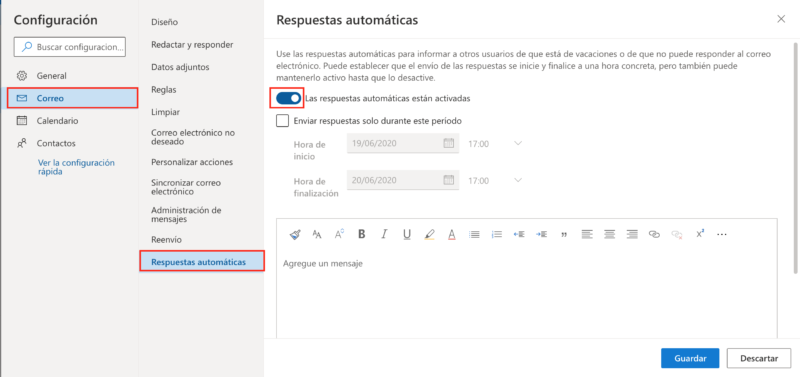 If you have never entered this area of ​​the Hotmail (Outlook) configuration, you will have to activate the " Activate automatic replies " tab so that the text field is enabled and you can write your reply.
As you can see, it does not require further configuration, in the field " Send responses only during this period " you can configure from what date to what date you will have automatic responses activated, ideal if you go on vacation.
Tips for creating the best response
In the event that you are absent for a few days and you want to record that you will not be reachable, make use of this Hotmail functionality. But, to do it correctly, we have prepared some professional autoresponder templates and tips to give you the best possible image.
Next, we leave you some useful tips when it comes to creating your own and personalized one, we should not always follow each of these tips, but we do have to take them into account if we want to have a good answer.
Be concise: Do not write a bible or a huge text in an automatic reply, ideally 2-3 lines, no more, we do not want to bore the sender.
Include the reason for the absence : Here it will depend a lot on the use you give to your email, but saying that you are on a vacation period is not bad, under any circumstances, and the sender will respect it.
Include another contact : It depends on what we use Outlook for, if it is a corporate email or that we use it at work, it would be interesting to include the contact of another person who is not on vacation, and who can assist you, in case of emergency.