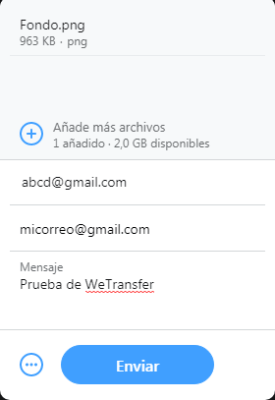 WeTransfer is a service that allows you to send and receive large files through a cloud platform. Through WeTransfer it is possible to transmit different types of multimedia files to different recipients, all this, without the obligation to register or create an account, although the user has many more benefits if he chooses to register on the platform through a paid version.
In addition to not needing a previous registration to send files , those recipients of the sent items should not be registered in the service either, it is enough to have Internet access with considerable bandwidth. This aspect has made WeTransfer one of the preferred alternatives among the competition, since it does not require investing time or placing personal data at any time, speeding up the process of sending large files.
WeTransfer's cloud services have been available since its foundation in 2009, and although they did not have the capacity to transmit large files, their services were gradually acquiring a higher quality to the point of standing out among the competition, such as Google Drive or even Dropbox.
Characteristics
WeTransfer has earned its reputation as a means of transmitting files thanks to its fast use and simple interface, highly attractive aspects for contemporary customers who are looking for efficient and uncomplicated applications. The following are some of the most remarkable features of the WeTransfer platform :
One of the most notable features of WeTransfer is that it allows you to transmit large files through its cloud platform, being able to share large amounts of information, up to 2GB for free.
Different kinds of file packages can be sent and received.
It is possible to use this system through any kind of email or through any other instant messaging application.
You have a two-week period of time to download the submitted files.
This cloud service can be used from any kind of device with continuous internet access.
WeTransfer allows you to send and receive multiple files simultaneously.
It has a paid version where you can send up to 20GB in files.
Those users who choose to create an account on the WeTranfer platform can have 100GB of free space in the cloud, this for a fee of 120 euros per year or, failing that, 12 euros per month.
If you have an account with this service, you can customize the interface using different themes and tones. Likewise, when the files are sent, there is the possibility of modifying and adding additional content to the emails, such as text citations attached to the files.
WeTranfer guarantees the safety of Premium users by protecting the transmitted files using passwords, as well as the files stored and available in the cloud will be kept for a longer time.
How does it work
The operation of WeTransfer is similar to that of other platforms that allow you to send and store large amounts of information or large files in the cloud . This service is based on Amazon technology, more specifically by the Amazon Simple Storage Service (also known as Amazon S3), which allows this platform to transmit and keep files in the cloud for a certain time.
If you want to use the basic services of this platform, it is not necessary to give personal information or subscribe at any time, you can have up to 2GB of capacity to transmit packages of multimedia files through WeTransfer. Whether or not he has an account, the client can send the desired information at any time by means of e-mails or by means of any other kind of messaging, so WeTransfer is capable of being used by means of a great variety of applications.
How to use
To start using WeTransfer services, you can choose the free version, where you can send a reduced amount of information, or create an account where a greater transfer capacity is granted. The following explains how to use WeTransfer services quickly and for free.
Mainly, if what you want is to send a file, you must enter the official website ofWeTransfer.
The first thing that will appear will be a message welcoming the user and a link describing the conditions of service and cookie policies. To continue, click on "Accept".
Proceed to "Add files" to select in detail each of the items to be sent, there is also the option to "Select folder". Once this is done, click on "Open" to upload them to the WeTransfer platform.
To add more content to the shipment in question, select "Add more files", since the free version only allows you to select up to 2GB to send information, WeTransfer will indicate how much capacity is still available, as well as how much each added file occupies.
The e-mails of the recipients to whom the information will be sent are placed.
Your own email is added so that users who receive the files know in advance the origin of the information.
There is the option of placing a brief text as a message where you can give a short explanation of the content or purpose of the files sent.
In addition to the free option of sending the files by email, it is also possible to do so thanks to a transfer link, which can be copied and sent by any means.
When sending the files by means of an e-mail, having placed all the necessary addresses and e-mails, the additional message, click on "Send".
In the event that a recipient has been sent by placing their email, they will receive an email from WeTransfer informing them about the files received and their exclusive availability for about two weeks in the cloud to be downloaded.
Along with the option that allows you to send a link that allows you to download the files with the information, there are the options available only for the Plus version, such as password protection for downloads and establishing the time for which the files will be available in the platform.
Alternatives
With the advancement of technology, the procedures for data transmission and storage over the internet were optimized. Even so, today in order to serve thousands of users around the world, an immense storage capacity and great data transmission power are needed, therefore, not just any platform or server can guarantee so much storage capacity and the like. information flow. Among the services of transmission and storage of large packages of files are the following.
Google drive
Definitely one of the best known among the competition, it has a free version that allows you to store up to 15 GB in files of all kinds in the cloud. One of the greatest benefits of this service is its ability to integrate with other Google applications and services, such as Google Docs or Gmail.
Dropbox
Dropbox is a very optimal and simple alternative for most of the users who use it, it has a free version that allows you to use up to 2GB of its storage in the cloud. It is an extremely versatile option since this service is compatible with almost any type of operating system, so devices can be synchronized with each other to access the same information anytime, anywhere.
Mega
Mega is one of the options that offers the largest amount of storage on its platform, with 50GB of free storage for users of free accounts, where large amounts of information can be stored and shared, even if you want to choose an account with rates, you can get to store from 200GB to 1TB.
Filemail
It is one of the platforms with the highest capacity to send files over the internet, even ensuring the transmission of packages of up to 50GB for free. It guarantees a continuous monitoring of the files sent, as well as it has an encryption system that reinforces the security of the shipment. Like other bulk shipping and warehousing services, with a paid account you can greatly expand the capacity of these services almost unlimitedly.
Advantages and disadvantages
WeTransfer is an excellent option to make fast shipments without the need to create accounts or waste time filling out too many forms, which has earned it its progressive recognition since its creation. Even so, it is a fairly basic and limited platform for many users, which can be a disadvantage if what you are looking for is a high capacity professional service. The following are the aspects that represent an advantage and a disadvantage of WeTransfer for users.
Advantage
It has a free version whereby anyone can access this service, both who sends the information and who receives it.
Its free version offers to send 2GB of multimedia files.
It is not necessary to create a WeTransfer account to use these services.
It guarantees support to send any kind of file, be it document, image, video, among others.
The sending of information is effective in a matter of a few minutes.
File packages can be sent by mail for a more direct delivery to the recipient.
If desired, it is possible to obtain a link with which the files uploaded to the cloud can be downloaded, by sending the link by any other means.
Disadvantages
Given the case that you need to send more than 2GB , you must choose a paid account if you want to exceed the capacity limit.
After a period of time , all files are automatically deleted.
The accounts of the well-known paid version or Plus version have a transmission limit of 20GB, considerably low compared to other free platforms.
To access the password protection option, you must opt ​​for a Plus version.