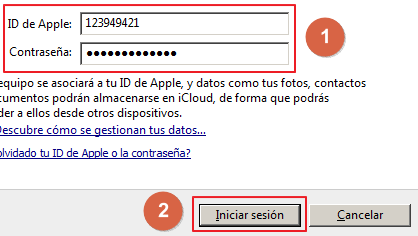 https://support.apple.com/es-es/HT204316
iCloud is a file hosting service in the cloud, it was developed by Apple and launched on October 12, 2011. More than 150 million users enjoy the functions of this system; Find my iPhone, synchronize songs and files with other devices and make backup copies of your iOS devices in the cloud, are some of its most relevant features. If you did not know, this application replaces the old MobileMe, which means that you can also sync: contacts, bookmarks, email and much more.
To use the iCloud service on any device, you must log in; you will need your Apple ID and password to do it without problems. There are three places you can access iCloud: web, mobile devices, and PC. If you are not familiar with this and need help, or have a problem in the process, at InfoCuentas we will help you log in quickly and securely to each of the available platforms.
Sign in to iCloud from the web
If you do not have time to download an application or a program and you want to access iCloud in the fastest way to enjoy all its functions, then you must do it from the web.
Go to the official iCloud page (https://www.icloud.com/ )
Now enter your Apple ID, then click on the arrow pointing to the right.

A second field will appear in which you must enter the password, after doing so, click on the arrow again.

If the data is correct, you will have logged in, if not, it will simply send you a warning message. If you are logging in from a secure or personal device, then you can check the " Stay logged in " box, so you can avoid entering the data every time you want to log in.
Sign in to iCloud from Windows
The iCloud app for Windows gives you a great and intuitive experience. By synchronizing your Windows PC with your iCloud account, you will be able to access all your stored files from other devices. All you need is your Apple ID and password.
Download iCloud for Windows from this link and let the installation wizard help you.
When you open the program, the corresponding fields will appear to enter your Apple ID and password. After you have entered them, you must click on the button that says " Login ".
In two steps you will have logged in, now it begins to synchronize your files so that you can interact with them on your PC.
Sign in to iCloud from an iOS device
To log into iCloud from any iOS device, you will have to follow a few different steps than the ones we have described so far. What you will need is your Apple ID and your password; In the event that your account is protected by the two-factor authentication system, then you will also have to enter the corresponding six-digit code.
If you are using an iOS version lower than 10.2, then enter iCloud through this path: " Settings "> " iCloud ". Here you enter your Apple ID and password.
In case you are using version 10.3 or higher, first go to " Settings ".
Click on " Sign in to the (device name) ".
Here, you enter your Apple ID and password. If your account is protected with two-factor authentication, enter the six-digit code and finally log in.
You already know how to log into iCloud from your iOS device. The best thing is that you always keep it updated to the latest version, since the first way to log in is valid but it will only log you into one application, while the second will log you into all Apple applications at the same time.
Problems logging in, solutions?
Apple has made sure that its iOS operating system and its applications for other platforms are the most secure (hence the expensiveness of its products), that is why you could have some problems logging in, if you do it from a strange device or you haven't done it for a long time.
Forgot Apple ID or password.
You may have stopped using Apple products for a while, or for some other reason you forgot your ID or password. The solution is quite simple, go tothis link if what you have forgotten is the password; Enter your Apple ID and choose one of the two options to get it back. In the event that you have forgotten your ID, enterhere and enter the required data, then click continue.
Wrong Apple ID or password.
Due to carelessness, haste or simply laziness, you can make a mistake when entering your data to log in. Make sure the " Caps Lock " key is not accidentally activated when entering the password; If you have not logged into this service for a long time, you may also confuse the details, make sure they are correct before continuing, as you could block the account due to a number of unsuccessful attempts to log in.
Account disabled for security reasons.
Whether you or someone else tried to log in repeatedly without success, the account may have been deactivated for security reasons. To get it back, you must change your Apple ID password. How do you do it? Through the same recovery page that we have shared with you previously (click here to go ).
These are the most common reasons why you would have problems logging in, so we hope they will be useful when you need them. However, if you have a problem that we have not detailed here and you think it is too difficult to fix on your own, then ask Apple support for help usingthis link.
About iCloud
iCloud is a service developed and launched by Apple, the latest stable version came out on January 25, 2019 (7.10.0) and it works on multiple platforms such as iPhone, iPad, Apple Watch, Mac, and Windows. Its main function is to store user data and synchronize it between all platforms; being synchronized, they allow to be manipulated as if the device from which it was uploaded were leaving.
The data that users store goes directly to Apple's servers in California and North Carolina. Starting in 2016, Apple reached an agreement with Google to make use of some functions of its cloud for iCloud. The requirements of this service for each device vary: for iOS it requires a version 5.0 or higher; Mac OS X Lion and PC requires at least Windows Vista.
One of the most controversial issues about Apple and its iCloud service is that the data stored on its servers is not encrypted, that is, both the company and the authorities of the United States government have the possibility to review your data. . However, there has not been much controversy in recent years in relation to this, either because of the caution of the users or because of the privacy that the company wants to show that you have.