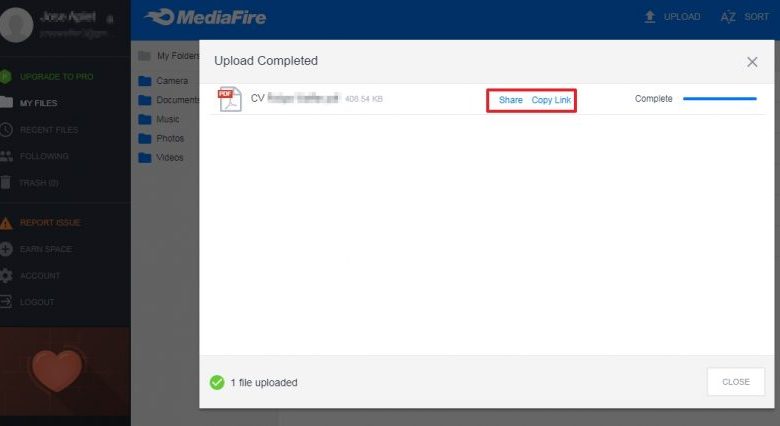 One of the things that attracts the most of the MediaFire cloud storage service is the possibility of uploading files to the network and sharing them with your acquaintances or with any Internet user who may be interested. In this sense, MediaFire not only allows you to back up your personal information online, but it is also a window to endless possibilities through a free account.
However, if you already have your MediaFire account, but you don't know how to upload files to its platform, you don't have to worry, since in this article we will explain all the steps you must follow to upload content to MediaFire and get the most out of it. to this useful tool. What are you waiting for? Join us!
Upload a file to MediaFire
Uploading content to MediaFire implies, firstly, having an account within the platform. If you don't have it, we invite you to see how to create a MediaFire account for free. If you already have an account and want to upload your files to this platform, follow the instructions below:
Access the MediaFire website from this link: http://www.mediafire.com
If your session is not open, press Log In and complete the login process.

Once you are in your profile interface, press the Upload button located on the top bar of the screen.

A new tab will then open where you can choose if you want to upload a file, folder or web.

Click on the option of your preference and a search engine will open to choose the file you want to upload from your PC. Locate it and press Open.

Once you have indicated all the files you want to upload, press Begin Upload.

Then the files will begin to load, wait for the load to be completed and that's it.

After uploading any file, you can copy its URL and share it in any way you want. Remember that if you have a free account, the files you upload to MediaFire have a weight limit of 200 MB.
With all this information, we hope you have no problem uploading your folders and files to one of the best cloud storage services such as MediaFire.