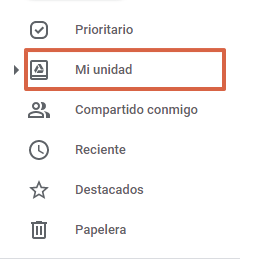 There are many services that offer the possibility of storing information online. Google Drive is one of the most outstanding platforms in this field, allowing you to make backup copies of your information or simply save personal files. However, what happens if you delete a folder by mistake? Is there a way to get that information back?
If you archive documents, photos or videos in this storage cloud and you accidentally delete an important file, in this tutorial you will learn different ways on how to recover a deleted folder from Google Drive. In addition, you will know the process to locate orphan files and some codes or commands that will facilitate your search process in any Google Drive folder.
Restore from Trash
Google Drive has an interface very similar to the one we use on a PC, which is why the process to recover deleted folders is very simple. You just have to access the trash and look for it there. It should be noted that it will only last a certain amount of time there before Drive clears it completely.
All the steps must be done from a browser, whether you use a computer or an Android device, the process is simple and will not take more than 5 minutes. Follow this guide to recover a deleted folder:
Select the "Trash" section, which is at the end of the main menu.
On the folder you want to recover, press right click to see more options.
Click on " Restore ". Your folder will appear in its original location.
Use the search engine
Many times you do not get the folder in the trash with the deleted files, which indicates that you still have it in your account. A tool that can help you locate these files is the search engine that Google Drive has. To use the advanced search options, follow these steps:
On the main page, locate the search bar and access the inverted arrow options, by clicking on it.
In the tab that opens below, fill in the fields with your folder information.
To start the search, click on " Search ".
Codes to improve your search
In the advanced search you will be able to find various phrases and codes that will allow you to expand the location range in your Drive folders. With these commands you will focus what you are looking for in all the files, since Google will find the exact phrase or word that you type. Below is the list of codes and commands to optimize the search in Google Drive :
Before / after: special to determine a period of time in which you may have sent or received the file. You just have to write the dates like these examples " before : 2020-06-15 after : 2020-06-16″.
From : you use this command when you know who the file was shared or sent by. Example: " from: universidad@gmail.com".
is: starred: with this code Google Drive will search the deleted files.
is: trashed: just copy and paste this command into the search bar to browse the featured items.
Or: when you are not sure of the exact word in the document you are looking for, you just have to write " OR " in the middle of the two words. Example: "hotel OR hospitality".
Owner : if you recognize who is the owner of the file you can use this command as " owner: prof.gonzalo@gmail.com".
To : you apply it when you remember who the document was sent to. " To: alvaro@gmail.com"
The most important commands to optimize the search in Google Drive have been highlighted in the list, however, there are other simple codes that facilitate the process. One of them is the use of quotation marks ("") to find an exact phrase in the document. Similarly, if you remember the title of the file you can use the command " title: ".
See my activity
Another of the alternatives you have to locate a lost folder is by checking your activity. There you can analyze everything that was done in your Google Drive, locate the name of your folder and see if it moved location or is permanently erased. You can also see the changes, modifications or deletion of documents that you and the people with whom you share the files make. To access the activity log, follow these steps:
Access the " My unit " section.
Then select " Details." It is located in the upper right, it is represented by the letter "
font style="vertical-align: inherit;">i ".
In the tab that opens, click on " Activity ".
Orphaned files
The orphaned documents are those that were placed by a user in a shared folder by another owner. In case you no longer have access to the folio where those files were stored, the documents will automatically become orphans. If you want to search for this type of file, follow these steps:
Open Google Drive, put " is: unorganized owner: me " in the search bar and press "Enter."
A message from Google Drive may appear stating that it found a file in the trash bin that matches what you are looking for. If you want to see it, press " view ".
If it is the file you were looking for, it is advisable to move it to the " My Drive " folder .
What folders can you recover
Not all Google Drive folders can be recovered, including files. You can only restore those that you have created on the platform or those that you uploaded from your computer. That is, you will restore those folders that you own.
It should also be noted that to recover deleted files you must use your own user account. In case of using a work, educational or other person's account, you should request help from the administrator of the same.
Reasons why you can't find the file
If, despite these steps, you still cannot find the document you are looking for, it is important that you take into account several factors that could influence. If you have created the document, it is much easier to recover it. On the other hand, if the file was made by someone else, it is difficult to access it, since you must ask for their help or request their permission. In either case, read carefully the elements to consider:
If you have created the file but cannot locate it within your Google Drive, it may be orphaned, that is, you saved it in a shared folder. Even if the person who owns the shared folder where you saved the document deletes that folder, the document will not be deleted since only you can do it, but it will no longer have a location.
If someone else has created the file, you should ask for their help to share the document with you again or, failing that, to restore it if it has been deleted.
To conclude, it is necessary to highlight that Google Drive does not find similar results, but exact ones. For a misspelled letter it will not locate the file that is being looked for. You must be meticulous and detailed with the search data, although in the same way you have different tools to properly find those documents or folders that you have deleted on the platform.