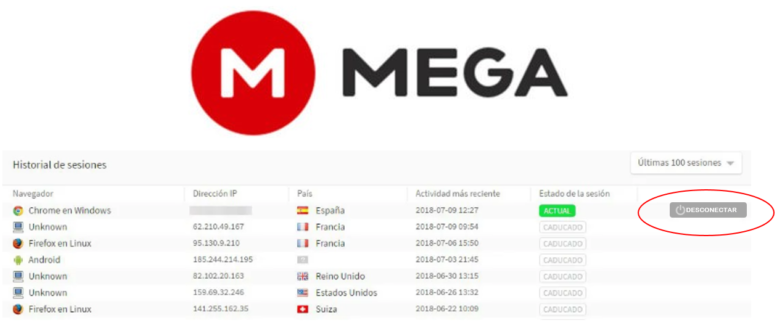 Mega is a service where you can create an account to host your files in a completely free 50 GB drive, for that, you must log in from Mega.nz. However, when the account no longer needs to be used, it is necessary to end the session so that no other user can access the files contained therein.
As we always bring you fully updated information, that is why today we will teach you how to log out of Mega, on different devices. Prevent unauthorized people from entering your account at Mega, your free storage site where you can safely store all your files.
How to log out of your current Mega session
For many it can be difficult to find the option to log out of Mega. This often happens because there is no button that explicitly says "Sign out". For this reason we will explain in a brief and simple way how it is done. Let's see,
The first thing you should do is go to the upper right part of the Mega interface.
There you will see an icon represented by three horizontal stripes. Clicking on the icon will display a series of options for managing your Mega account.
If you look closely you will see that there is an option that says " Disconnect ". It is there where you must click to close your session.

It is important that whenever you finish using Mega, you close your session as we have explained, because even when you close the browser, your account will still be open. This can be dangerous for the security and / or privacy of your account, since your files could be compromised; especially if you use a PC or commonly used device.
Now, you can put this into practice on the online platform; However, to log out of the Mega application that you install on your PC, the steps vary, but it is always very simple to do.
Sign out of MegaSync for PC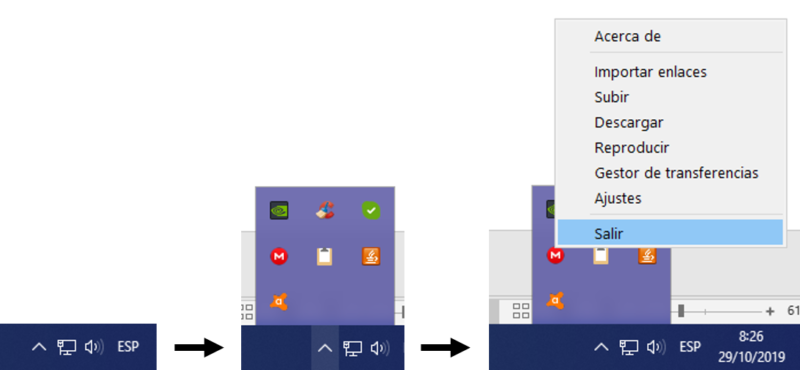 Mega provides a PC application called MEGAsync. With this software you can automatically keep all your files synchronized, both those that you have saved on your computer in the MEGAsync folder and those that you save on the website.
Now, this application starts when the computer is turned on, so it is always open; this allows syncing to happen as you add documents and saves you the process of logging in every time you want to save something to the cloud.
In case you need to close or exit the Mega application, you just have to go to the left part of the taskbar.
Press where it says " Show hidden icons. " The Mega icon should appear there, right click on it and choose the " Exit " option .
With these simple steps you will have already been able to log out of Mega. However, you should keep in mind that restarting the computer will restart the application. For this not to happen you must change the Start settings of your computer.
Sign out of Mega on Android devices
Mega, your storage place in the cloud can also be installed on your Android device. This application has a fairly elegant and minimalist design.
In addition, its best quality is that it does not have unnecessary options and it is quite easy to use.
From the initial screen you can perform actions such as uploading and downloading files, adding folders, viewing your profile, among others.
Logging out is also very easy.
To do this, you must click on the menu in the upper right, the icon is represented by three dots. When the panel opens you will see different options for your account.
Now you just have to press where it says " Disconnect " and voila, you will have already logged out of Mega from your Android device.
Sign out of other devices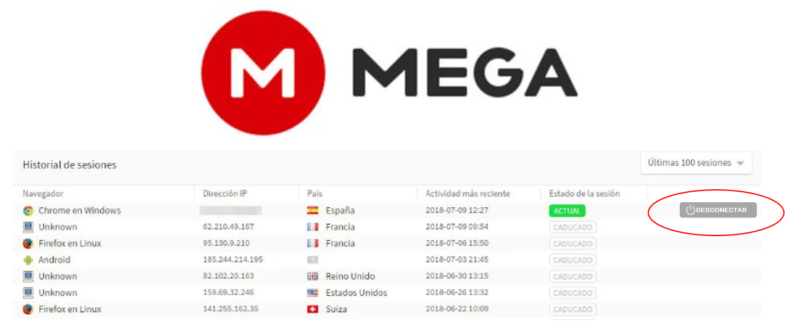 Many applications offer the ability to log out of other devices and Mega is no exception. Thanks to the security settings it provides to users, you will be able to see the Mega session history so that you can verify if your account is being used by an unauthorized person and disconnect it.
It is worth mentioning that if Mega detects any suspicious activity on our account, it will tell us ; but it is not enough to be cautious and check it for ourselves. To find out if a person has entered our account without permission or you simply want to log out of other / all devices, follow these steps:
Go to " Settings ", it's the gear-shaped icon on the left panel.
Go to the " Security " option
When you click, below you will see the option " Session History ".
What you should do with this information is to check if any is unknown to you and press the " Disconnect " button . This will log out of that device.
There the list of all accesses to your Mega account is displayed. This list contains both the country and the IP address where you have logged in, and even the date and device used.
You can also use the button " Close all sessions ", this option will log you out of all devices at the same time. We recommend that, if you have noticed that someone has entered your mega account without authorization, you immediately change the password. This way, the intruder will not be able to re-enter your account.