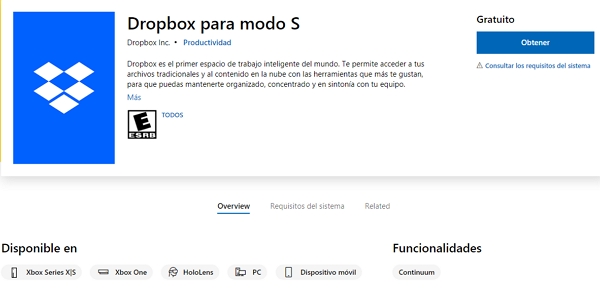 Dropbox is one of the most popular cloud storage services today. Therefore, in the following post, it is explained how to download this tool on the different devices or compatible Operating Systems. However, before doing so, it is important to clarify that you must have an account within the platform in order to use the various functions or features of the application.
With this in mind, in this post you will find how to download Dropbox on computers with Windows, Mac OS and Linux Operating Systems. In addition, the necessary process for Android or iOS Smartphones is explained from the official store of each OS. In the same way, you will know a different alternative to obtain this tool on your cell phone, if for some reason you cannot do it in the traditional way, using the Marketplace.
On computers
Dropbox is a fairly versatile tool that adapts to different Operating Systems, so you can download it on Windows, Mac or Linux computers, depending on which one you use. On the other hand, if you prefer, you can use it in its online version from theofficial website. Learn how to do it in each one, below.
Windows
To download Dropbox on your Windows computer, you must follow the steps mentioned below:
Click on this link and wait for the download to start automatically.
Assign a folder to store the file and press " Save."
When the download is finished, click on the file " DropboxInstaller.exe " and execute the installation of the program.
It is important to mention that Dropbox may request administrator privileges in order to install itself. You just have to click " Yes " in the user account control dialog that appears on the screen or, right click on the downloaded file and press " Run as administrator ". Then you simply have to wait while the installation completes before logging into your account and syncing all your files to the cloud.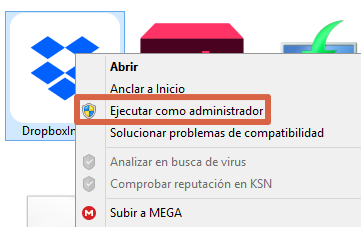 It is worth mentioning that, if you use a computer with Windows 10 S Operating System, you must follow the instructions described inthis article.
Mac OS
If you use an Apple industry equipment, what you should do is follow this link and wait while the .dmg file downloads to your computer. Once you have it on your Mac, proceed to install it. It is worth mentioning that, for this Operating System, you must approve access to key rings to verify your account and add a maximum level of security to the Dropbox preferences.
To grant it, you only need to click on " Grant " or " Always Grant " if you are using a personal computer. The latter is recommended to access directly without having to repeat this step over and over again when wanting to access the application. If you press " Deny " Dropbox will not open, as you will not have access to the Keychain.
Linux
Downloading and installing Dropbox on a Linux computer requires some additional steps and, in some cases, a different procedure than that used in other Operating Systems. Here are the steps you will need to complete to achieve this:
Login to this link.
Select the package that corresponds to the type of Operating System of your computer. Note : In case it does not appear, you will have to press the option " Compile from source code ".
Wait while the download completes and run the installer.
In this way you can install Dropbox on your computer with Linux OS, in a matter of minutes, quickly and easily. Now, in case you have to compile it from source code, you will have to follow the instructions detailed below:
Download the latest installation package by followingthis link.
Extract the file " tar xjf ./nautilus-dropbox-1.6.1.tar.bz2 ".
Wait while the following commands ( cd ./nautilus-dropbox-1.6.1; ./configure; make; make install execute the installation.
By following these steps, you will have Dropbox on your computer in a matter of minutes. Remember that, in order to complete the installation, you need an Internet connection.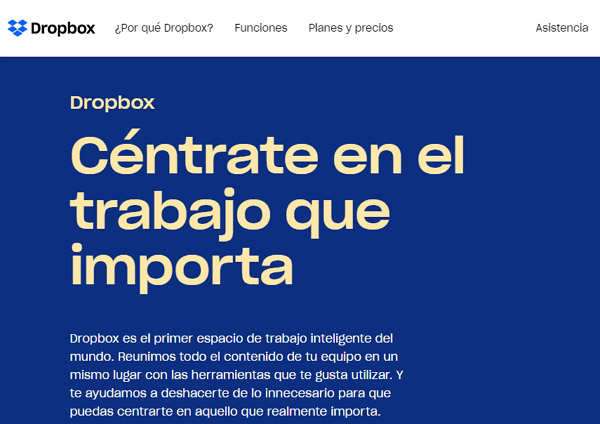 On mobile devices
This tool can also be downloaded without problems to mobile devices, from the official store of each Operating System. It is worth mentioning that, in the case of Android, you have an additional alternative by downloading Dropbox in .APK format from an external Marketplace. Learn how, below.
Android
To download Dropbox for Android you will have to go to the application store of your device and press " Install " or click onthis link (if you are connected from your mobile). Then, you just have to wait while the system performs the installation automatically, it should be noted that the time required for this will depend on the speed of your Internet connection.