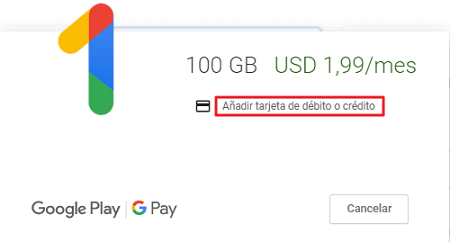 In this digital age, virtual space has become increasingly necessary. In view of the great advances in technology, it takes a lot of space to be able to store all your information. Some choose to buy SD memory, but due to its high price, they opt for a better and more practical alternative; purchase a disk in the cloud.
The tool that stands out the most in this field is Google with its Google Drive storage manager. It allows you to link the space of your emails, your photos managed by Google Photos and what you want to save from your PC or mobile. It offers 15 GB of space for free, but how to buy more space? What plans does it offer you? These points will be detailed below.
Google One
Google One is the premium space service for Google Drive. When you buy your subscription, you automatically start enjoying the options and features of this new tool. Some advantages that it brings over the free version, is the opportunity to create a family nucleus of 5 members so that you can share the space.
It is something attractive for users, as it allows you to lower costs at the same time that you make use of your subscription. Another outstanding advantage is that it allows you to enter a group of Google credits that can be exchanged for offers on trips and hotels.
Plans and rates
Google divides its plans and services according to the needs of each user, when using this storage platform in a personal way. It is necessary to highlight that their value varies according to your region. If you want to know about the services available in your country, clickhere.
The plans offered for personal accounts are 100GB, 200GB and 2 TB. Pricing can range from $ 19.99 per year for the basic plan, to $ 99.99 for 2TB of capacity. Giving you with your subscription, personalized support from Google Inc., and as mentioned, being able to share that extra space with others.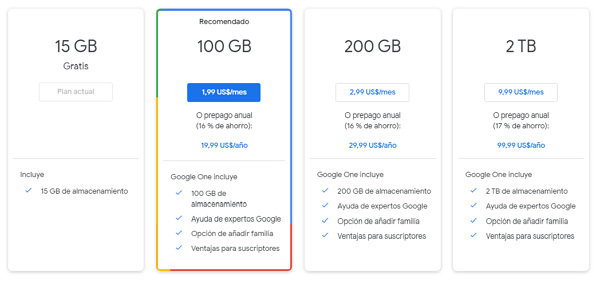 How to purchase your subscription
It is important to note that you need to have a Gmail account to be able to link your files with that email. To buy more space, follow the steps described below:
On the Google Drive platform, click on the " Buy space " button. This way you will access the plans and services.
In the window that opens, select the plan you want to purchase. At the top of each option you will see its price.
After that, it will notify you that, by purchasing a service, you are accepting the terms and its policy. If you agree, click on " I accept ".
Next, it will ask you to add your payment details to collect the amount according to the plan you have chosen.
In this way, you will have acquired Google One and the space for which you have paid, in addition to all the benefits of having a paid subscription from the Google company.
Change of plan
If you run out of space and need to increase your Gb rate, you can do it at any time. You just have to repeat the previous process and select more space. You must remember that the new cost of your rate will be applied and must be canceled for the change to take effect. You will not be reimbursed what you have already paid.
If you don't want to continue paying for a subscription, you can also delete it. Similarly, repeat the steps above and select the 15GB free plan. The company makes it clear in its terms and conditions that refunds are not allowed and the changes will take effect on the first day of the month.