Cloud storage
Google Drive: what it is, new features and how to use it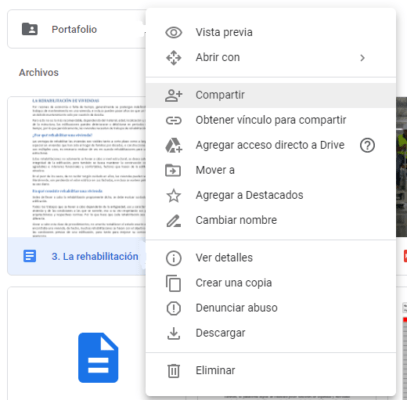 Google Drive is a cloud file hosting service owned by Google. This allows you to synchronize a user's account simultaneously and access all the files saved in your account. Google Drive allows you to store different file formats and is compatible with Google Docs ( Google's suite of online office applications). Thus, through this platform, the different files or folders hosted there can be modified, shared and accessed.
Google Drive users can access this service from different devices such as PC, Android, iOS and others, this being possible only through the internet. Regarding its capacity, Drive offers 15GB of storage space under its free mode, which can be extended up to 100GB through payment methods.
Drive was launched in 2012 and allowed the union and integration of other services of the same company such as Google Photos, Gmail, Google Docs and others under a single platform.
Characteristics
The Google Drive cloud storage service has the following characteristics:
Google Drive provides 15GB of storage in its free version, you can extend your storage up to 100 GB in its paid version.
Google Drive save any attachment from Gmail, it also allows you to organize, share or save them in a safe place.
The files hosted on this platform can be kept privately, or in the same way, shared with other users.
The security of the Google Drive files are encrypted by SLL, no matter what happens to the devices, the Drive files will remain saved.
It has a search engine that can recognize objects in their images and texts in scanned documents.
The user can save photos to Drive and give it a professional appearance, making it possible to use it for animations or presentations.
Google Drive has the option to check the previous versions of a file from the last 30 days. This makes it easy to roll back to a previous version.
How does it work
Google Drive is an application in the cloud, this means that all files and other information stored by a user in his account, is hosted on Google servers intended to provide this service. Thus, people who use Drive do not need a physical medium to save their documents or files through any device linked to their account, because they can be accessed from anywhere in the world with an internet connection through Google. just entering the username and password.
This platform also works as a content manager, since beyond serving as a cloud hosting service, it allows you to create folders, produce and modify documents online and generate files in different formats. In this sense, Drive brings together different Google tools and puts them in one place. In this way, your users can access all of them and perform their tasks manually or automatically.
How to use Google Drive
Using Google Drive is extremely simple, however, it is possible that users who are not very experienced in the use of this type of platform, have some difficulties to start using Drive. As a result, the following explains step by step how to enter and use Google Drive :
First of all, you need to access the website of Google Drive. Here, an information panel will appear with details regarding this platform, as well as two buttons to choose the type of account you want to open.
After the above, if you want to open or access a personal account, just press " go to Google Drive" and choose between logging in with a previously created Gmail account, or create a new account. In this case, it shows how to create a new account.
To create the Drive access account, fill in the form shown on the screen, it will ask for elementary data such as Name, Surname and Date of birth. In addition to that, it will request the entry of a password and an email name.
After entering all the requested information, Google will show its terms and conditions of use, so it is necessary to click on " Accept ".
After the above, the browser version of Google Drive will finally open. When accessing for the first time, the platform offers the possibility of downloading the desktop version of Drive (this is the one that allows access to files stored there when you do not have an internet connection). However, this step is optional, as it is possible to download this application at any time.
To use Google Drive from the browser, the panel on the left offers the different Drive options. Thus, if you want to upload or create any type of content, you must click the " New " button .
Next, a sidebar with new options will be displayed. From here, it is possible to upload any type of file or folder hosted on a physical memory connected to the computer to the cloud. It is also possible to create folders in the cloud to organize content. In the same way, it allows you to create documents or access the different integrated applications of Google Drive such as Google Docs.
The central panel of the page shows the different folders and files stored in Drive, being able to manage them from here. In the case of " My Drive ", all content hosted on the account's own storage space is displayed. Also, in " Shared with me " will be listed the different documents to which you have access after being shared by other users.
If you want to perform any action with any of these folders or files (delete, access, edit, share, download, etc.), just right click on it and choose the desired option.
In the event that you want to share a file, select the " Share " option and a tab will immediately be displayed where the email address of the user (or users) with whom you want to share the file will be displayed. After doing so, and clicking " Send ", this person will receive an email through which they can access this content.
With this basic information, it is possible to start using Google Drive, however, with practice and familiarization, little by little the different options of this platform will become easier and more intuitive to use.
Alternatives to Google Drive
For those looking for alternatives to Google Drive, there are different cloud hosting options like the ones outlined below:
Hubic
Hubic is a cloud storage service developed by OVH, a French company founded in 1999. This platform offers 25GB of free storage and 100GB to 10TB on a paid basis.
Through Hubic, files such as photos, videos and music can be stored in the cloud. It should be noted that it is also available for different operating systems such as: Mac, Windows, Mac OS X, Linux, Android, or Windows Phone 8.
Pcloud
Pcloud is a cloud storage service developed by a Swiss company in 2013, and offers 10GB of free storage. It has a video reader with the option to produce streaming and an mp3 player. You can backup all photos saved to Facebook.
If the user wants to enlarge the space, Pcloud offers from 500GB to 2TB for a one-time payment, which means that it is not necessary to renew the storage plan regularly.
FlipDrive
Flipdrive is another cloud storage service that was launched on June 27, 2017, it offers 10GB of free storage. You can also expand the space from 100GB to 2TB on a paid basis. Fipdrive allows you to store, share, and back up your data.
The user can store files like contacts, photos, bookmarks, events and tasks. Only the user can decide with whom exactly to share or can have access to their information and set custom permissions. Access is possible from any device in a private and secure way.
MediaFire
MediaFire is a cloud hosting service founded in 2006. This service offers 10GB of free storage and for each friend invited to use the platform will be an extra 1GB (with a limit of 32GB).
It is used to store, organize and share quickly and safely in the cloud. This storage service can be accessed from iPhone, Android, OSX, Windows or from the web portal.
Mega
Mega is a cloud service founded by Kim Dotcom and launched on January 19, 2013. It offers 50GB of free storage, however, 35GB of those expire after a month.
The storage service in Mega is used to save, share or exchange files. The site can be accessed from Windows, Mac OS X, Linux and any mobile device with internet.
Dropbox
Dropbox is a multiplatform file hosting service in the cloud launched in June 2007 developed by the same company Dropbox inc. Allows you to synchronize files from a virtual directory on the network. In the same way, it stores and synchronizes files online between computers. Share files and folders with other users or with portable devices.
Dropbox offers 2GB of storage for free, if the user wants to opt for the paid version they could extend the storage up to 100GB. This service is available for Android, Windows Phone, Blackberry and IOS.
Advantages and disadvantages of Google Drive
Thanks to Google Drive's cloud storage services, important information can be safely stored. However, the positive and negative aspects of this hosting service will be taken into account below:
Advantage
The Google Drive storage service offers the user 15GB free to start storing their files in the cloud.
Google Drive can be accessed from anywhere in the world just by logging in to a device or computer with an internet connection.
Multiple Google Drive users can make changes to a file using Drive's "collaborate on file" tool.
After allowing other users to collaborate on a file, the user can review modifications (with day, date and time) of the collaborative files.
Through the desktop version of Google Drive, it is possible to access files stored on said platform without having to access the Internet.
Google Drive is a service that offers free storage space, making it ideal for small businesses.
You can access Google Drive through the web portal without installing the Drive application on your computer or mobile device.
Disadvantages
By inadvertently logging in on a public site, another unauthorized person may gain access to your account.
When starting to use Google Drive it may take a while for the user to become familiar with the functions.
If you do not have the desktop version, you need an internet connection to use Google Drive.
In order to use Google Drive, it is essential to create or have a Gmail account, since this Drive service is found on this platform.
Users assigned to "collaborative documents" can delete the file being worked on, without permission from the main creator.
When using the browser version, it is not possible to continue editing or writing without an internet connection (this is similar to the "read-only" mode).