Browsers
So you can install safari on windows 10; although you should't do it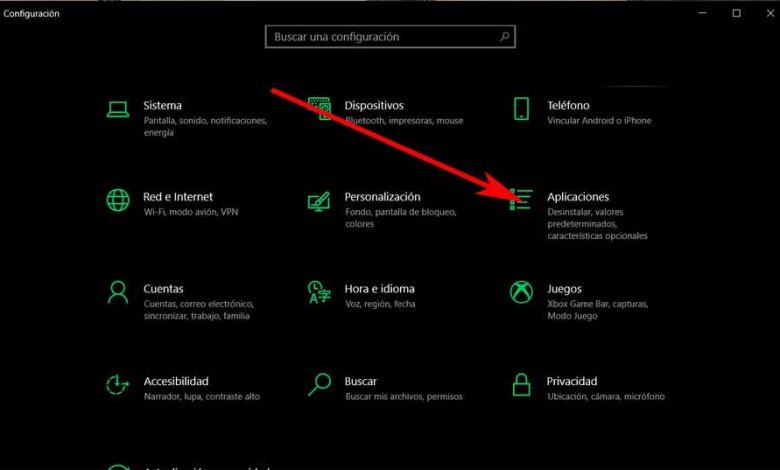 Although we sure all have our favorite browser (Google Chrome, Firefox, Edge, Opera …), on the web we can find a large number of different alternatives. Although many of them are simple copies of the previous ones with a couple of changes, the most important are those developed and maintained by large companies. And one of the lesser known browsers, especially by Windows users, is Safari, Apple's browser.
Just as Microsoft has Edge, Google has Chrome and Mozilla has Firefox, Apple takes care of the development and maintenance of its Safari browser. This is the browser used by default on all Macs with macOS operating system , as well as on iPhones with iOS and iPads with iPadOS.
Normally, Apple applications do not usually leave the ecosystem, being "exclusive" for their users. However, with this browser things are different. Apple allows Windows users to use their browser, although it may not be entirely recommended to do so.
Advantages and disadvantages of Safari
The Safari browser is one of the best that we can use within the Apple ecosystem. Especially on macOS. This web browser is characterized by being a very complete browser , fast to use and, above all, safe and private . It has great compatibility with all types of web pages and also allows us to move even through the largest and heaviest webs with total fluidity.
The Apple browser is synchronized through iCloud with all the devices that we have in our possession. This allows us to have all the tabs, passwords, bookmarks, favorites and everything always at our fingertips. It even allows us to send webs directly from one device to another through synchronization. Safari uses a Webkit engine, an open source engine much lighter and faster than, for example, Blink, the Chrome engine.
However, Apple is always doing its thing. And, although it seemed like a multi-platform browser, since Safari 5 this browser is exclusive to Apple operating systems:  macOS and iOS. No Windows, Linux, or, of course, Android.
In addition, it does not get along very well with the latest web technologies, and you may see problems when executing certain JavaScript code and processing certain CSS content. It also doesn't support the latest video and audio formats, such as .VP9 and .ogg, which is a problem for streaming content.
How to install Safari on Windows 10
Installing Safari in Windows 10 (or in Windows 7 or 8.1) has no mystery. Although Apple has hidden the download section of its browser (for reasons that we will see later), it is still possible to download the latest version of the browser published for Windows from the following link .
Once the following installer is downloaded, we run it on our computer, like any other program, and follow the instructions that appear in the wizard.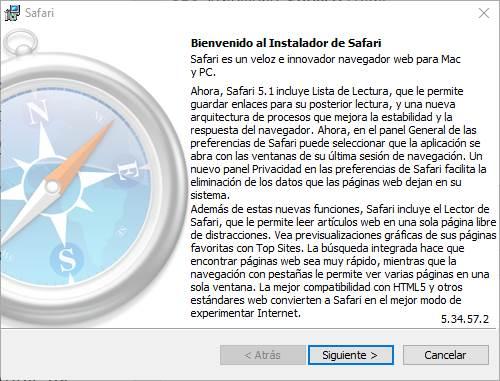 When the Safari installation is finished, we can start using this browser on our computer. However, as soon as we run it for the first time we will begin to realize the problems.
The problems of using Apple's browser in Windows 10
It is true that Safari has nothing to do with the market share of Google Chrome. Even on the company's operating systems, users install Chrome and Firefox to navigate with them. For convenience or habit, mainly.
What happened to Safari for Windows?
However, Safari was a good alternative for those who wanted an innovative, light and fast browser. Unfortunately, Apple abandoned the development of the Windows version of this browser, and for many years (since 2012) this browser has not been updated.
The Safari interface for Windows leaves a lot to be desired. It is an interface similar to that of older versions of Internet Explorer. Also, because their engine has not been updated for years, many websites malfunction, or simply do not work.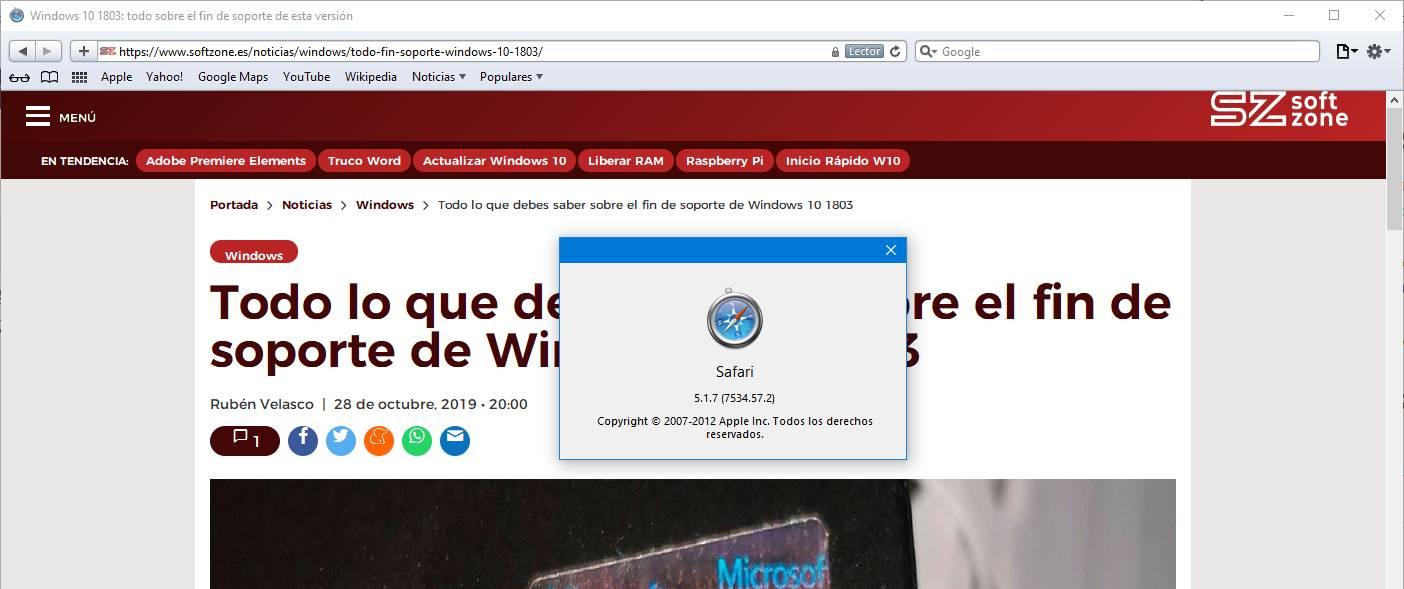 Also, we must bear in mind that an outdated browser is riddled with vulnerabilities. We must exercise extreme caution when using this browser for Windows, since in recent years Apple has corrected several serious bugs in Safari for macOS and iOS, bugs that are still present in the Windows version.
Can I install the latest version of Safari?
Unless you have macOS, iOS, or iPadOS, the latest version of Safari cannot be installed and used in the browser. Apple abandoned its development a long time ago and, although it is still possible to download the installers, this version is completely out of date.
In order to test the latest version of Safari on Windows 10, the only possibility is to install macOS in a virtual machine, or opt for a hackintosh configuration that allows us to have Apple's operating system running natively on a conventional PC.
How to set Safari as the default browser in Windows
At this point, since we have installed the browser of the signature of the bitten apple on our Windows PC, perhaps we will use it often. What we want to tell you with all this is that it may be the case that from that moment on we want to use it as a regular program when moving around the Internet. In that case, the best we can do is set it as the default in the system. Thus, the compatible external calls will be opened directly in Safari instead of in the browser that we used until now.
Well, to achieve this that we are talking about, the first thing we will do is access the Configuration application of the system itself. This is something that we achieve through the Win + I key combination , and then go to the Applications option.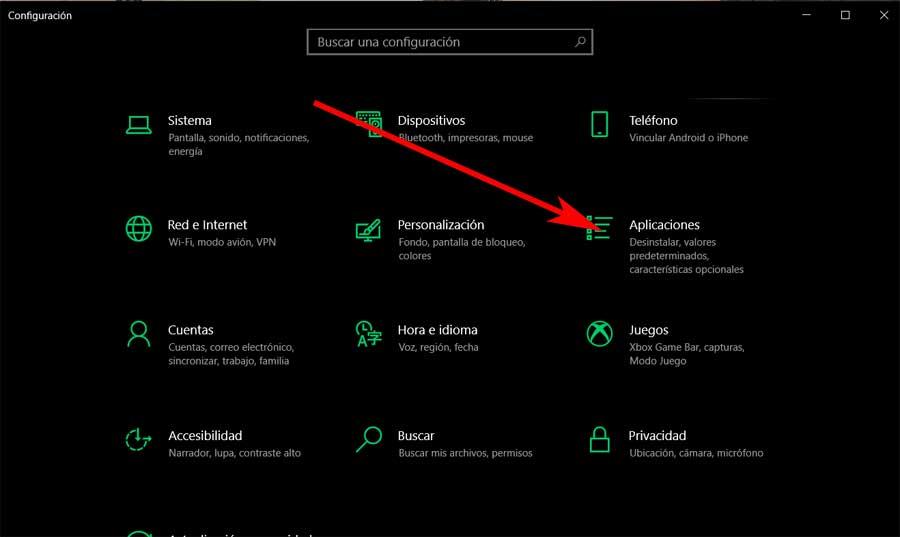 Here, in the left panel, we find an entry called Default applications, which is the one we click. Therefore, to finish we only have to locate the Web Browser section , where we click on the current icon and then choose Safari, which will become the default.
Alternatives for Windows 10
For the reasons we have explained, it is not recommended, under any circumstances, to use the Apple browser outside the Mac ecosystem. If we come from macOS, and we are looking for a good browser that works for Windows, then we must consider one of the following options.
Windows 10 has its own browser,  Edge . This browser uses a Chromium engine, so we will have the same compatibility and the same features as with any other browser based on Chromium. Edge is a browser packed with functions and features, very easy to use and does not depend on Google.
Beyond Edge we have  Google Chrome . This is the most used browser that we can find in the entire network. Developed and maintained by Google, it is a secure, compatible and fully functional browser. It is, without a doubt, one of the default options for those users who have doubts, and as a result of it we can go one way or another.
At the opposite end of Chrome we have  Firefox . The Mozilla browser stands out, above all, for being a totally free and open source browser. A browser created with the community in mind, prioritizing security and privacy over everything else. If we don't want to go through Microsoft's or Google's hoops, this is the browser we should choose to replace Safari.
There are also other browsers that we can give a try in Windows. Opera, for example, was one of the most used browsers years ago and, despite having fallen into oblivion, it still has a significant following. Vivaldi is another alternative, based on Chromium, created by the original makers of Opera. A very complete browser, one of the most innovative and a safe solution if you are looking for something new and different from the others. And, if our privacy is our concern above all else, then we can give Brave a shot  .