Browsers
Limit the use of cpu, ram and internet speed ​​with opera gx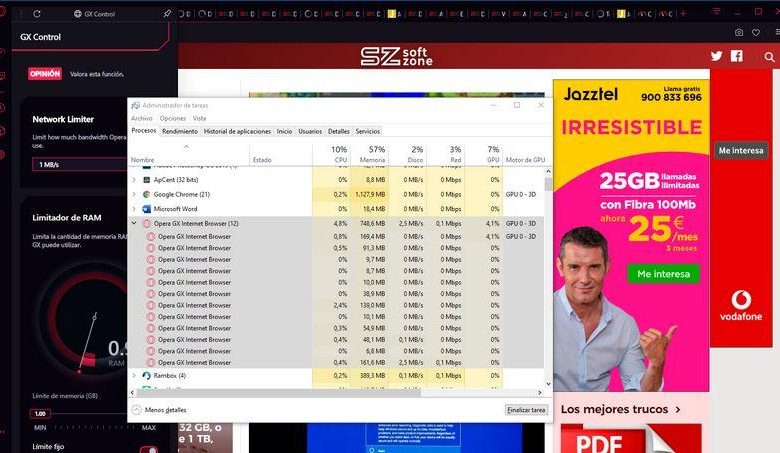 Behind Google Chrome, Firefox and Internet Explorer (or Edge) there is another browser that, although not as popular as the previous ones, has its group of loyal users: Opera. This alternative browser (based on Chromium) offers users a different experience, greater control over all the elements of it and, in addition, a better privacy than that of its rivals. However, the developers of this browser want to conquer even more users. And that is why they have created Opera GX .
Opera GX is a browser specially designed for gamers and advanced users. The main feature of this browser is that it offers users control over its resources that, for now, we cannot find in any other browser.
This browser integrates with the main social, gaming and streaming platforms to always have them at hand. In addition, it has a section that will allow us to know first-hand all the news and offers within the world of gaming.
One of the most important features of this browser is GX Control . This browser panel will allow us to limit the resources that the browser can use, leaving the rest of the resources free and available for other applications or for games. In this way, we will be able to limit the RAM, CPU and Internet speed that the browser can use. We can also find other GX panels that allow us to control and customize the sound, design, themes, etc. As you can imagine, all of this is especially useful for those who normally use the browser to play online.
But of course, it must be taken into account that the resources available to the team as such are finite and limited. That is why as much as the games work very well here, the rest of the applications can be left without any recourse. Therefore, below we are going to test the latest version of this GX Control browser and explain how we can use it to limit the RAM, CPU and speed of our Internet connection .
How to limit RAM, CPU and Internet speed in Opera GX
This browser is completely free for users. If we do not have it installed, we can download the latest version for free from the following link . Once the latest version of the browser has been downloaded and installed, the next step will be to open it. We can see that by default it has a very dark appearance, although if we do not like it we can change it later. But we are going to focus on what really interests us in these lines, which is to customize the consumption of resources that the software performs.
Therefore, at this point we see that the GX Control panel is on the left side of the window. We click on the button that is shaped like a speedometer and we will be able to see all the limitation options that this program offers us, which are the ones that interest us now.
As we can see, we will find 3 sections. The first one will allow us to limit the maximum Internet speed that the program can use, the second the RAM and finally the processor. Therefore, and as we can see first-hand, with just a few steps we have access to these important configuration parameters. Now let's move on to modify them depending on the needs of each case.
By activating each of the options we can limit the resources that this browser can use. For example, let's put it to the test by limiting internet speed to 1MB / s and RAM usage to a maximum of 1GB . We activate the corresponding boxes, adjust the values ​​and that's it. The new Opera GX should now respect our limits. It is evident that depending on the connection we have, and the PC, these values ​​vary for each user or moment.
How to test changes made in Opera GX
To check it, the first thing we will do is a speed test . The first thing we can see is that this tool does not work. When doing a speed test we can see that he does not respect the limits. In addition, we remember that Internet speed is not measured in MB / s, but in Mbps. There is a difference of 8 times.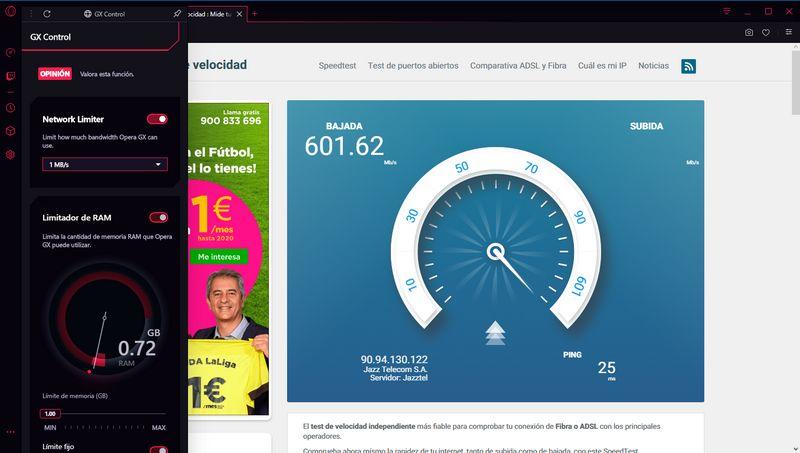 Now let's see how it gets along with RAM. Apparently, the RAM limit does respect it and that is, when we open dozens of tabs, even if it exceeds it for a few seconds, it immediately adjusts it.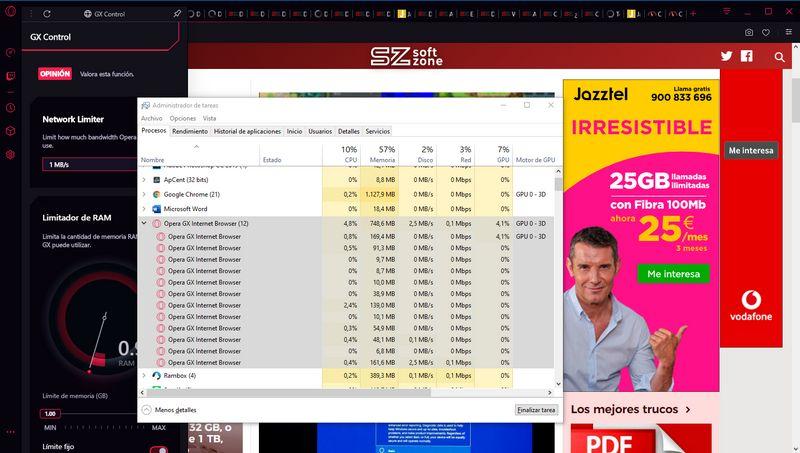 As we can see, Opera GX is a very interesting browser, and it is that it has functions and features that we cannot find in other browsers. Of course, it is clear that there is still a lot of work ahead, since what could be the most interesting function of this browser does not work. However, it has not been on the market for too long, so it is a project in which its developers still have to invest more time and efforts, time will tell.