Browsers
Google chrome what is it, what is it for and what are the features of this browser?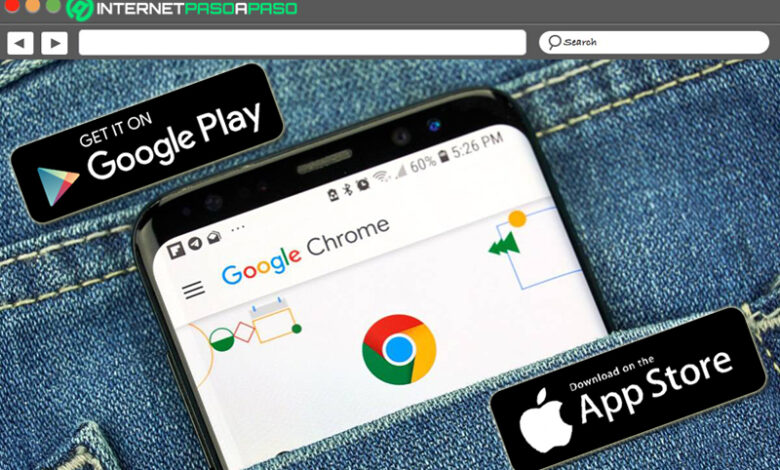 Today, one of the most important computer tools in the world, refers to web browsers . Which are defined as a software or application that facilitates access to the web thanks to its ability to interpret information from different sites and types of files . Therefore, they allow you to visit web pages and perform various activities on them.
Now, one of the most recognized, popular and powerful web browsers, without a doubt, is Google Chrome . This is classified as one of the main standards in the environment of online browsers and is also characterized by being a highly extended application, worldwide, to walk around the network .
However, beyond discerning these basic points about Chrome, there are many people who, specifically, do not know what this utility is for or what are the main characteristics that make it a unique browser. Therefore, in this post, we will introduce you to that information, as well as a comparison around other famous browsers . In addition, we will specify various tricks and alternatives .
What is Google Chrome and what is this tool for?
Basically, Chrome is the web browser developed by Google . In this sense, it is defined as a utility derived from open source projects that, for free, provides its users with an optimal web browsing experience . Thus, a graphical user interface that operates like a computer program that draws on graphic objects and images to offer a visually simple environment for people .
Thanks to the fact that it is compatible with any platform, practically, it has positioned itself as the most important online browser in the world . Whereas, it can be installed on Windows, Mac and Linux computers, as well as on Android and iOS devices . As a consequence, it has more than one billion users globally.
In this way, it consists of an application that is used to acquire a great user experience when browsing the network. This, in view of the fact that it is extremely safe, is also stable, fast, practical, modern and provides the greatest comfort when surfing the net. For this reason, it has become the favorite of the audience.
What are the special features that make Chrome a unique browser?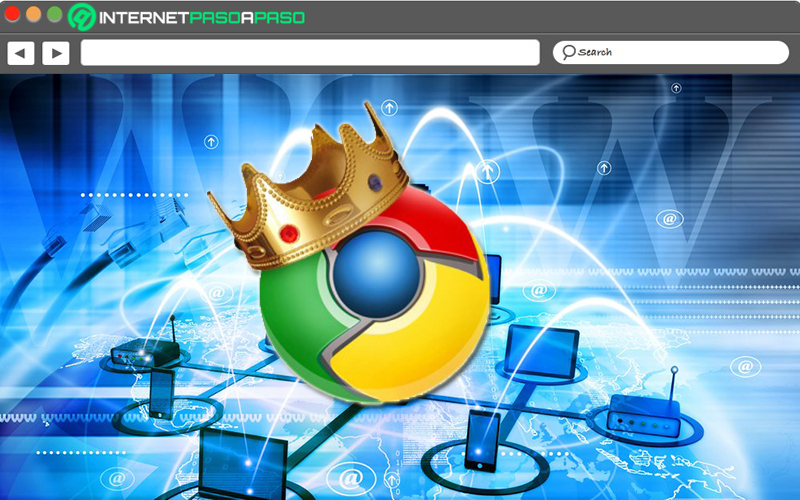 Beyond providing impressive speed to interpret codes and having the support of a titan like Google, Chrome has other peculiarities of interest that make it a unique browser preferred by Internet users .
Which, it is worth knowing to understand why it has acquired this positioning and that is why, here we will mention these characteristics:
Safe and reliable browsing : One of the most relevant aspects of Google Chrome is that it has the ability to warn users when they are about to visit a suspicious website that is phishing or contains malicious software, in order to protect their movements in network.
Incognito mode  : Fortunately, Chrome offers you the ability to browse the Internet incognito or anonymously . In this way, nothing will be stored in your browsing history and all cookies from the pages you have accessed will be deleted automatically when you close the incognito window.
Excellent speed : In general, Google Chrome is characterized by being the fastest and most efficient web browser on the market. This is due to the fact that this tool guarantees great performance in the execution of JavaScript code and for that, it has developed the JavaScript engine V8 .
Supports account synchronization : Luckily, with this web browser you have the possibility to synchronize your bookmarks and extensions by creating an account and then synchronizing it between various devices . Thanks to that, you will never lose direct access to your favorite web pages and you will optimize your user experience.
The search bar : Another of the most notorious and exclusive features of Chrome, is its impressive search bar that offers great productivity. Since, it allows to carry out explorations within a certain site and to make mathematical calculations .
Eyelash management : It is also an exclusive solution for optimal eyelash management. Well, you can open different links in different tabs. This, without necessarily having to open a new window .
Execute the tabs in separate processes of the OS : This means that the browser allows to carry out an administration of the tabs separately, without linking it to the operating system. Thanks to that, if any tab crashes, you will be able to prevent the web browser from crashing entirely .
In short, Chrome stands out for being an online browser that, beyond facilitating access to web pages and providing an Internet browsing experience to its users, is responsible for offering the most complete browsing experience possible . Since, it is a safe, fast and stable solution that is far above its competitors.
Chrome vs Mozilla vs Opera What is the best browser of the moment?
To fully understand Chrome's capabilities; It is also interesting to compare this famous web browser with respect to others that have a notable popularity in the online environment . That is why, in this section of the post, we will focus on determining which is the best browser of the moment among Google Chrome, Mozilla Firefox and Opera.
Highlighting the following extremely relevant parameters:
Safety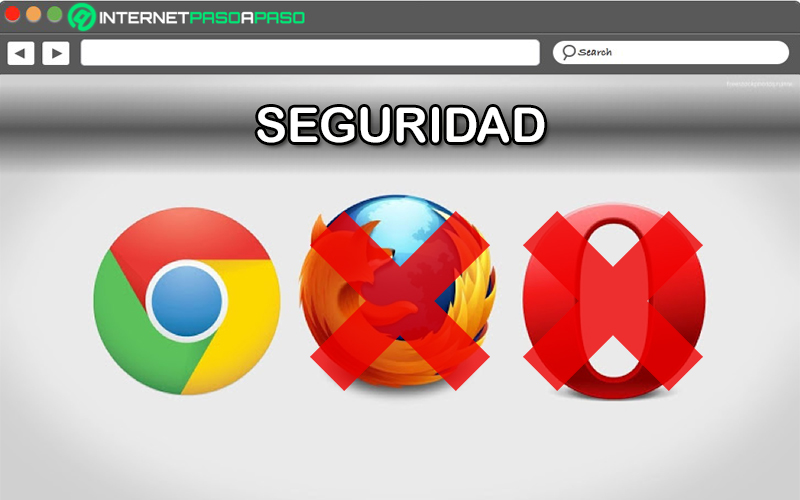 In terms of security and privacy, Opera is the least ahead of Chrome and Mozilla . Because, Opera's privacy policy lacks certain timeliness in stating the type of information it collects from users and, therefore, its transparency, privacy and security seem confusing and worrying . Especially, regarding international data transfers.
For its part, Mozilla focuses on providing greater security to its users by offering concise and transparent information about the data that can be collected and what its uses are . Whereas, Chrome was the first browser to embrace end-to-end encryption for data syncing, flagging insecure pages, and implementing sandboxing.
Therefore, although Mozilla does not live by collecting data and leaving aside some controversial privacy aspects of Google Chrome ; it can be said that the latter provides greater navigation security . Since, apart from the aforementioned, it also optimizes security in extensions, guarantees the blocking of abusive ads and activates private browsing with sensitive data .
Velocity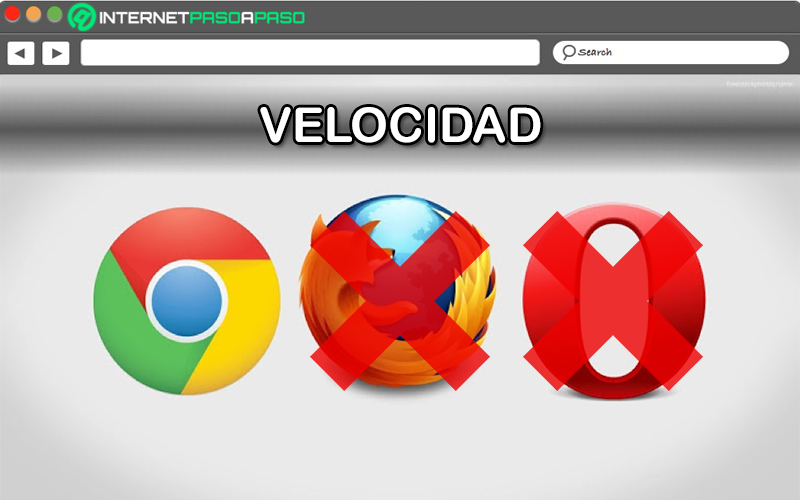 Regarding the loading speed of web pages or, failing that, the time it takes for each browser to display a web page, it is also essential to make a comparison between Chrome, Mozilla and Opera. For which, basically, we will focus on measuring the time difference between the start of the load and the end ; this being a reflection of the speed or speed that each web browser reveals.
Thus, when doing so, it is possible to establish that Google Chrome is the web browser with the highest speed to load any website . Whereas, Opera remains very close to the time it takes for Chrome to load said website. Therefore, the third place is occupied by Mozilla Firefox which, among these three solutions, is distinguished by being the slowest browser of all .
Performance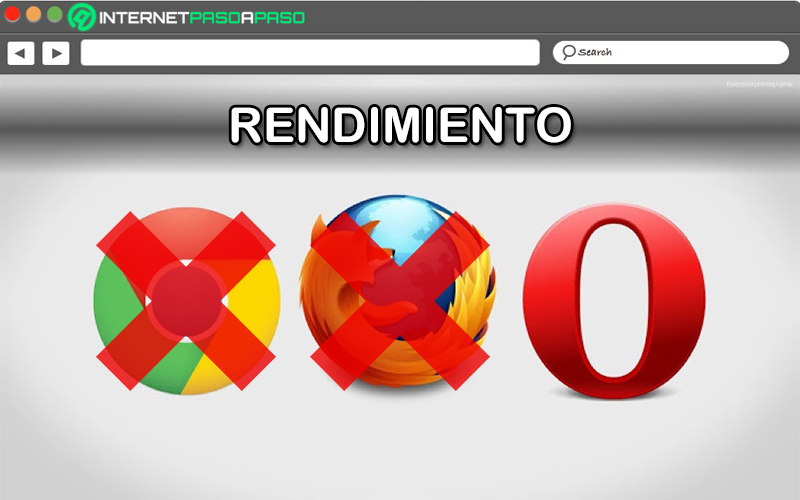 Regarding the performance in JavaScript, it can be determined by some tests that allow a better comparison of the results obtained in each web browser. In this way, Opera managed to acquire the first place compared to the performance provided by Chrome and Mozilla. Taking into account that, followed by him, it was Chrome that also provided good performance (but, not the best) and the last place, again is for the Firefox web browser .
On the other hand, in terms of graphic performance that is increasingly considered more interesting in online browsers, we highlight that Opera also achieves the first position . On the other hand, Mozilla Firefox manages to show better graphics performance, coming in second place and, unfortunately, Chrome fails in this comparison for providing the worst graphics performance of the three solutions.
Resource consumption (RAM and CPU)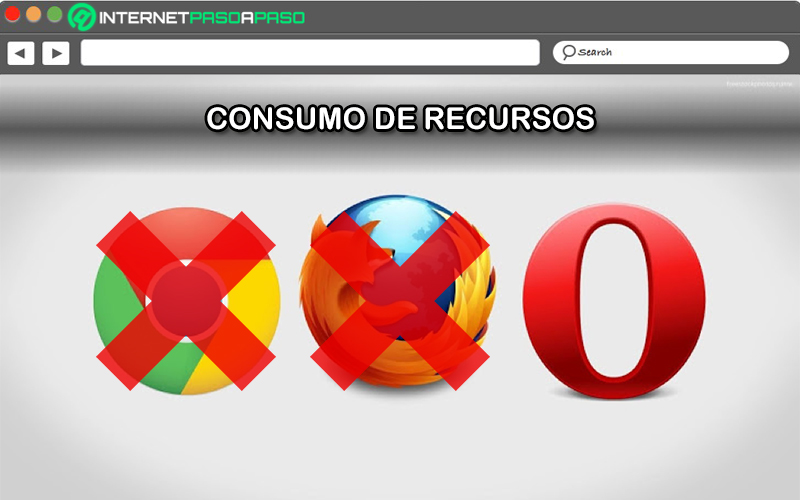 Although it is true, the RAM memory is responsible for storing a series of processes and instructions that have been completed by the CPU, previously, so as not to have to repeat them again and execute other different tasks. Therefore, the consumption of these resources can end the correct functioning of each browser, to a certain extent .
However, when a web browser is resource intensive and does not recover after closing running processes, it does not mean that it performs poorly either. But of course, the less resource consumption you reveal, the better it will be for the equipment that the user uses during the experience . Otherwise, it will start to slow down.
Now, comparing the resource expenditure shown by the Chrome, Mozilla and Opera browsers when they are started, when they have five tabs open and when all the tabs are closed, it can be concluded that Opera is the most efficient of all because it presents a lower RAM consumption. On the other hand, Firefox could improve its consumption by being in second place, while Chrome and its multithreaded architecture do not seem efficient in this, so it takes the last place.
Browser startup time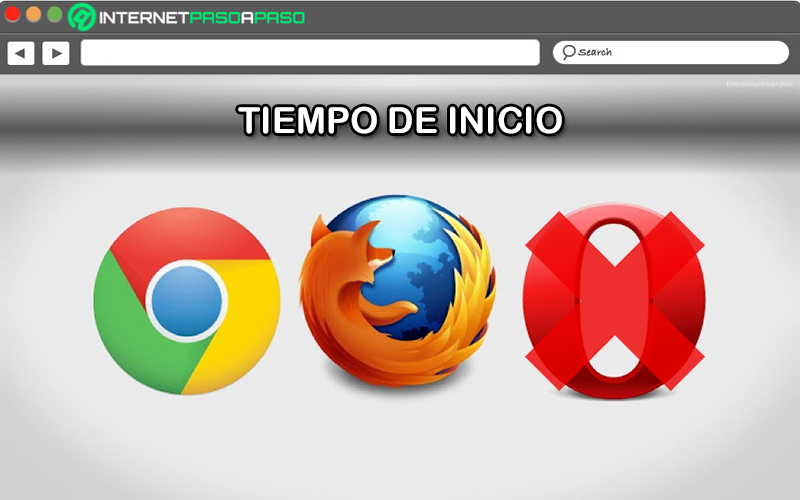 To study the efficiency of each of these online browsers, it is also necessary to know how long they take to start, both  cold  (while the software is running for the first time when logging in) and also hot (when the software had already been run before).
In this sense, as a result, it is obtained that, the first place is occupied by Google Chrome and Mozilla Firefox, simultaneously, thanks to the fact that they showed a tie in both cases. On the other hand, Opera is in last place for presenting a greater delay to start hot and cold (3 seconds and 10 seconds, respectively).
Learn step by step how to download and install Chrome on any device
Before downloading and installing Google Chrome, it is important that you verify if this web browser is compatible with your operating system and if you meet all the system requirements to be able to run the tool normally.
Once that is done, you can carry out the following procedures, depending on your computer and operating system, to install it correctly:
In the computer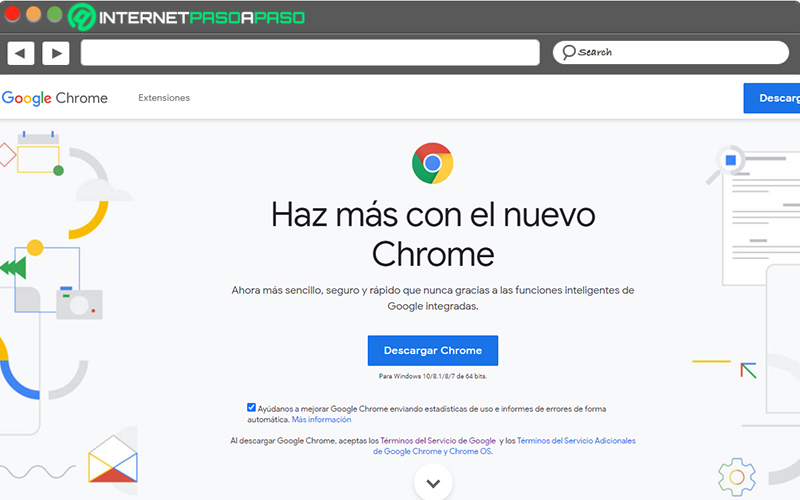 If you want to download and install Google Chrome on your computer, the steps to follow will depend on the OS with which said equipment operates .
In case it is Windows, the process consists of:
First of all, you have to download the installation file of said utility through the following platform: "https://www.google.com/chrome", to do it reliably .
Next, once you click on "Download Chrome", you will have to select "Run" or "Save", if necessary.
In case you choose the Save option , it is important that you double-click on the download in order to start the installation .
After downloading the software, you have to start Chrome . In Windows 7, a browser window will open when everything is configured. In Windows 8, you must click on "Next" to proceed to select it as the default browser. In Windows 10, a Chrome window will open automatically.
On the other hand, if you want to install this web browser on your Mac computer, you need to carry out the following step by step:
Initially, as in the previous case, you have to download the installation file through the link: "https://www.google.com/chrome".
Second, to do it correctly, proceed to open the file "googlechrome.dmg" and in the window that they show you, search for Chrome .
Next, you must drag Google Chrome to the Applications folder .
Once this is done, you may be asked to enter the administrator password . In case you don't know what it is, drag Chrome to a place on your computer where you can edit the content .
Subsequently, you have to open the Chrome application and then you have to open Finder .
Now, directly from the sidebar to the right of Google Chrome,  click on "Eject" and that's it.
Now, if you are a Linux user and you want to install Chrome on your computer, it is important that you use the same software with which you install the programs on your machine and you also have to enter the password corresponding to the administrator account.
Then, carry out the following procedure that we explain here:
As in the processes mentioned above, start by downloading the installation file, through: "https://www.google.com/chrome".
Followed by that, click "OK" to be able to open the package.
Next, you have to click on "Install Package" .
Once you do the above, Chrome will automatically be added to your software manager to stay updated.
On mobile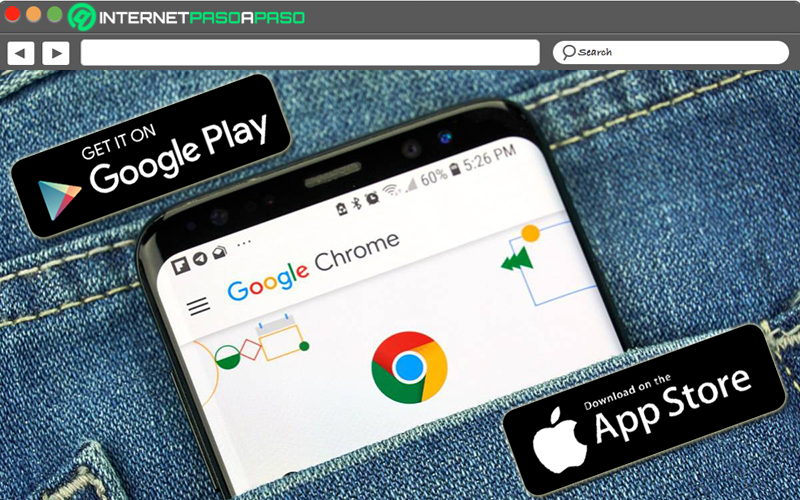 As in the previous case, the method of downloading and installing Google Chrome on a mobile device will also vary, depending on the operating system.
In that sense, if you have an Android smartphone or tablet, the steps to execute are:
From your mobile or tablet, proceed to open the Google Play Store app and search for "Chrome" .
Once you find your download file, click on the button that indicates "Install" and click OK.
When the download process is complete, the application will automatically install on your device and to start browsing, go to the all apps page and press the Chrome application icon .
If, for any reason, your web browser has problems with the search engine, updates, and pop-ups, you need to uninstall and reinstall it in the same way .
On the other hand, if you have an iPhone or iPad and want to use this application, you have to check that your device is compatible with it . Taking into account that, iOS 12 and later versions support this web browser .
Having clarified this, we explain the step by step to specify to carry out the installation:
First of all, access the App Store from your iPhone or iPad and search for the Google Chrome application .
When you find this solution, you have to press the button that says "Obtain" and then touch on "Install" .
Next, it's time to enter your Apple ID password, and then click OK .
Finally, it only remains to start the browsing process by ope