Browsers
Does your browser block downloads? So you can download those files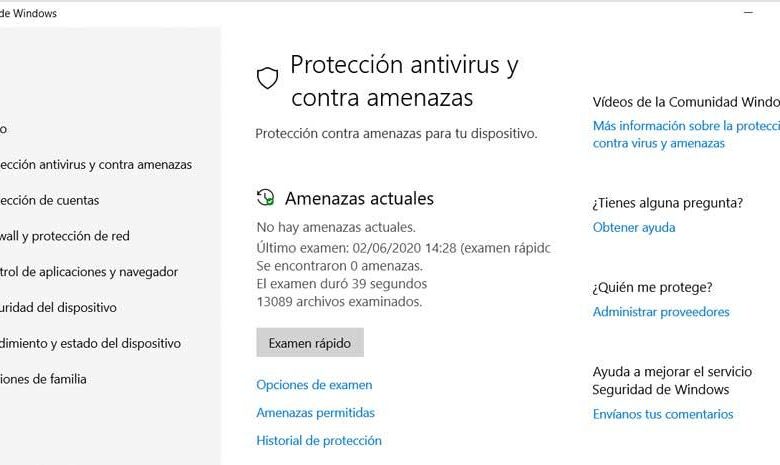 Current Internet browsers are programs that act as an intermediary between our local computer and everything that the Internet offers us . Here comes into play all the content that we use daily and that are very useful to us, such as what is considered as malicious.
Well, how could it be otherwise, one of the most important sections here is everything related to the security and privacy of our data. For this, the developers put in our hands a multitude of specific functions for all this. Specifically, they do nothing more than send new security-related functions, all in order to protect our personal data.
We tell you all this because one of the most recent functionalities that little by little are reaching the main Internet browsers, is the one that refers to blocking. With this, what we are talking about is blocking certain potentially dangerous downloads that are carried out locally on our computers. And, as you know, these file downloads are one of the most common actions in programs like Firefox, Chrome or Edge.
That is why below we are going to explain how to unlock that function that we are talking about, with the risks that all this entails. And it is that if the browser blocks a certain download, it is generally for something, but this is not always 100% effective. Thus, if you need to download something that is being blocked in one of the three main current web browsers, that is how you can do it.
Reasons why browsers block downloads
It must be taken into account that in these times, one of the main premises that most software developers have, in security. Thus, what they try is that their projects are as reliable as possible in this same sense. This is something that is extended to most of the programs that we use regularly, including operating systems such as Windows . And of course, what about those who give us access to the almost infinite world of the Internet and its threats .
That is why most of these browsers implement various security features natively. This includes the aforementioned download blocker that is activated when the program suspects that either the source, or the file itself, is not totally reliable. But of course, this function is not foolproof, and it has flaws. It is something similar to what happens, for example, with antivirus and their false positives. That is why from time to time we will have to unlock that download ourselves by hand, as we are going to show you below.
And it is that we do not always move through the most popular web pages or even download popular applications . Eo does not mean that these websites are dangerous, nor that the programs we download contain any type of malware. They simply or have met certain safety standards , but we, for whatever reason, know that they are 100% reliable. But of course, that is something of which we do not have the possibility to convince the web browser of the moment. This, as it has to take certain precautions for our security, blocks the download of those files or programs that we know are trustworthy. That is when we will have to resort to other techniques, such as those that we will show you below.
In fact, in order to be able to get hold of that file or program in question, what we will have to know is to configure the corresponding browser so that it does not block those suspicious downloads. Here we have focused on the most used applications of this type around the world.
Unblock downloads in Edge Chromium
If, for example, we refer to the download blocking system that the new Edge Chromium integrates , let's see how we can deactivate it. To do this, the first thing we do is go to the program menu, and then select the option called Privacy and Services. This gives way to a good number of functions related to these topics. Therefore, here we have to locate the entry called Block potentially unwanted applications, which is in the Services area.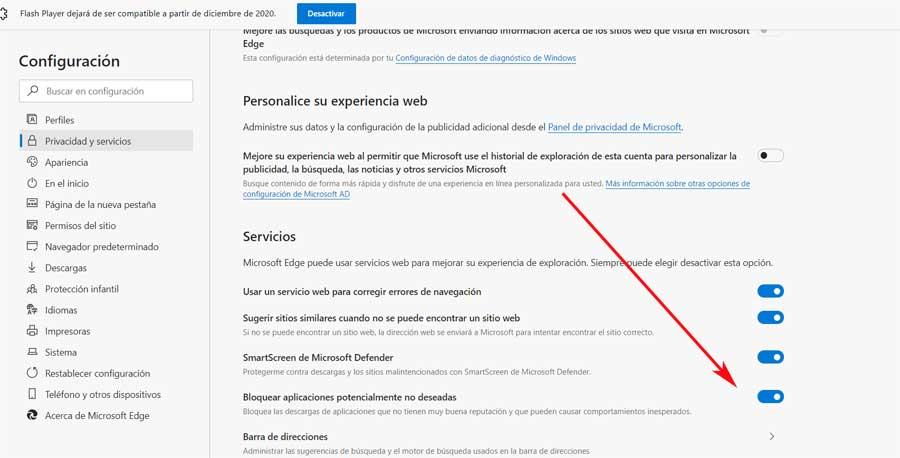 Thus, the moment we try to download a potentially dangerous file from here, a warning message will appear at the bottom of the screen . This will inform us of the corresponding blockage that is happening with respect to the last download.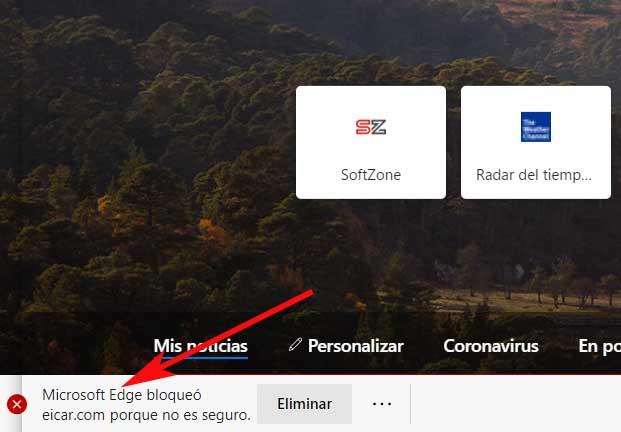 But of course, that is its default behavior. We say this because the moment we deactivate the selector that we have shown you before. In this way, when the Microsoft program detects a somewhat suspicious download, it will do nothing.
Unblock downloads in Firefox
How could it be otherwise, the same situation is found with another of the great Internet browsers, at least the most used. It is true that at the moment the most used option of this type in the world in Google Chrome, which we will talk about later, but it is not the only one. That is why the top managers of Mozilla also want to place their proposal well in this complicated software market.
That is why the protection and privacy functions must be in line with the times in which privacy and security is more important than ever. Well, to activate this blocking of potentially dangerous downloads, the first thing to do is access the program menu and click on Options. In the left part of the window that appears, go to Privacy and security, in order to locate the Security section.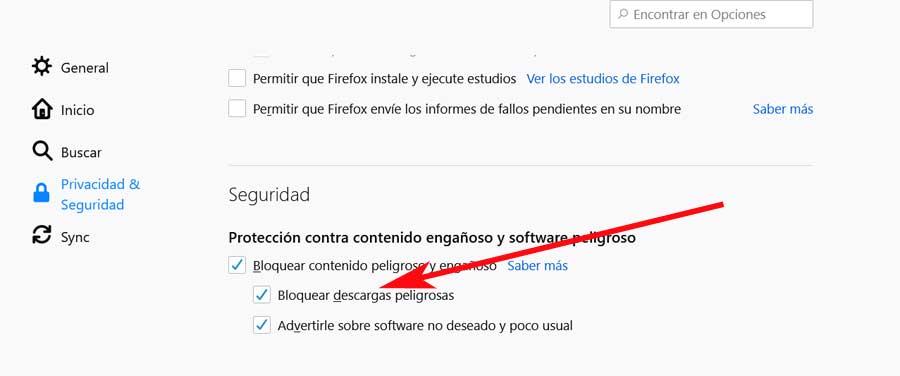 Well, it will be here where we can see what interests us in this case, the Block dangerous downloads function . Therefore, at this point, all we have to do is mark it so that the program acts on its own in this regard. Thus, when trying to access a download that may be considered dangerous, the program itself will show us a warning message so that we are aware of it.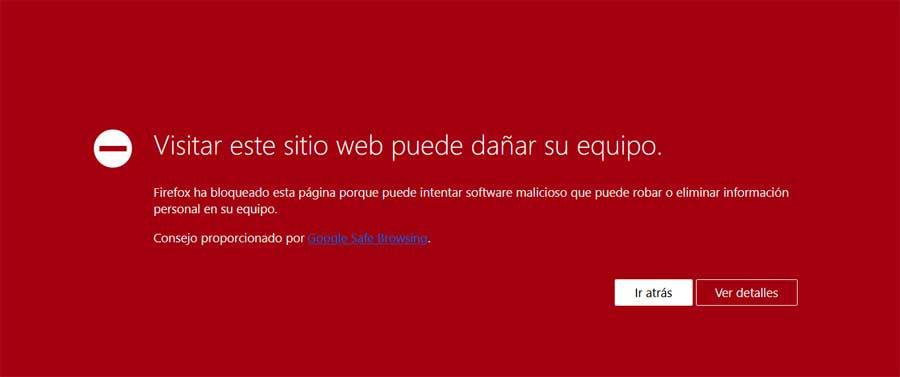 Unblock downloads in Chrome
And how could it be otherwise, the one that we tell you is the most used Internet browser in the world, also has its own security system . This protects us against potentially dangerous websites and downloads, how could it be otherwise. In this way we will have the possibility of being able to move through the webs that we visit daily in a safer way. And it is that more and more sensitive data that we handle in these programs.
Therefore, for all this, the first thing we do is access the program as such, and then go to the section that interests us here by typing this in the address bar: chrome: // settings /? Search = navigation% C3% B3n + safe. This will give us direct access to the section that allows us to configure the security of Google Chrome. Then, in the window that appears, we click on More. Here we will already have the opportunity to click on the Safe Browsing option that protects us against potentially dangerous downloads .
As in the previous cases, from now on the browser will notify us when we try to download a dangerous file from an unaccepted website.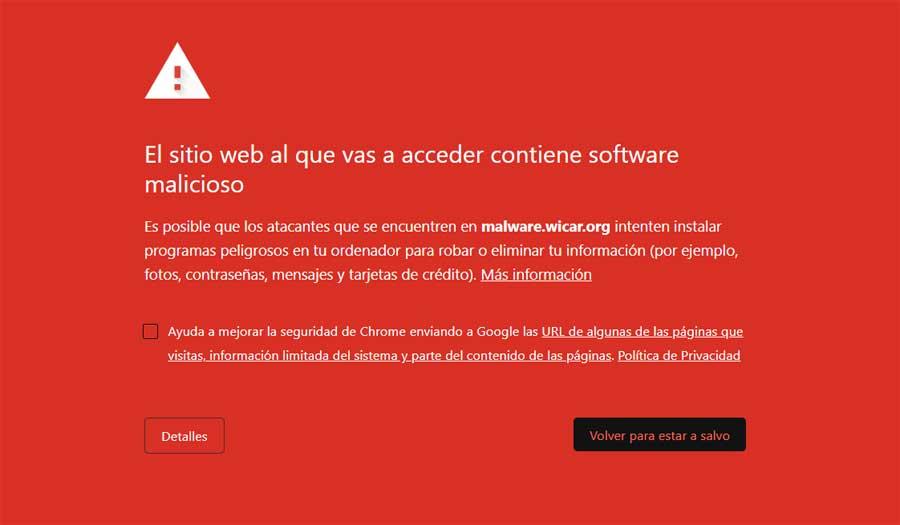 Other programs that can block downloads
Of course, we must bear in mind that it is not only Internet browsers that block the downloads we make from them. There are other security-related programs that may be blocking these downloads as well. Therefore, in the event that we want to enable these initially unwanted downloads, in addition to the browser, we will have to enable them in these as well.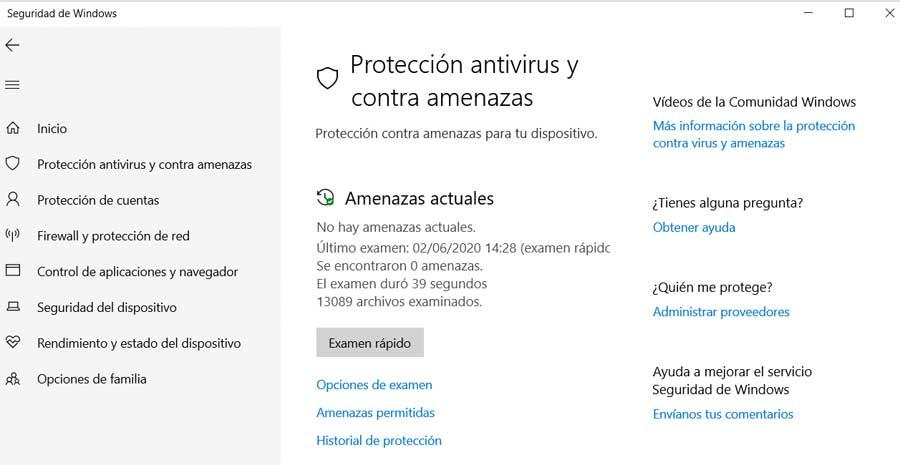 This is the case of the widely used antivirus that most of us have installed on our computer. Therefore, whether we use Windows Defender or any other third-party solution, the best we can do is disable the download blocking that most of them have. In fact, not only does the antivirus integrated in Windows 10 carry out tasks of this type, but it is common in most of the proposals. So much so that even if you use a third-party antivirus, it is more than likely that it includes its own functionality to block dangerous downloads.
Of course, you use the program or browser you use, we recommend that you do this deactivation of potentially dangerous downloads, but temporarily. With this, what we want to tell you is that these security systems do not usually fail. Therefore, if you detect that they block by mistake at any given moment, you can turn it off, but once the content is downloaded, you activate it again.