Browsers
Choose your favorite web browser among those based on chromium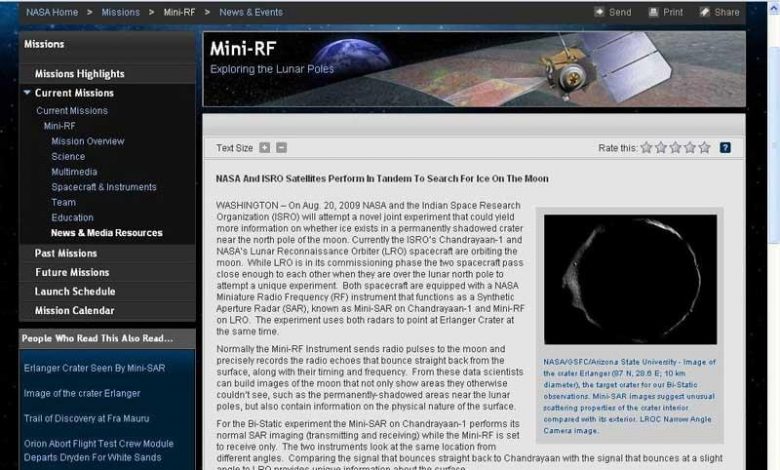 Whether on our desktop PC or on our mobile, the Internet browser has become a key piece of software in our day-to-day lives. It gives us access to an almost infinite virtual universe of information, with the advantages that all this entails. But of course, among the enormous variety of programs, we must choose the one that best suits our needs, with the Chromium- based proposals leading the way in terms of use.
When we refer to this specific software sector, we are talking about a type of program that has not stopped growing in recent years. This is quite logical, especially if we take into account the powerful Internet connections that we already have, both fixed and mobile. Hence the significance that these programs have achieved lately.
But as we said before, over the years, the number of developers who have launched to present their projects has been increasing. But the truth is that in most cases without much success. And is that once the moment of truth arrives, most users opt for a reduced number of proposals. This is where we are forced to mention programs like Google Chrome, Microsoft Edge Firefox, etc. These are the most used at the moment, although we must also admit that if we talk about all the ones we can use, most of them are based on Chromium.
What is the open source project, Chromium
At first what we should not do to confuse Chrome with Chromium. Although they are both independent web browsers, the latter is often regarded as the open source alternative to the former. But Chromium at the same time goes much further, since at the same time it is the base or engine on which many other programs in this sector have been created, including, of course, Chrome itself.
For all this we tell you that it is important to know how to distinguish both concepts, especially if we take into account that here we will focus on the best Chromium browsers. Thus, now it is clearer that in this list that we are going to show you below, we will see the programs that at the time were developed based on the Google Chromium project to which we have referred.
Chromium-based Internet browsers
Thus, in these same lines we are going to talk about browsers of this type based on this project that you can use for free, to choose the one that interests you the most. Although many of them share a good number of functions by being based on the same engine, they have their differences. These tend to focus on sections such as security, privacy, interface, speed of loading, own functions, etc. It is for all this reason that users have a wide variety of proposals in this regard to choose from. In addition, this way you can get a little out of the tonic of always using the same programs of this type.
Google Chrome, the quintessential browser
How could it be otherwise, we will start with Google Chrome, a proposal that already exceeds 70% market penetration worldwide. All this despite the complaints that have always surrounded the software about the lack of privacy that it reports to us. In addition to this is added the large amount of RAM it consumes in general terms, which does not affect either.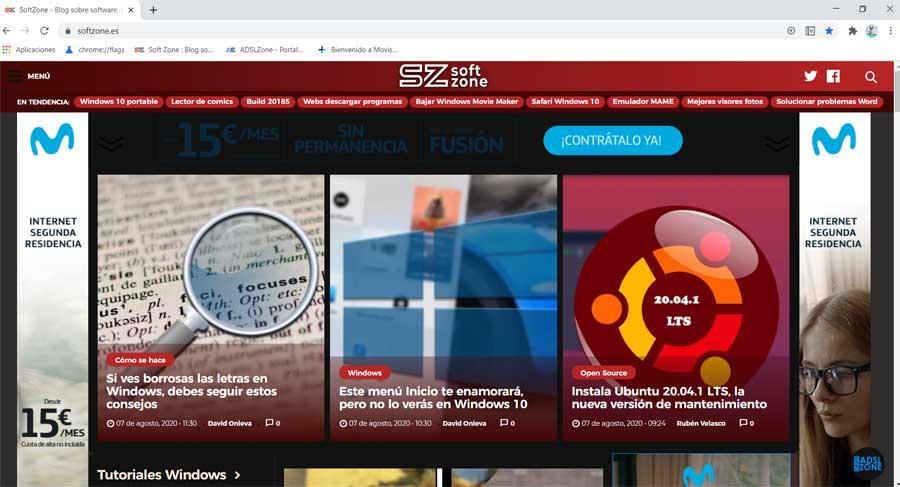 But on the other hand we can highlight its wide compatibility, in addition to all the extensions to which we will have access to increase its functionality. In addition, from here, with a single user account we will have access to most of the services and platforms of the search signature. This is something you can download from here .
Microsoft Edge, Microsoft's Chromium alternative
Here we see the new project of the software giant in this sense with which they want to replace the original Edge of Windows 10. It is now based on Chromium but they want to avoid the privacy problems of Google Chrome. In addition, Los de Redmond, with their experience, do not stop adding their own functions and if something characterizes this proposal, it is the speed with which it works. It is also worth noting that here we can make use of Chrome extensions, as is the case with most Chromium browsers .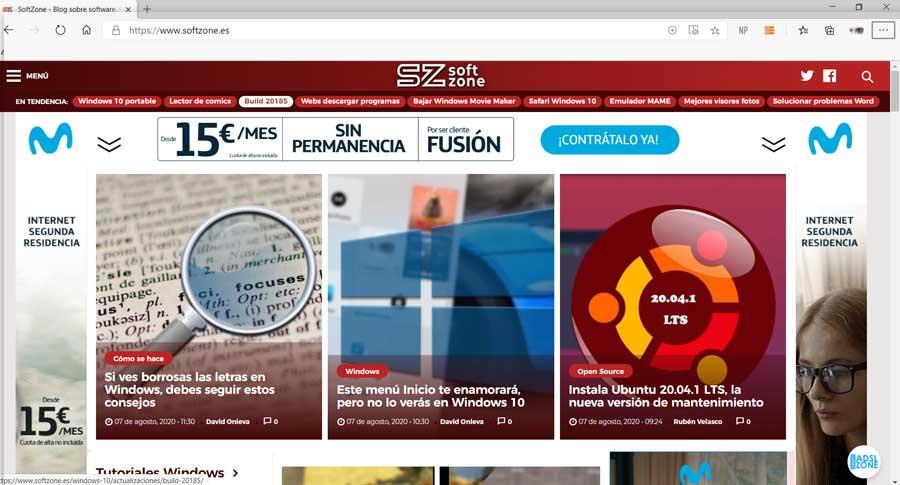 Of course, some users point out that, although Microsoft collects less user data from here than Google, it also collects usage information. Likewise, the synchronization between the PC and the mobile, still does not work as well as it should; You can download it from here .
Chromium, the open source Chrome
As we said before, for many this is the open source proposal of Google Chrome itself. Therefore, some of these users, increasingly, migrate to this software that takes more care of their personal data, with a similar operation to the Mountain View that you download from here .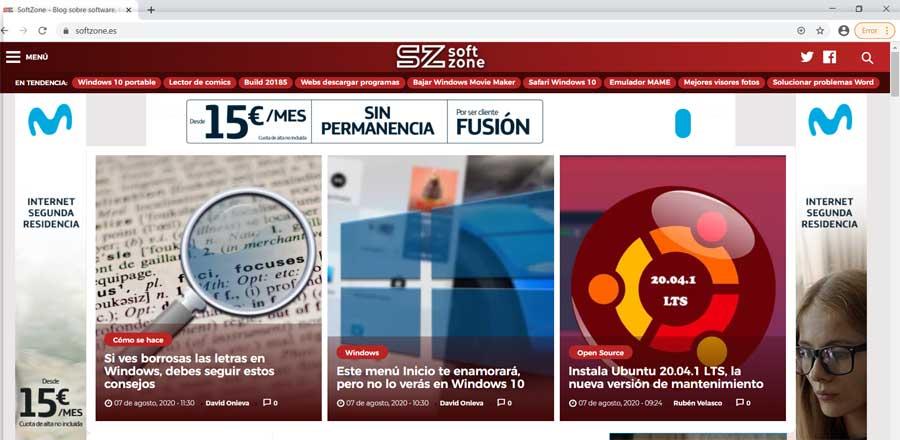 Also here we can make use of the synchronization between devices, it updates automatically and has great built-in development tools. It is also worth noting that it has excellent HTML5 compatibility . Mind you, like Chrome, it also consumes more RAM than most would like. We will also say that since the software avoids the binding of any proprietary software, the contents that require proprietary codecs will not be played by default here.
Vivaldi, a unique interface and a lot of privacy
Here's a piece of such software founded by former Opera CEO Jon Stephenson von Tetzchner that focuses on both privacy and aesthetics. In this way, what this developer intends is to offer a product with a somewhat original interface focused on a color scheme and rings.
At the same time, it offers us its own functions such as a customizable pad to annotate web pages. Of course, for privacy reasons it does not allow data to be synchronized between browsers, all of this to distance itself as much as possible from Google. In fact, it uses Bing as the default search engine , which for some is a drawback, and it has its own method for managing tabs . We can also customize the keyboard shortcuts and it has its own mouse gestures.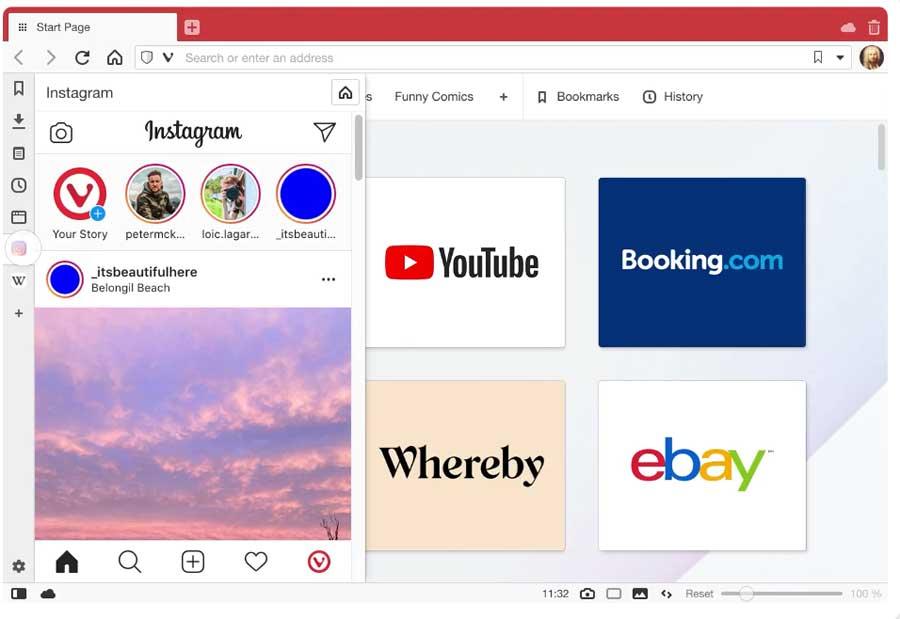 Say that there is an Android version of the program, but not iOS. Also for privacy some services do not work well such as geolocation, or automatic website translation. It is a software that you can download from here .
Iridium Browser, avoid Google services
If there is something that characterizes this Chromium proposal somewhat less known than others, it is the enormous operating speed that it offers us when browsing. It also has a multitude of internal functions that aim to improve the security of the program and supports all current web standards. At the same time, it has disconnected a good part of Google's integrated services to take care of the privacy of users.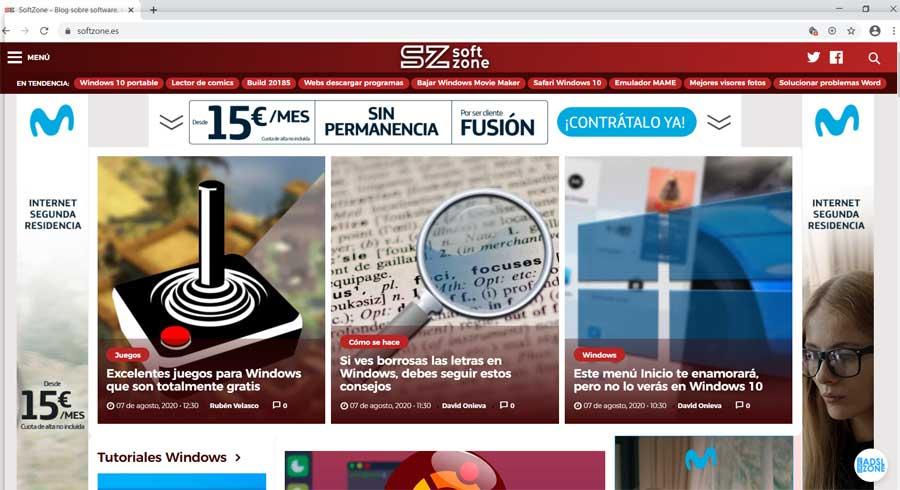 Of course, many complain that it updates at a slower rate than other similar programs and fails to load certain websites . Similarly, some extensions refuse to be uninstalled. We can test it from here .
Brave, more than 20 search engines
This is a browser that you can download from this link and that is somewhat younger than others that we have talked about. Also based on Chromium, it focuses on user security and privacy. So what the software does internally is block web trackers by default. Of course, one of the biggest drawbacks it presents is that not all Chrome extensions can be used in this particular proposal.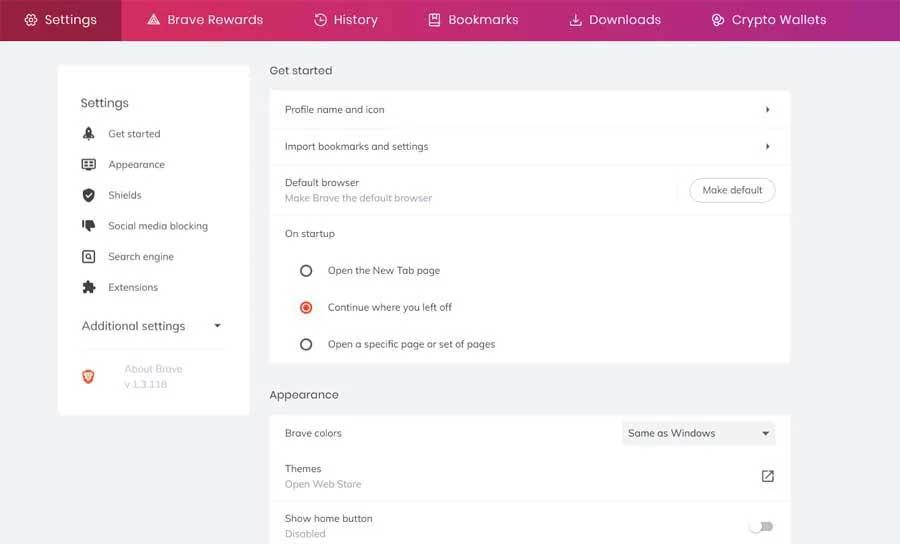 On the other hand, it should be noted that it supports more than twenty search engines and we can find versions for both iOS and Android mobiles, as well as for desktop systems. At the same time, it is worth noting the speed with which it loads the webs. But keep in mind that by default Brave allows hardware acceleration , which translates into high battery consumption, greater than what we are used to in other browsers.
Opera, one of the most popular and veteran Chromium
This could be said to be one of those Internet browsers that have been with us for many years. It began its journey in the past 1994 and nowadays it does not stop growing. It has some very interesting functions of its own such as its integrated ad blocker, it offers us its own VPN service , and a really interesting and personal interface. We can download it from this link .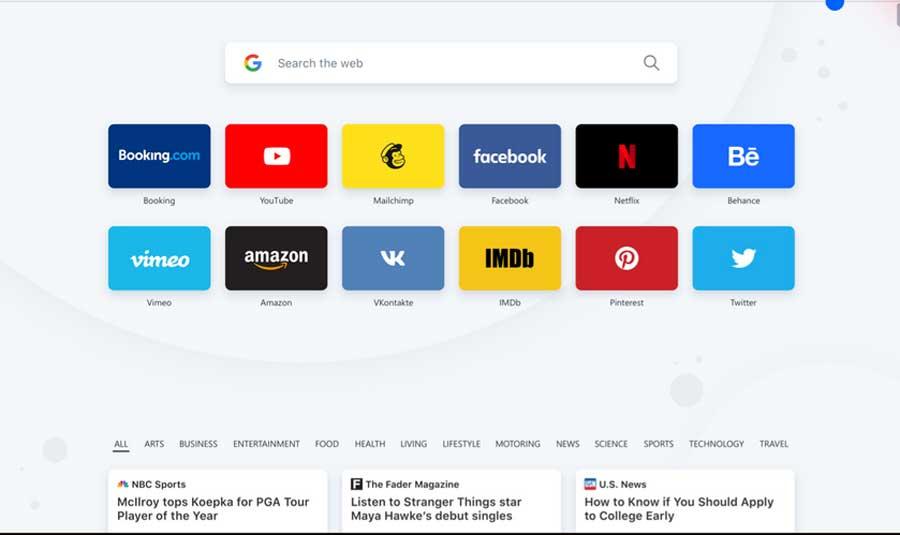 To say that at the same time it has the possibility to synchronize data such as your settings, bookmarks and passwords with any other Chromium browser. It is also worth highlighting the good performance of its portable version, the Turbo mode that it proposes, or the possibility of compressing web traffic. Of course, many point to its high RAM consumption and it offers problems with a good number of extensions that work in other proposals.
Yandex.Browser, safety first
If there is something that characterizes this Internet browser based on Chromium, it is the security it provides, a method that is also characteristic of the firm. This is basically due to the fact that it makes use of the security software of Russian origin, Kaspersky . This is something very useful to check the files we download, among other internal functions. On the other hand, in order to improve its operation and performance, it makes use of the Opera Turbo technology that we discussed earlier.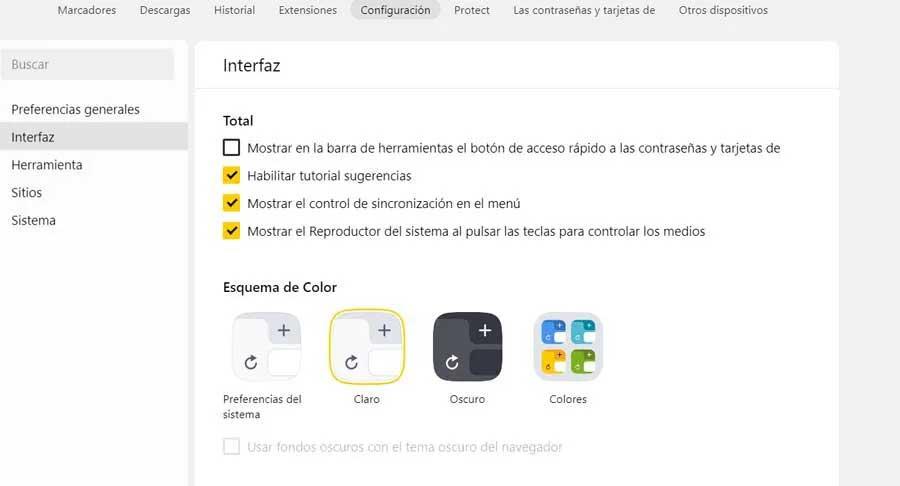 It provides us with a highly customizable user interface that we can download from this link . It also provides us with a good number of its own integrated services to improve the experience of using the program. But of course, there are certain users who distrust, for privacy reasons, the origin of the program, as happens, for example, with the aforementioned Kaspersky software.
Epic Privacy Browser, avoid company tracking
This is another of those not too well known proposals in this sector, but similar in many points to those mentioned above. This is a program that is also based on the privacy of the users who choose it. Among the many functions that it integrates in this sense, we can highlight that once we log out, the program automatically deletes all browsing history . In addition, the same happens with the rest of the data collected, although Epic makes use of rather little while we use it.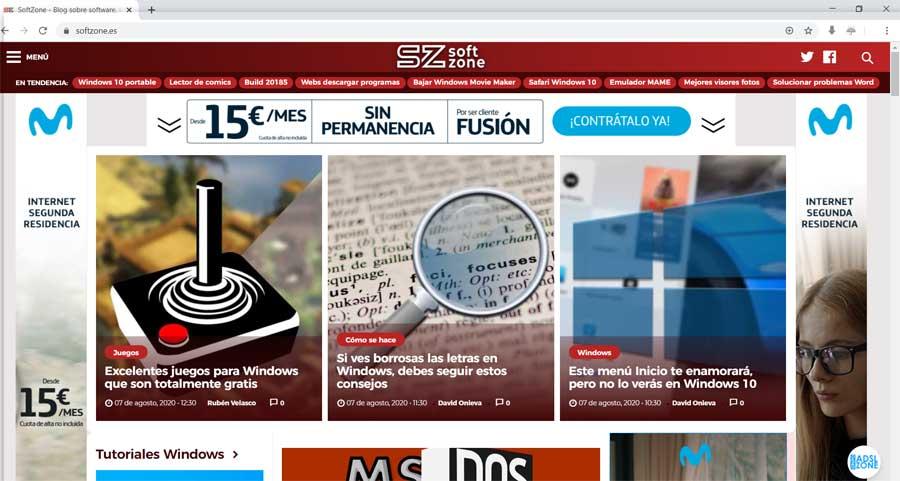 It is also important to know that this software removed all Google tracking and blocks other user tracking companies. As a negative point we can say that it does not allow data synchronization with other browsers, while the use of extensions is also somewhat more limited than what happens in other competitors. To get hold of this software that we are talking about, you can do it from this link .
SRWare Iron, has all the functions of Chromium without worrying about privacy
This is another browser that is based on the Chromium source, managing to offer the same functions as Chrome, along with an elegant design and innovative features. However, it eliminates all critical points that concern the safety of users, which will allow us to use innovative functions without worrying about our privacy . For this, its code has been modified to eliminate any tracking to make it one of the safest browsers. It is worth mentioning that this browser does not create an installation ID, nor does it have a suggestion engine, or alternative error pages. It also does not have error reporting, so it does not send any type of data to Google's servers.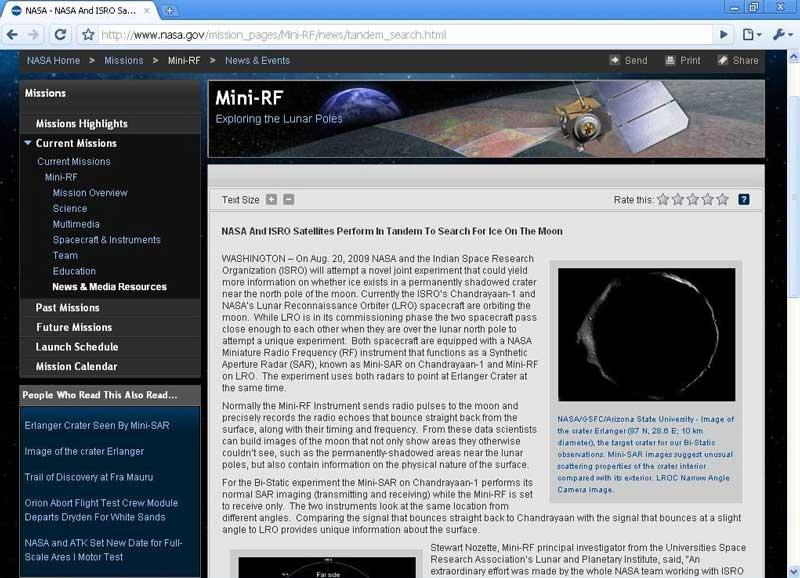 It should also be noted that it has the custom Blink rendering engine with certain additional optimizations that will allow us to improve the speed in terms of our browsing experience. It offers support for extensions so we can increase the inherent functionality of this browser and give it new possibilities. In addition, it offers the possibility to configure the home page and the default search engine, with the possibility of creating several user profiles.
SRWare Iron is a free, cross-platform Chromium-based browser, so it can be used on 64-bit Windows, Linux, macOS, and Android mobile devices. We can download it from here .