Browsers
Basilisk, the optimized and fast alternative to firefox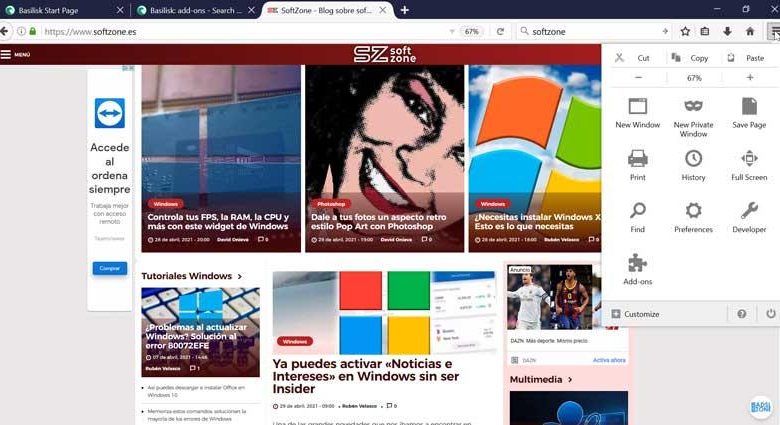 A fundamental element that cannot be missing from our computer to enjoy the Internet is a good browser. Here we find names as popular as Chrome, Firefox, Opera or Edge, which dominate the market. If for whatever reasons none of them are to our liking, we can always make use of some alternatives that are emerging from other minority developers. Here we find tools such as Basilisk, an open source web browser that we will talk about below.
Basilisk is a free and open source modern web browser designed by the Pale Moon team . Its engine is designed and rendered by Goanna which is a fork of Mozilla's Gecko. Its code is based on the most recent versions of Firefox, to be offered as an alternative to Mozilla's browser. To do this, it offers the same power options along with legacy functions such as XUL with the aim of becoming an alternative to Firefox while preserving support for extensions.
This browser supports a wide range of functions necessary to be considered a modern and reliable alternative. It includes advanced scripts, WebRTC, CSS v3, HTML5, and downloadable font support. It also supports all NPAPI elements (such as Java, Unity web player, multimedia plugins, and authentication plugins). In addition, it should be noted that this browser is not associated or affiliated with Mozilla, being a completely independent fork of the Mozilla code, but simply tries to retain useful technologies that were eliminated in Firefox.
The main characteristics that Basilisk intends to show off are:
Full support for the ECMAscript 6 JavaScript standard for modern web browsing.
Support for all NPAPI plugins.
Support for Mozillla style XUL / Overlay extensions.
Support for ALSA on Linux.
Support for WebAssembly (WASM).
Modern Web Cryptography Support – Up to TLS 1.3, Modern Ciphers, HSTS, etc.
Basilisk with similarity in functionality and appearance with Firefox
Once we launch the browser, the first thing that appears is a window where we are offered the possibility of exporting our content stored in Edge, Firefox or Chrome. Once its main menu is presented to us, we find that the administration options of the tabs, the design of the buttons, the main menu and the personalization settings of Firefox are integrated into Basilisk.
Interface full of similarities with Firefox
In fact, the options section opens exactly the same as in Firefox, which allows us to modify the behavior and appearance of the browser, configure the search engine, manage content and notifications, as well as configure privacy-related settings. and security.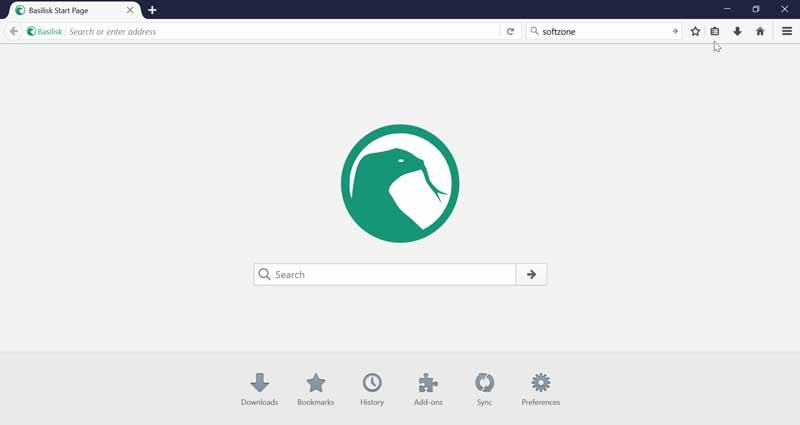 Basilisk users can find all the characteristics of a modern and current browser. With it we can work with multiple tabs, activate full screen mode, pin our favorite websites, change the default search engine, manage downloads and delete recent history. We can also export bookmarks, passwords and other similar details to other more popular browsers.
Search engine without Google
As a search engine, this browser dispenses with Google's navigation engines. This is in the upper right and from the Preferences it is possible to change it. By default it has the DuckDuckGo search engine, although we can also choose other alternatives such as Yahoo, Bing or Wikipedia. At the bottom, if we click on the "Add more search engines" option, a new page will open where we can choose different search complements such as Google. When using the search engine, it offers us the option of using the default search engine or another of what we have added.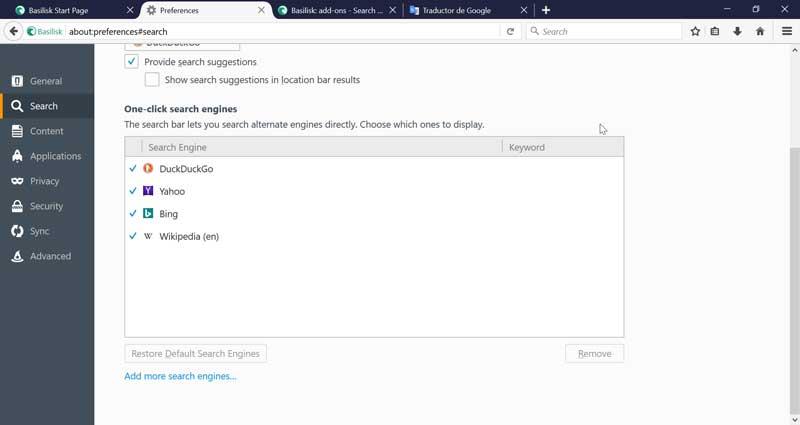 As in Mozilla's browser, we find the three vertical bars in the upper right. If we click on it, a menu opens from where we can open a new window, a private window, put the browser in full screen, save a page, access the addons, access the preference screen, among other options.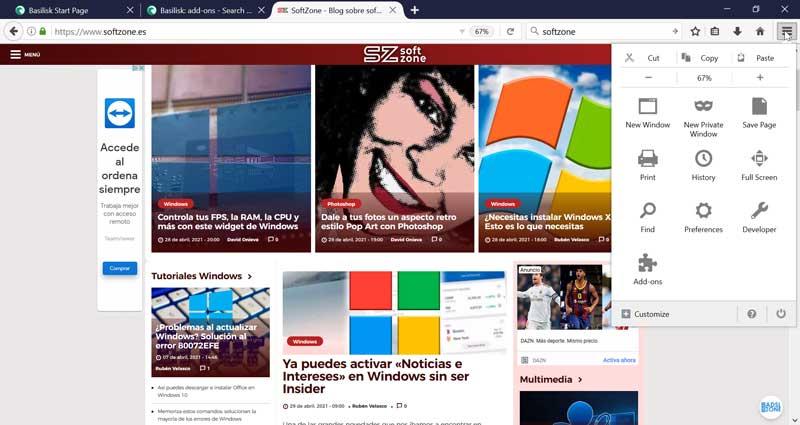 Conclusions: should we bet on Basilisk as a browser?
Basilisk is based on a powerful rendering engine that is responsible for offering us all the advantages with which we will be familiar in case of using Firefox, it is even compatible with some of its extensions. Perhaps, some users may miss an interface translated into Spanish, although it should not be inconvenient to use. During our tests it worked correctly without offering errors. Of course, we must bear in mind that it is a software that is still in the development phase, so it can be considered more or less like a beta, so it may contain some errors. The loading speed has been satisfactory and the fact that it has a portable version is one more point in its favor.
Download Basilisk for free
Basilisk is a free and open source web browser for Windows and Linux that we can download from its website. It has a version with an installer and a portable version . The latter will allow us to run it from any external storage device, such as a pendrive or a hard drive, without the need for an installation and without modifying the registry of entries in Windows. Its latest available version is v2021.04.27 published on April 27, 2021, which shows that it has the support of both its developers and its community.
Alternatives to Basilisk
If we are looking for a browser that is out of the ordinary, we propose some alternatives to Basilisk to take into account:
Pale moon
It is a free and open source web browser that is available for both Windows and Linux. This browser is based on Firefox, but integrating many additional functionalities with which to improve its stability, efficiency and speed. It does not have telemetry or spy on its users. Includes support for NPAPI, Flash or Java plugins. We can download it from this link.
Falkon
We are talking about a web browser formerly known as QupZilla and it is available for both Windows and Linux. Its engine is based on QtWebEngine, which in turn is inspired by Chromium, the engine used by Chrome, but with a very similar visual appearance to Firefox. We can  download it from its official website.
Maxthon
It is a browser designed to be used on computers with Windows, Linux and macOS, as well as for mobile devices with Android and iOS. Among its features, it stands out mainly for combining two engines instead of one: Webkit (Safari) and Trident (Internet Explorer), being as fast as it is safe and that puts it at an advantage over other more popular alternatives. It is available in several languages, including Spanish, and can be downloaded from  this link .