video game
There is life beyond mame: download other arcade game packs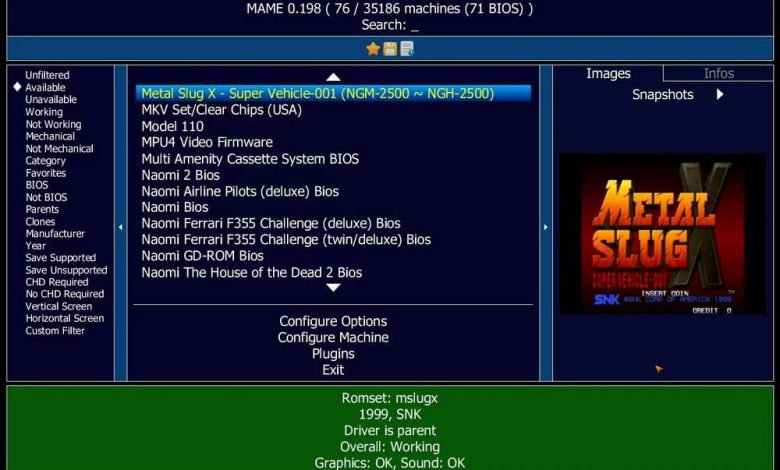 Despite the wide variety of triple-A games released today, retro games are becoming more and more popular. Although it is difficult to find games from 30 or 40 years ago and play them on a real console (or arcade machine), home retro-consoles have been gaining popularity lately. Any user can build a retro console at home using a micro-computer, such as the Raspberry Pi, and even on their own PC. All you need is the proper emulator and a ROM pack .
When we talk about arcade games we mean the games that were originally released for arcade machines. Although many of the original titles can be found today for other platforms, the recreational versions have something special that makes many users continue to prefer it.
The most complete pack of arcade games that we can find on the net is MAME. This one has absolutely every game that has been released for arcade machines. However, the MAME pack has problems: repeated, corrupted, modified roms, depending on an additional hard drive, etc. In addition, that does not mean that, although it is the most popular, it is also the most complicated pack to launch. And the one that occupies the most if we want it complete.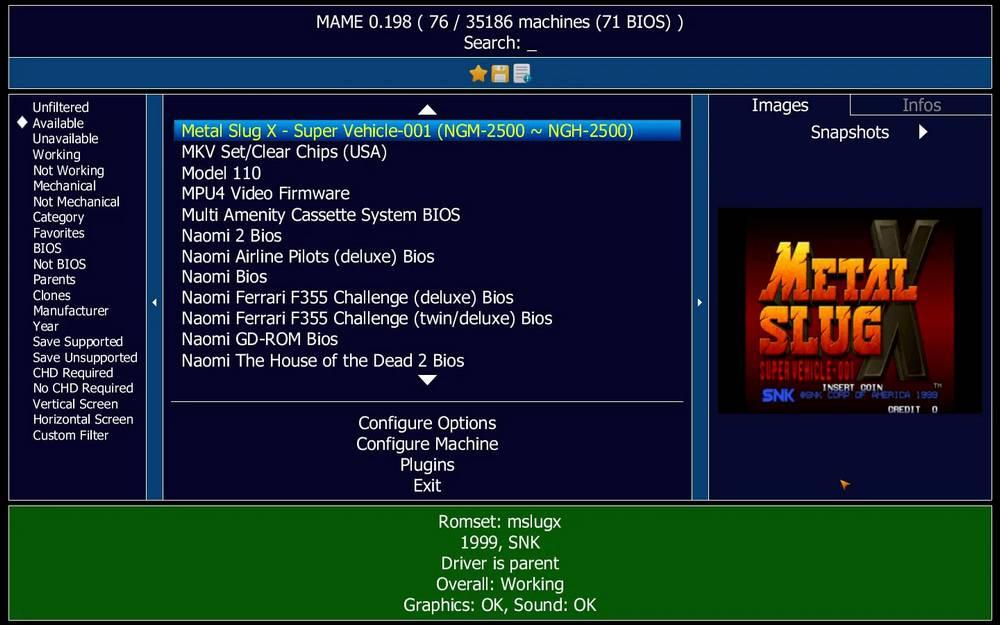 If we like classic arcade games, but MAME does not quite adapt to our needs, there are excellent alternatives .
Best alternative rom packs to MAME
FB Alpha, the most complete and organized pack
By the time we have looked for an alternative to MAME for the first time, we have surely come across Final Burn Alpha, or FBA. FB Alpha is not an arcade machine as such, but an emulator, with game packs specially designed for it, which will allow us to play practically all kinds of arcade platforms, such as:
Capcom CPS-1, CPS-2, CPS-3
Cave
Data East DEC-0, DEC-8, DECO IC16
Galaxian
Irem M62, M63, M72, M90, M92 and M107
Kaneko 16
Konami
Neo-Geo
NMK16
Pacman
PGM
Psikyo 68EC020 and SH-2
Sega System 1, System 16, System 18, X-Board and Y-Board
Super Kaneko Nova System
Toaplan 1
Toaplan 2
Taito F2, X, Z
Furthermore, Final Burn Alpha emulator is also compatible with other roms and home consoles and platforms, especially those from Sega and PC-Engine.
This emulator (and its rom packs) are in continuous development. If we want to give it a try, we must download the latest version of FBA from this link, as well as its game packs (which cannot be distributed together with the emulator).
CPS, Capcom classics in your hands
Capcom, of course, was also involved in the market for arcade machines " Capcom Play System ", although it never managed to gain the same popularity as other rivals, such as NEO-GEO, mainly due to the low quality of many titles. The Capcom machines had three different versions, so we can find the game packs under the names CPS1, CPS2 and CPS3, each of them corresponding to a specific machine.
Some of the best games for these Capcom machines are:
The «Street Fighter» saga
Muscle Bomber Duo
The king of dragons
Captain commando
Final fight
Knights of the Round
Tenchi or Kurau 2
There are several emulators for the Capcom platform, although the two most popular are Kawaks and Calice. Also, we can emulate all games directly from RetroArch.
NEO-GEO, SNK's arcade and home classics
NEO-GEO was the name given to the arcade machine marketed by SNK. This platform gained great popularity especially due to its 2D graphics and the excellent sound quality it offered.
Some of the most popular games that saw the light of day on this platform were:
Metal slug
Spin Master
Fatal Fury
Samurai shodown
the king of Fighters
The last blade
Windjammers
Neo Turf Masters
SNK tried to reach homes with its own home arcade console, but its high cost led to complete failure. However, nowadays there are very complete game packs that will allow us to play these, and others, games on any platform.
The best emulator for this console is NeoRAGEx, although we can also play all the titles in RetroArch.
Konami, the arcade that never succeeded
Konami is one of the best-known triple-A companies today. Some of its sagas, such as Metal Gear, Silent Hill and Castlevania, are among the best we can find. However, although it did not become very popular, this company was also involved in the arcade world with its own arcade machines.
Although several arcade titles have been released over the years, the most popular game is undoubtedly The Simpsons Arcade Game .
The best way to emulate the games of this arcade machine is through the RetroArch emulator. In addition, we can find the Konami Anniversary Collection, a collection of classics for PS4, PC, Switch and Xbox. A good opportunity to return to play these great titles in an original way.
Sega System, the ships and cars of the arcades
Sega was another of the most powerful video game developers of the late 70s and 80s. In addition to the more than 500 games developed, Sega launched a total of 20 arcade systems, with ship and car games being the most frequent in this type of machine. Of course, Sonic could not be absent from Sega's arcade machines, specifically the System 32, his first 32-bit machine.
Taito, the arcade from the original Space Invaders
Taito was another one of the strongest companies in Japan in the age of arcade machines. In all the gaming halls we could find machines with the popular games of this company, such as Space Invaders, Bubble Bobble, Arkanoid and even Qix.
Although the games of this company have been ported to other platforms from which they are more accessible (since the Taito machines barely left Japan), it is also possible to play their titles again thanks to the different emulators that exist for it.
Where to download Arcade rom packs
Is it legal to download rom packs ? There are those who defend that it is, since they are very old games, mostly abandoned, and those who defend that it is not.
On the web we can find a large number of websites from which we will be able to download all kinds of retro game packs. Some of the collections are official, such as those of MAME, with their corresponding versioning, and others are collections created by users and modified (for example, without repeated games, eliminating those that do not work, etc).
The games of the 80s and 90s are destined to disappear. And it's a shame. Luckily, there are platforms, such as the Internet Archive, that are looking in every possible way to preserve all of this. Therefore, by searching this website we will be able to find complete packs of classic and arcade games, packs that we can download for free and open with the corresponding emulator.
Arcade Emulators
Once we have the games downloaded, we will need an emulator to be able to play them. Although we can find a great variety of them, the truth is that the issue of arcade emulation is very complicated. Many of the emulators are designed to be loaded into game booths, with their covers, videos, screenshots, etc. And for this reason, each arcade platform has its own emulator, which works only with its romsets.
RetroArch is the multi-emulator par excellence. This is compatible with practically 100% of the arcade machines that we can find, and is capable of recognizing the romsets of MAME, Capcom, FBA, etc. It is somewhat complicated to configure and map everything so that it works without problems, but when we do it we are facing an excellent retro-arcade emulator.
If we don't want to get complicated, we recommend downloading the specific emulator for each romset. Even a pack that already brings the roms and all the multimedia contents to turn our computer into an excellent arcade machine.
To play!