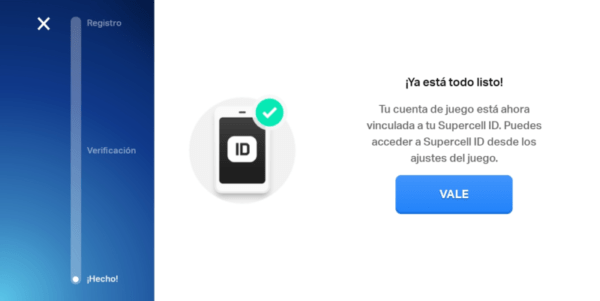 Supercell is the video game developer company that created popular titles like Clash of Clans, Boom Beach, Clash Royale, and Brawl Stars. All Supercell games are focused on Android and iOS mobile devices, all counting an online gaming approach through which players interact and face other users.
In this sense, Supercell titles enjoy a large number of active players through Supercell ID accounts. A Supercell ID is nothing more than an account created to have access to the different Supercell games. This account can be linked to a device and store all the information (progress, experience, user data) of the player without the risk that they may be lost.
Today, the Finnish developer is one of the most prolific in the video game landscape for mobile devices. Titles like Clash Royale and Brawl Stars have become huge hits that grab millions of players around the world. To play all these video games safely, it is best to have a Supercell ID account, so everything related to this platform is detailed below.
Supercell ID
Supercell ID works as a cloud platform that supports all the information of the players in the respective games of the company (Clash of Clans, Clash Royale, Brawl, Stars, etc). In this way, if a player loses their phone or uninstalls any of these games, their in-game information will not be lost, but will be linked to their Supercell ID account, so when accessing the game from another mobile phone and logging in In Supercell ID, all your progress will follow there.
Register or create account
It is possible to create a Supercell account or a Supercell ID directly from any game on the platform using a mobile phone. In the following example we explain how to create an account from Clash of Clans.
Whether it's Clash of Clans, Clash Royale or Brawl Stars, the first thing you should do is access the Settings tab .
Next you must press the " Supercell ID " button. By default, you will appear as Offline in this mode.
A Supercell tab will open displaying a Login button. However, below is the option to register. Press " Sign up now! ".
In doing so, a four-part "fan" will be displayed explaining what the Supercell ID account is for. You can skip it and continue with the registration.
Now a registration form will be displayed in which you only have to write the email account to use. Once it has been recognized, click on " Register ".
Supercell will request that you enter an email through which you will receive a verification code, just enter it and press continue.
To verify the Supercell account, we must go to our email, see the verification code that we have received and enter it in the corresponding box. After this, we click " Send ".
Once this is done, everything will be ready. We press " ok " and we will have our Supercell ID active.
Most popular games
The success of Supercell as a video game developer has no dispute, since since 2010 it has managed to launch several titles that have become a trend among a large number of players around the world . Below we highlight which are the most popular Supercell games.
Clash of Clans
Clash of Clans is arguably Supercell's most successful game. This title originally released for Android, is based on creating a village, managing resources and using them to improve its structures. However, players must attack other users' villages to steal their resources and use them. To carry out these attacks, players have all kinds of attack and defense troops, which allows them to devise all kinds of offensive and defensive strategies.
Clash of Clans also unites players through Clans, which allows them to ally with other users of the game and participate in different events together, thus achieving all kinds of rewards and exchanging troops with the rest of the members of the game. clan. This Supercell game is compatible with the use of Supercell ID, in addition, its free download is possible from this link on thePlayStore.
Clash royale
Another of Supercell's great successes is Clash Royale, a strategy title that is inspired by the Clash of Clans universe and its characters to provide a unique gaming experience. Clash Royale is also a game focused on online playability , however, in this case the game strategy is based on the use of troops, spells and towers that allow you to create defensive and offensive tactics with which to face other users in real time .
Clash Royale also enables special events from time to time to keep its community of players active. Currently the game has been installed on more than 100 million devices, which is again a reflection of the resounding success of this Supercell game. To purchase Clash Royale for Android, just access theGoogle Play Store and download the title for free.
Brawl stars
Supercell's latest hit is none other than Brawl Stars, a MOBA- style game that again focuses on online gameplay. In Brawl Stars, players face off in 3 VS 3 team matches for a set period of time. As expected, strategy and teamwork is the key to success in this title, which, it should be noted, is most entertaining and addictive.
Brawl Stars is a much more recent game than Clash of Clans and Clash Royale, however, it already has more than 100 million downloads on the Play Store. To download this title on Android devices and for free, just go tothis link.
Is it worth creating a Supercell account?
To play Supercell games, it is not necessary to open a Supercell ID, since it can be linked directly to the Google Play account used by the player. However, the same company devised its own type of account to provide multiple advantages to its players. The main one is security.
In this sense, by means of a Supercell ID, players can not only link their profiles in the different Supercell games in which they are active, but all the progress they have made in their account will be automatically stored in the Supercell servers. Thus, no matter from which device you want to access the game, the player can always access their profile by simply logging into Supercell ID.
Another benefit of having a Supercell ID account is that in this way, it is possible that several players can use the same device and access their respective accounts without generating conflicts or anything similar. That said, it is clear that it is worth creating a Supercell account, as it offers greater possibilities and provides security for progress within each of these games.
A little history
Supercell emerged as a small developer company in 2010. Originally, the Finland-based developer released some titles that could be played from the browser. However, for 2012 a change of focus was made and Supercell concentrated on the development of video games for mobile devices and tablets. This is how titles such as Clash of Clans and Hay Day came to light, games that after being available for Android through the Play Store, quickly became a trend and made Supercell a famous and high-income company.
Some time later, in 2016 Supercell would launch its next great success with Clash Royale, a game that was inspired by the Clash of Clans trend and offered a new experience to players. As expected, it was again a resounding success with gamers around the world.
Despite all the success achieved so far, Supercell never stopped, and in 2018 it launched Brawl Stars, a game that did not take long to gain followers and once again become a rune of success for the owners of the developer. Currently there are millions of users who access the different Supercell games through their Supercell ID accounts, which shows that these titles will continue to be successful and gain popularity in the immediate future.