Roblox is an online video game that allows players to create and explore all kinds of virtual worlds. This title, developed by Roblox Corporation, invites players from all over the world to join its platform and share with other users the experience of immersing themselves in three-dimensional environments and doing all kinds of activities. You could say that it is basically an alternative to Minecraft.
Through a Roblox account, users can access the game and perform all kinds of activities, as well as socialize with other players and participate in numerous game modes. Because of this, Roblox has become a popular video game among young and contemporary audiences.
Roblox has been open to the public since 2006, being launched for PC as the main gaming platform. However, its growing success led its developers to release versions of the game for other platforms such as Android, iOS and Xbox One. Regarding its audience, the platform registers more than 100 million active players since 2019, which is a true reflection of the success that this video game has had in the world of entertainment.
What does it consist of
Roblox is a game and a creation platform at the same time. The truth is that users who access the platform as players can explore all kinds of worlds in three dimensions created by other users, where each one can have a totally unique or different style of play or purpose. From playing action and adventure games, to other styles such as survival or terror.
The key to Roblox being such a versatile platform is the fact that it encourages its users to not only participate as gamers, but to become content creators and create their own worlds and games. It should be noted that creation goes far beyond what other construction and exploration titles offer, as it is not simply about modeling environments.
In Roblox it is possible to add all kinds of conditions that allow you to create totally new games that are different from others already created by other players. To do this, Roblox allows its players to access Roblox Studio, a fairly intuitive creation and programming platform that allows young and old players the possibility of creating without having to be programming experts.
Game modes
The game modes in Roblox are virtually infinite, since when accessing the platform, you can see the wide catalog of games and maps created by the same community and that can be accessed. However, there are two main categories in Roblox, which are the following:
Play
Under this modality, the user accesses Roblox as a player and can see the catalog of worlds and games that are available to everyone, although most of them are free, there are others that can only be accessed through Payments. When playing on Roblox, players make use of a personal avatar that can be modified and customized through items purchased within the game.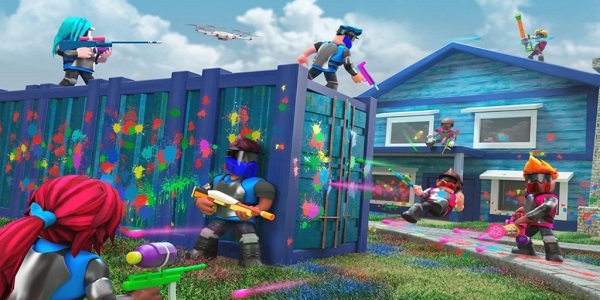 To create
In this section, the user has the possibility to become a programmer and build their own world or game within the Roblox universe. To create, you need to installRoblox Studio from the official Roblox platform. Through this tool, users have access to a wide range of possibilities and are able to share their creations with the rest of the Roblox players.
Create an account
In order to access the gaming platform, players must go through a prior registration within it in order to create a user for personal use. Here's everything you need to know about creating a Roblox account :
The first thing you should do is access the Roblox official page from your browser.
Then you must press the " Register " button, this is in the upper right part of the page, although it is also possible to access it from the login bar.
Once this is done, the page will display a registration form that you will have to fill out with all the requested information, and immediately click on " Register ".
After the above, the page will tell you to solve a small challenge as a Catchap.
After this process, it is now possible to log into the Roblox platform and start playing.
Log in
Once you finish with the registration, you must log in to the platform to be able to access. Therefore, the following procedure is detailed for this:
Access the Roblox official page and click on the " Login " button .
The platform will ask you to enter your username and password (these data must be the same as those used during the registration process).
Once both fields are filled in, just click on " Login " and voila, you will be in the world of Roblox. Note: it should be noted that it is also possible to log in through a Facebook account. If you want to use this mode, you just have to press the Facebook button in the login form, open your account in the pop-up tab, accept the requested permissions and that's it.
Verify or activate account
If you want to verify or activate a Roblox account, these are the steps or procedure that you will have to carry out:
After logging in to Roblox, you need to press the gear-shaped button and then go to " Settings ".
After the above, you must go to " Account information> Add email " and add the email address that you want to use to verify your Roblox account.
The page will ask you to enter your email account and user password in order to verify your identity. Once this is done, you must click " Add email ".
Once the platform has saved your email address, you must click on " Accept ".
In doing this, you receive a message in the inbox of your email. You must open it and press the verification button to end this process.
Available platforms
Roblox is an online video game that was originally released for PC. Despite this, its growing popularity led developers to create different versions for other platforms. Here are what they are and how to access Roblox from each of them.
Pc
Despite being created in 2003, Roblox was opened to the public in 2006 and becoming a popular game due to its online features, variety of content, and the ability to interact with other users. To install Roblox on a Windows computer, just go to theofficial page of its developers and download the installer completely free.